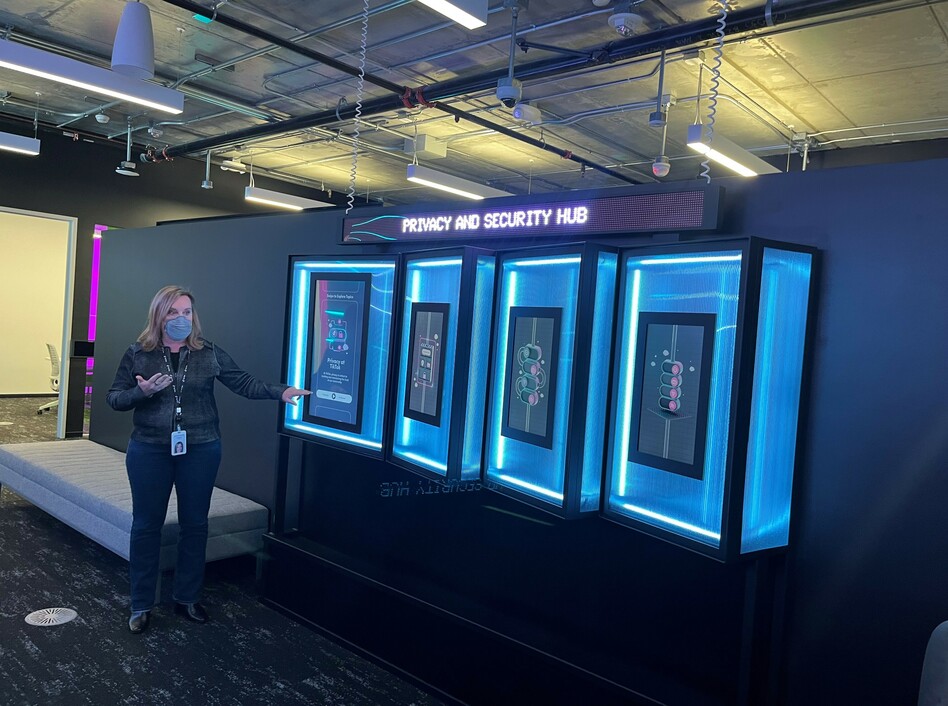 As infighting continues in the Biden administration over the future of TikTok, the video streaming giant is marshaling its resources toward one goal: convincing the public it is a safe platform.
The company recently launched a full-fledged charm offensive that has included rapid-fire meetings in Washington with TikTok CEO Shou Zi Chew, new transparency tools on the app and a first-ever tour to members of the media of its corporate campus in the Los Angeles area.
It comes two years after TikTok started talks with national security officials in the hopes of reaching a deal that would safeguard Americans' data from being accessed by employees at its Beijing-based parent company and fend off any possible data collection requests from the Chinese government.
But those talks have dragged on, and TikTok officials are growing impatient, as the company's public image continues to be clouded by controversy.
One reason the discussions have lagged is a split in the White House. Some senior national security officials are pushing for an agreement that forces TikTok to fully separate from its Beijing parent company ByteDance. Yet others say the new safeguards TikTok is implementing are enough to ameliorate most concerns about Chinese influence.
Meanwhile, states and schools have been cracking down. More than two dozen states have banned TikTok from government-issued devices and some public universities, including Texas and Alabama, have banished it from campus WiFi networks. Congress has made it illegal for the app to be on any federal phone.
"There's a lot of performative action going on," said Adam Segal, a Chinese technology policy expert at the Council on Foreign Relations. "It's a desire to show toughness on China," he said.
"But there's also a lot of pent-up animosity toward social media broadly and its effect on children, U.S. democracy and misinformation, and it's easier to take it out on Chinese-owned TikTok right now than it is, say, Facebook or Twitter," Segal added.
TikTok's data protection proposal: "Project Texas"
At a media briefing on Tuesday at its Los Angeles office, top TikTok officials described a data security plan, dubbed "Project Texas" because it relies on Austin-based software company Oracle.
TikTok's relationship with Oracle started during the Trump administration, when the company was scrambling to find U.S.-based cloud servers as Trump pushed to have put the app out of business in the United States.
Now, all U.S. user traffic is routed through Oracle's servers, according to TikTok officials, who also spelled out how Oracle engineers will be able to inspect all of TikTok's source code, including the powerful algorithm that determines how videos go viral. In addition, a third party monitor will inspect TikTok's data and algorithm in case Oracle misses anything.
TikTok has stored U.S. user data on its own servers in Virginia, with backup capacity in Singapore. But now, all of Americans' data is being deleted from its own servers and moved over to Oracle.
The company said it will also form a subsidiary called TikTok U.S. Data Security, or USDS. It will control access to Americans' data on the app and report to an independent board of directors that will act as a liaison between TikTok and national security officials with the Committee on Foreign Investment in the United States.
That committee, led by the Treasury Department, has been locked in talks with TikTok for more than two years. Under the plan, it would conduct regular audits of TikTok.
USDS is expected to hire 2,500 people who have undergone high-level background checks similar to those used by the U.S. government, TikTok officials said on Tuesday. None of those hired would be Chinese nationals.
One of its tasks will be ensuring China-based ByteDance employees cannot view the individual data of Americans, according to TikTok officials.
Still, aggregate data, like what kind of content is trending on the app or in what regions certain kind of videos are popular, can be analyzed by corporate employees in Beijing who would need to be granted special permission from the U.S. data security team.
The plan addresses many of the major security concerns U.S. officials have, said Jim Lewis, a cybersecurity expert at the Center for Strategic and International Studies, but that is no guarantee it will be approved.
"The Oracle plan would work," Lewis said. "This kind of thing is pretty standard. TikTok has become so emotional, however, that a reasonable solution may not be enough."
Not reaching a deal would put TikTok in limbo and raise the possibility that ByteDance would completely spin it off, perhaps even selling it to an American tech firm.
A sale would face significant challenges, starting with a steep price tag that few tech firms could afford. TikTok is likely worth tens of billions of dollars. Then there are the legal challenges that a forced divestiture would likely trigger. On top of that, selling TikTok could constitute a violation of China's export control laws, said Segal from the Council on Foreign Relations.
Assuming the deal passes muster, though, Segal agreed that it resolves the bulk of the data security concerns by allowing inspections of its algorithm and transferring U.S. user data to Oracle.
"But there would be some questions about who has access to the data on the backend," he said.
When TikTok revealed in December that two former employees working in China improperly had accessed the user data of American journalists to investigate a suspected leak, critics pointed out that Chinese employees were poking around in U.S. data even though the company had strongly denied that would ever happen.
A TikTok official said under its new server reorganization as part of Project Texas, China-based employees would never have this kind of access to American accounts.
Many details about Project Texas have trickled out in the Wall Street Journal, the New York Times and Reuters, but Tuesday's gathering marked one of the first times the company has given an official briefing on the plan.
TikTok's "transparency and accountability center" underwhelms
On Tuesday, TikTok officials led journalists through its Transparency and Accountability Center, which felt something like an interactive public relations museum.
Large, flashy screens showed the viral videos that have made TikTok a must-have app for 100 million Americans. A company official gave a presentation in front of four screens framed with neon lights detailing the company's new privacy and data protections measures.
There were also side rooms where journalists could view some individual lines of TikTok source code on screens, which did not prove illuminating.
Then there was a game of sorts that put people in the position of a TikTok content moderator, where they decided if a video violated TikTok's rules or not.
The facilities will also feature server rooms where visitors who sign non-disclosure agreements can review TikTok's entire source code, though journalists are not given an opportunity to do this.
TikTok is planning on opening these centers in Washington, Dublin and Singapore and provide tours to journalists, lawmakers and civil society groups in order to give a glimpse at how the secretive app operates.
For all the bells and whistles, the tour did not shed much light on the larger national security concerns looming over the company.
Tech journalist Casey Newton of the newsletter Platformer said the content moderation game brought home just how tricky it is for the thousands of people who have to make trade-offs every day on an endless flood of videos, but it was largely beside the point.
"The real issue isn't whether TikTok has a credible trust and safety organization — it's pretty clear to me that it does," Newton said.
"The question is whether you can design a service like TikTok that is owned by a Chinese government in a way that totally insulates it from the demands of China's government. And I'm not sure that anything we saw on site there this week really spoke to that."
Copyright 2023 NPR. To see more, visit https://www.npr.org.
Transcript :
ARI SHAPIRO, HOST:
TikTok, a Chinese company, recently did something it's never done before. It invited journalists to tour its American headquarters in Los Angeles. The famously secretive company is making a new public relations push because it faces a growing threat that it won't be able to keep doing business in the U.S. NPR's Bobby Allyn was on that TikTok tour. Hi, Bobby.
BOBBY ALLYN, BYLINE: Hey, Ari.
SHAPIRO: What was the office like?
ALLYN: Well, I was hoping we'd be led to a secret chamber door that would open and reveal the TikTok algorithm behind a red curtain.
SHAPIRO: Me, too.
ALLYN: Not so much (laughter). No, it was a corporate office with neon-lit TikTok logos and brightly colored furniture - not that exciting. We heard presentations from TikTok executives. We toured what they're calling the Accountability and Transparency Center, where we played a game. You viewed a video and decided whether it violated TikTok's rules. Obviously, it was kind of fun and sort of tricky. You know, rule violations are not always black and white, and that really hammered that point home. Anyway, we weren't allowed to record, but we were given lots of face time with executives. And they kept hammering one message. Americans' data is safe on TikTok.
SHAPIRO: But there have been lots of national security concerns despite that message because of TikTok's Chinese parent company. So why did this tour happen now?
ALLYN: Because TikTok is really worried it might not have a future in the U.S., and that's because there has been a huge fight within the White House over TikTok. On one side are China hawks who say TikTok needs to fully separate from its Chinese parent company, right? On the other side are those satisfied with the TikTok's new firewall between the U.S. company and China. Of course, the fear is that the Chinese government could get its hands on Americans' data. But the fight has gotten so heated that a deal over TikTok that was supposed to be finished by now is in limbo. Here's Adam Segal. He's an expert on Chinese tech policy at the Council on Foreign Relations.
ADAM SEGAL: There is just a large group of national security hawks who believe that any connection to a Chinese company means that U.S. data security is at risk because of laws inside of China that appear to give the Chinese government access to that data if it asks for it.
SHAPIRO: So, Bobby, what do TikTok executives say about those concerns?
ALLYN: They revealed something called Project Texas, and the name comes from the fact that Austin-based software company Oracle is their main partner in this plan. And what they're doing is deleting all of Americans' data off of TikTok servers and moving it to Oracle servers. They're starting a subsidiary of TikTok and hiring 2,500 people to staff it. And those people will be monitoring the flow of data from Americans' phones to Oracle's cloud servers and, they say, ensuring that no data ever goes back to China. TikTok says Beijing engineers won't even see Americans' data. Segal with the Council on Foreign Relations says he was actually pretty impressed with this plan.
SEGAL: It would address a lot of the U.S. security concerns to be able to have inspections of the algorithm and have some sense of where the data is being stored. I think there's still going to be some uncertainty about who has access to it in the backend.
ALLYN: Yeah, and that uncertainty is because during the transition to Oracle servers in Texas, TikTok says they'll be using some of its own servers as a backup. And some wonder, is that going to be a weakness?
SHAPIRO: Why wouldn't TikTok just take what seems like a simpler step of separating from its parent company, ByteDance?
ALLYN: Well, many officials in the White House are asking the same exact question, Ari, but there are a number of reasons. First, TikTok is the pride and joy of China. It's the country's first global social media hit. So they're not willing to just sell it off to an American company. But there are a host of other reasons, too - legal issues, right? Segal told me that selling TikTok's algorithm might actually violate Chinese export control laws. That could be a headache, not to mention the other legal challenges that would be triggered in the U.S. So TikTok is trying to meet the Biden administration halfway. But, you know, in the White House, it is still being hotly debated.
SHAPIRO: NPR's Bobby Allyn. Thank you.
ALLYN: Thanks, Ari.
(SOUNDBITE OF DONNIE TRUMPET AND THE SOCIAL EXPERIMENT SONG, "PASS THE VIBES") Transcript provided by NPR, Copyright NPR.