How do you measure loss? Since the beginning of the COVID-19 pandemic, thousands of people have died in Harris County alone. And nationwide, more people have lost their lives to the coronavirus than in both World Wars, the Vietnam War, and the 9/11 attacks combined.
But the COVID-19 death toll is more than just a statistic. Each number represents a person. Whether they're police officers, security guards, educators, preachers or artists, every individual helps make up the very fabric of their community, across the country and here in Greater Houston. And as the death toll from COVID-19 continues to rise, such monumental loss is reflected in the city itself.
Reporters and interns from Houston Public Media wanted to help document that loss and put faces to the numbers. The following is just a small sample of the larger toll taken on Houston and its surrounding areas — stories about real people told by those who knew them.
Myrakel Baker, Jared Counts, Paul DeBenedetto, Sara Willa Ernst, Daisy Espinoza, Matt Harab, Laura Isensee, Emily Jaroszewski, Florian Martin, Justin McKee, Jen Rice, Elizabeth Trovall, Lucio Vasquez and Katie Watkins contributed to this report.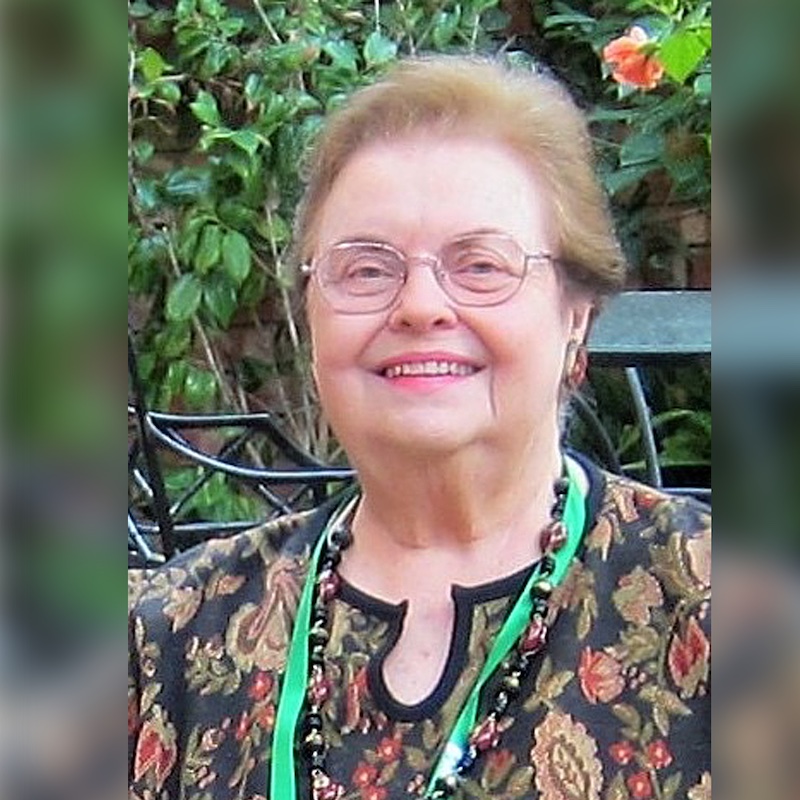 Ann Criswell
Ann Criswell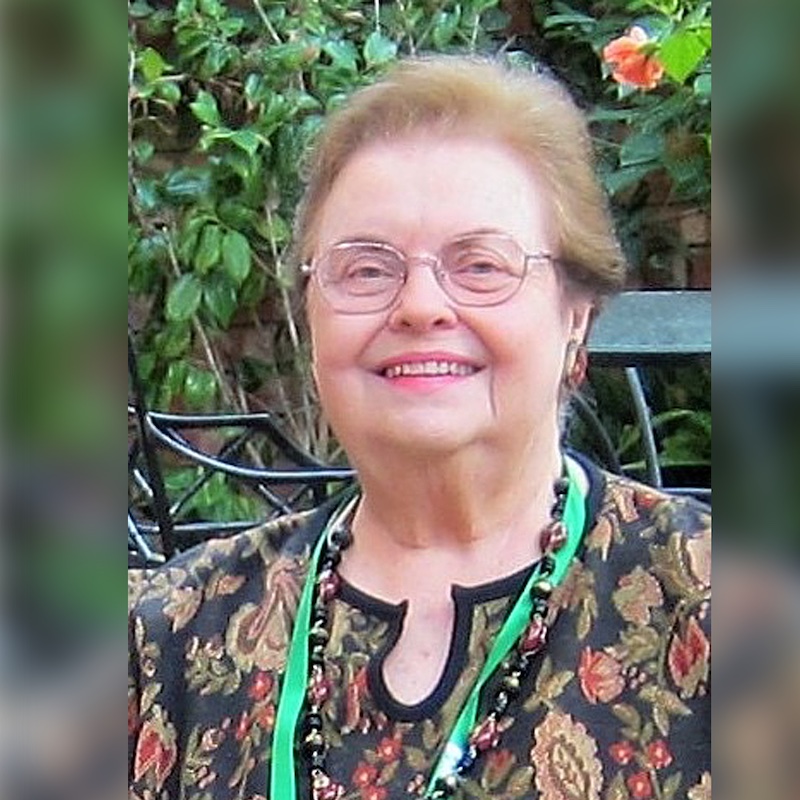 "We weren't the only people she was cooking for."
As a pioneering food editor for the Houston Chronicle starting in the 1960s, Ann Criswell's job revolved around recipes. But food was a major part of her family life, too.
In the early days, Criswell and her husband made every recipe that ran in the Chronicle's food section, because she felt responsible for the many home cooks who counted on her.
"She knew that people spent their grocery budget on recipes they were going to try," her daughter Cathy Lester said. "She felt like if they trusted her enough to be willing to try what she did, then she owed them a recipe that was going to turn out the right way the first time."
In fact, that's how her daughter Cathy learned how to read as a little girl — by helping Criswell with the food section. Her mother had a weekly food contest, in which people would send in their favorite family recipes for a $5 prize.
"Mom would try the recipe," Lester said. "She would go in to work and forget the recipe on the recipe rack and call me and say, 'I need you to read this recipe to me.' So I was really young when I learned to read cursive, because I remember having to be able to do that if she left something at home."
Criswell was a young widow, losing her husband, Jim Criswell, when she was 44. She never remarried — "She never looked at another soul," Lester said . "She was married to my dad."
Criswell lived in an assisted living facility in College Station. When the COVID-19 pandemic began, she told her daughter that if she got sick, she feared she wouldn't survive it.
When she did get sick, she rallied for a few weeks. But by the beginning of December she was having serious trouble breathing. Criswell died Dec. 15, 2020, at the age of 87.
In the months since her mother died, Lester has enjoyed seeing social media posts from people sharing recipes in Criswell's memory.
"We weren't the only people she was cooking for," Lester said. "She retired 21 years ago. Even after 21 years, people are still cooking what she cooked."
She also sees her mother's memory living on when her family cooks.
"It's so much fun to watch my daughter have inadvertently picked up so many of the techniques that I learned in her kitchen," Lester said. "It's the best to see that all of our lives were changed by something that happened in 1966."
— Jen Rice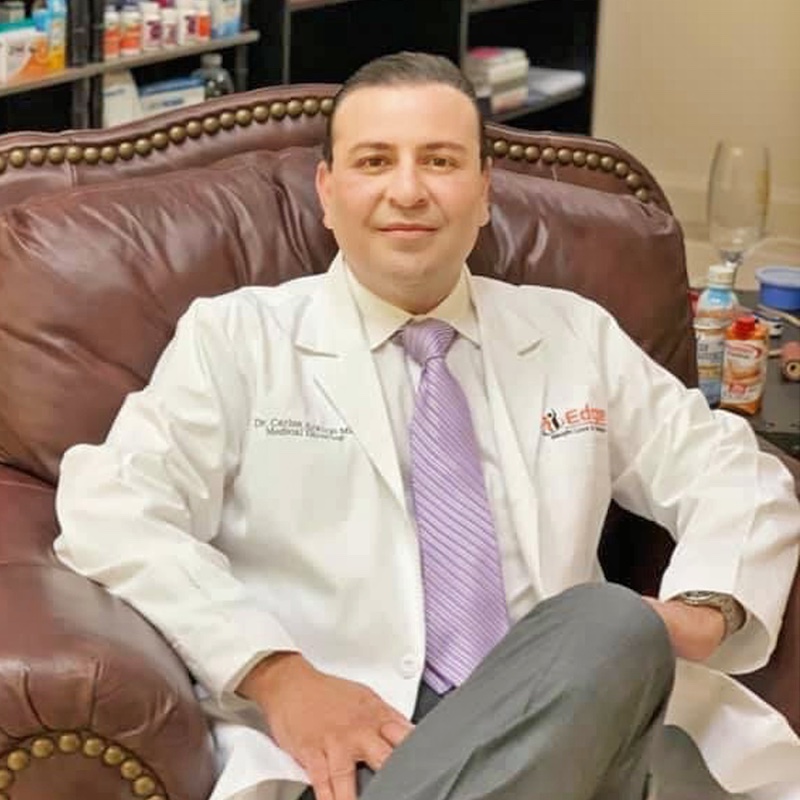 Carlos Araujo-Preza
Carlos Araujo-Preza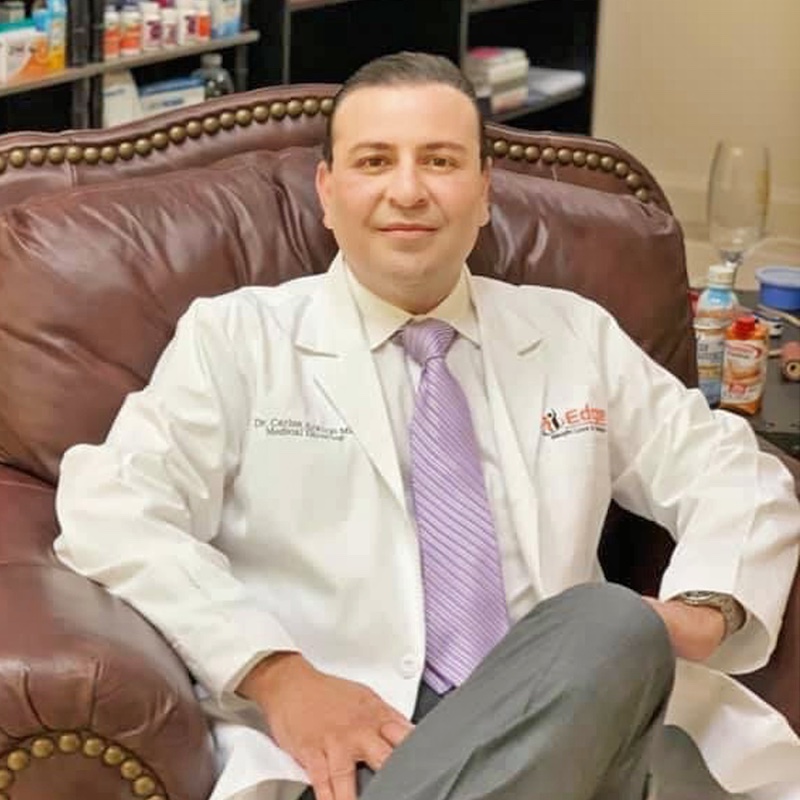 "The sun always rises the next day"
Knowing that his daughter would be unable to walk at her college graduation commencement due to the COVID-19 pandemic, Dr. Carlos Araujo-Preza threw his daughter, Andrea Araujo, a belated graduation celebration with her close friends and family in late October. She said he really put in the effort to give her the best ceremony he could.
Growing up, Araujo-Preza would go out of his way to make sure his daughter and her brother were taken care of, despite a busy work schedule at Tomball Regional Hospital. The siblings and their father would spend their weekends together binge watching movies and TV shows together.
But this year, Andrea Araujo was forced to spend her 23rd birthday without her father.
Araujo-Preza was two weeks away from receiving his first round of the COVID-19 vaccine before he passed away. He died Nov. 30, at the age of 51.
He knew at a young age he was meant to pursue the medical field. Coming from a family of doctors himself, Araujo-Preza was viewed as a loving caregiver and someone his patients could always rely on.
Araujo-Preza was the leading doctor at his hospital specializing in plasma research, while also distributing COVID-19 vaccines to other nurses.
"His colleagues were fans of him," she said. "They loved when he came into work."
He would go out of his way to give his personal phone number to patients, and would accommodate their needs at any given time. Araujo said her father would wake up as early as 3 a.m. to go into work. Araujo-Preza would sleep in the hospital, days and oftentimes weeks at a time to always be on call for his patients.
Now, Araujo said she tries to live by a saying her father used to share in Spanish: "The sun always rises the next day." Araujo-Preza would tell his children not to let daily challenges in life hold them back. Because, he said, as life goes on, you should too.
"I feel like people always say 'with time, things get better', but I've noticed it's quite the opposite," she said. "Every day gets harder."
— Emily Jaroszewski, HPM Intern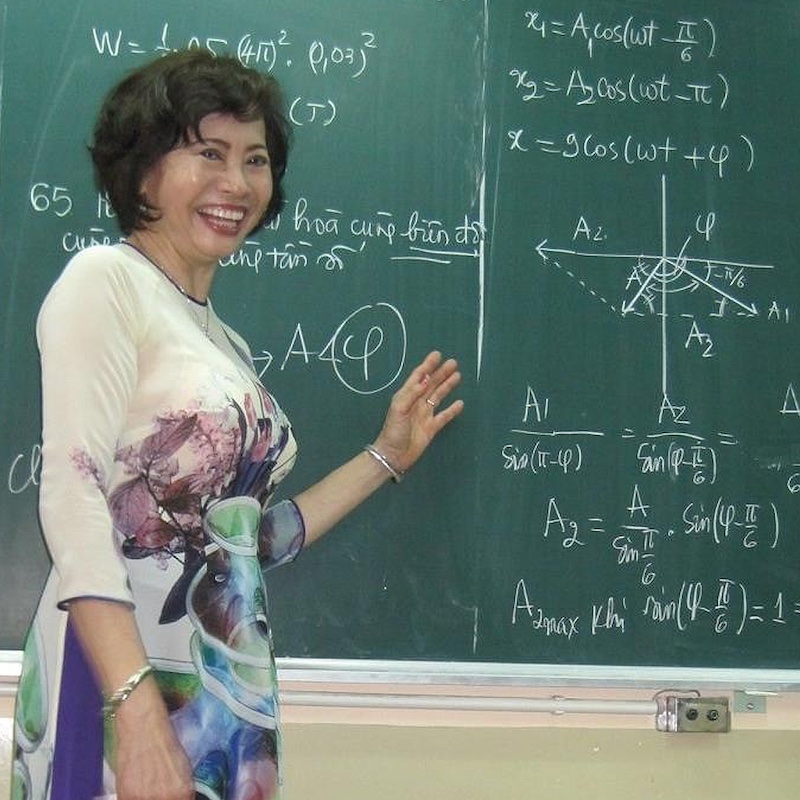 Linh Le
Linh Le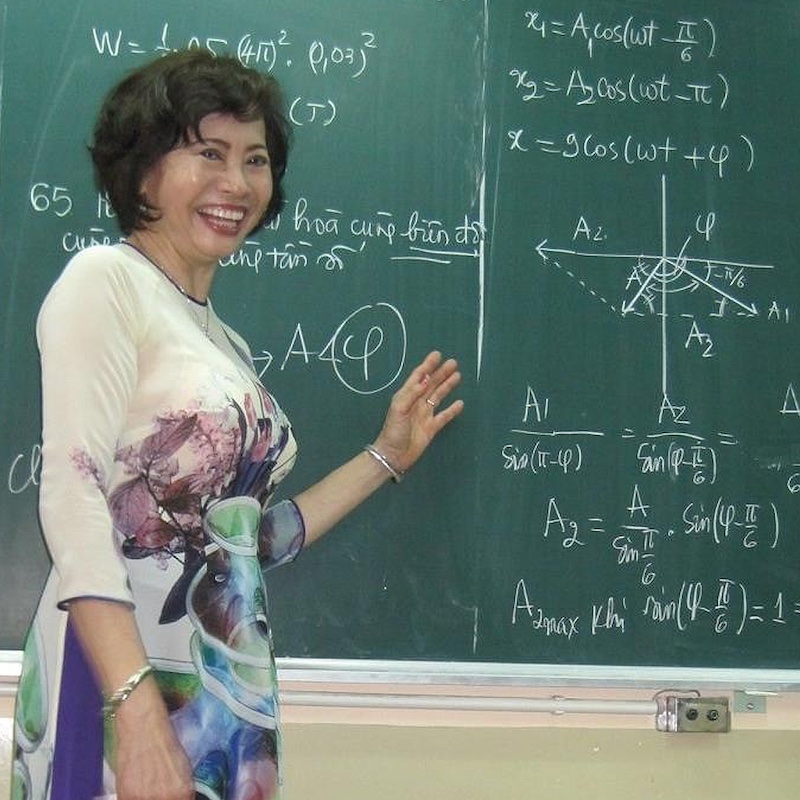 "The vaccine was only a few weeks shy of becoming available to her. It just hurts us so much to know that."
After the Fall of Saigon in 1975, Linh Le and her family were desperate to leave Vietnam. They had already fled the north, but now with communist forces in the south, they were trying to escape again. It would take six years and multiple tries.
Le and her mother would melt down what gold they had into bars, so they could barter with boat owners and try to leave in the middle of the night. Sometimes, those boat owners would scam them, steal their gold and leave them with nothing.
Once Le and two of her younger siblings finally made it onto a boat, they had to leave their mother behind. They found themselves adrift at sea, shoulder to shoulder with other refugees. For three days, they had no food or water. Pirates showed up and harassed them.
Later, Le would tell her daughter about stories from other refugees, how the pirates would rape women, and how some of them would feel such shame that they'd jump off the boat and drown.
"She was just in survival mode and doing whatever they could to leave for a better life," Le's daughter Christine Truong said. "That was the craziest time, and it could have gone either way."
Luckily, a German ship rescued their boat and took them to a refugee camp in the Philippines. From there, the family found sponsorship in Oklahoma. In Houston, Le made a new life. There she had met her future husband at a wedding, and they courted as pen pals. She became a U.S. citizen in 1988.
"She's always talked about our citizenship here being gold," Truong said. "Everyone in the world wants to come to America and live the American dream, and our citizenship is just like the golden ticket. I truly believe that's how she felt when she became a citizen."
In Houston, Le also found her way back to the classroom. She didn't teach history and geography to junior high students as she had in Vietnam. Instead, she became a teacher's aide at Kirk Elementary in the Cy-Fair Independent School District.
She died from COVID-19 on Jan. 3, 2021, at the age of 69. She's survived by her husband Linh Nguyen and her two children, Christine Truong and David Nguyen. Truong said her mother's life was taken too soon.
"The vaccine was only a few weeks shy of becoming available to her," Truong said. "It just hurts us so much to know that."
— Laura Isensee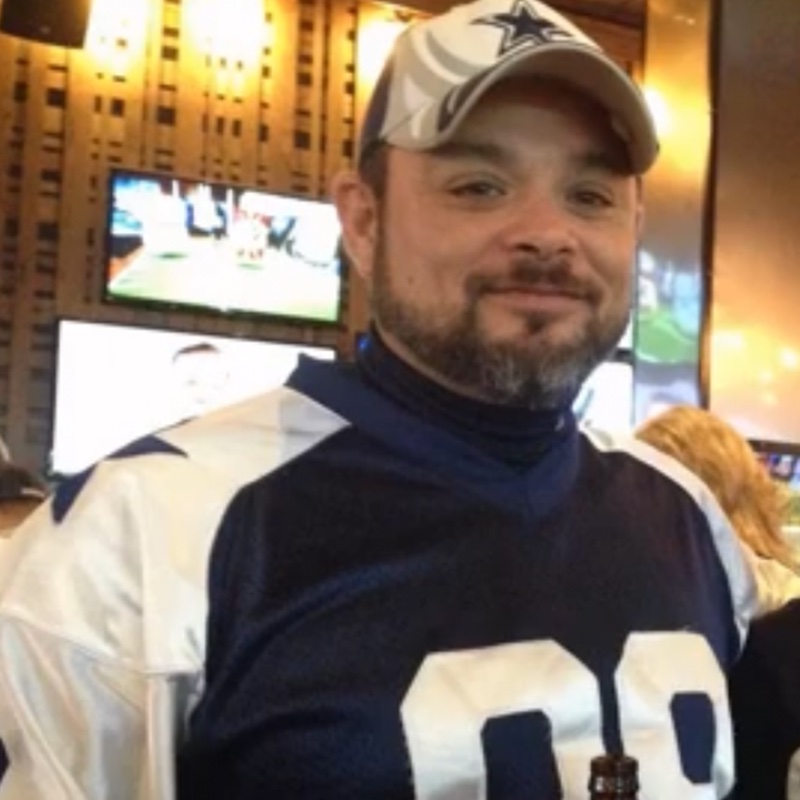 Pedro Mejia, Jr.
Pedro Mejia, Jr.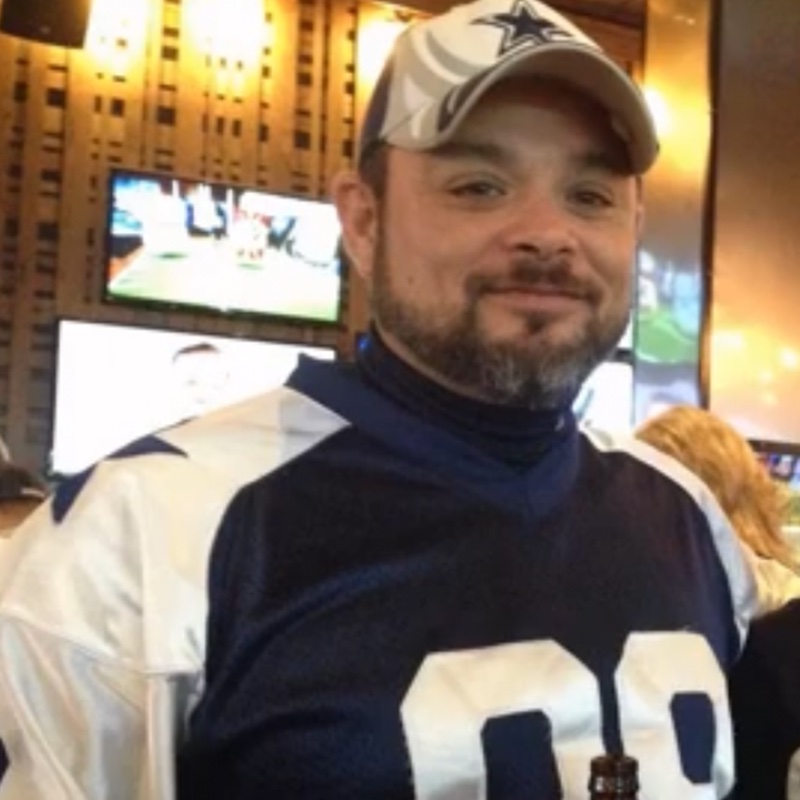 "He never asked for anything in return. He did it because that was the type of guy he was."
Pedro Mejia was a football fanatic, a selfless brother and a loyal friend, according to those who knew him.
Although Mejia didn't have a son, he made sure to involve his family in sports by signing up both of his daughters to be Pasadena Bears cheerleaders. But his lifelong friend Louis Martinez said the Pasadena Detective and U.S. Army Veteran volunteered his evenings as the Bears football coach for 13 years even after his daughters outgrew the cheerleading team.
"He never asked for anything in return," Martinez said. "He did it because that was the type of guy he was."
After graduating South Houston High School in 1990, Mejia served in the military raising his rank to First Sergeant. Mejia's military history placed him in a good position to join the Pasadena Police Department. Since 2005, he served several roles as uniformed patrol, DWI task force member, and investigator in the narcotics division.
But above all his recognition and metals, Martinez remembers Mejia as a devoted Cowboys fan.
He holds a vivid memory of his cheerful best friend during the 2017 NFL Experience at George R. Brown Convention Center. Mejia, joined by Martinez and his brother, convinced one another to sign up to test their luck for a chance to win an autographed football from Cowboys legend and all-time NFL leading rusher, Emmitt Smith.
When the announcer drew the winning ticket, Martinez remembers his friends shouting frantically in a group of nearly 70 people, and rushing to the stage.
Martinez had no idea whose name was called, because the announcer "brutalized" Mejia's last name. But the Army vet had heard his own name butchered many times in the military, and automatically knew he was the winner.
Family and friends shared memories like this one in the hospital parking lot when Mejia fell seriously ill after testing positive for COVID-19 for the second time.
Mejia passed away on Feb. 6, 2021, at the age of 49. Through a Zoom call, those family and friends said their last goodbyes as doctors prepared to disconnect Mejia from the respiratory machine.
"All we could do was cherish the moments," Martinez said.
— Daisy Espinoza, HPM Intern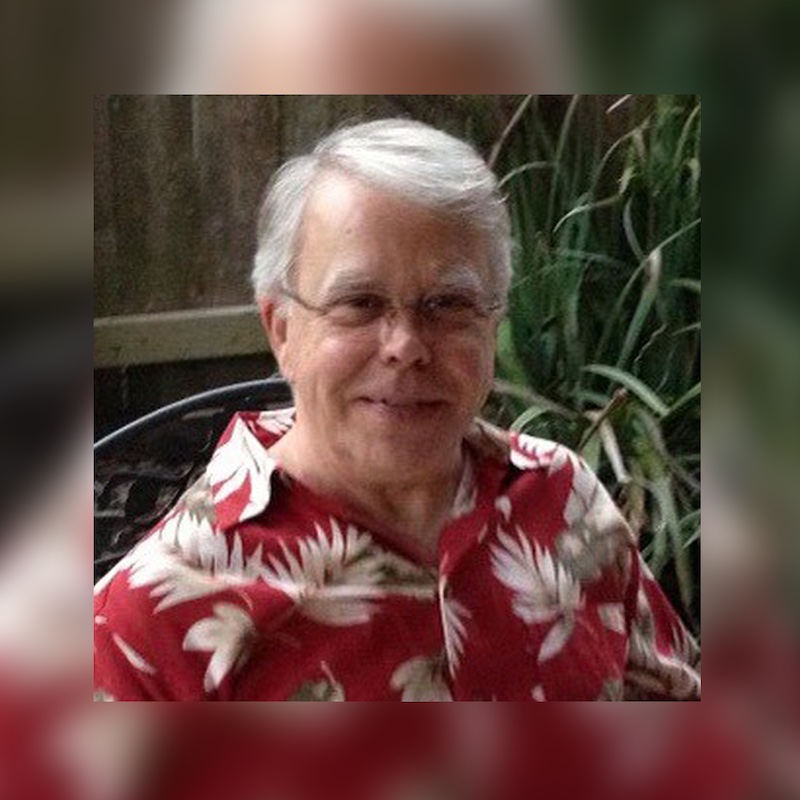 Dick Cigler
Dick Cigler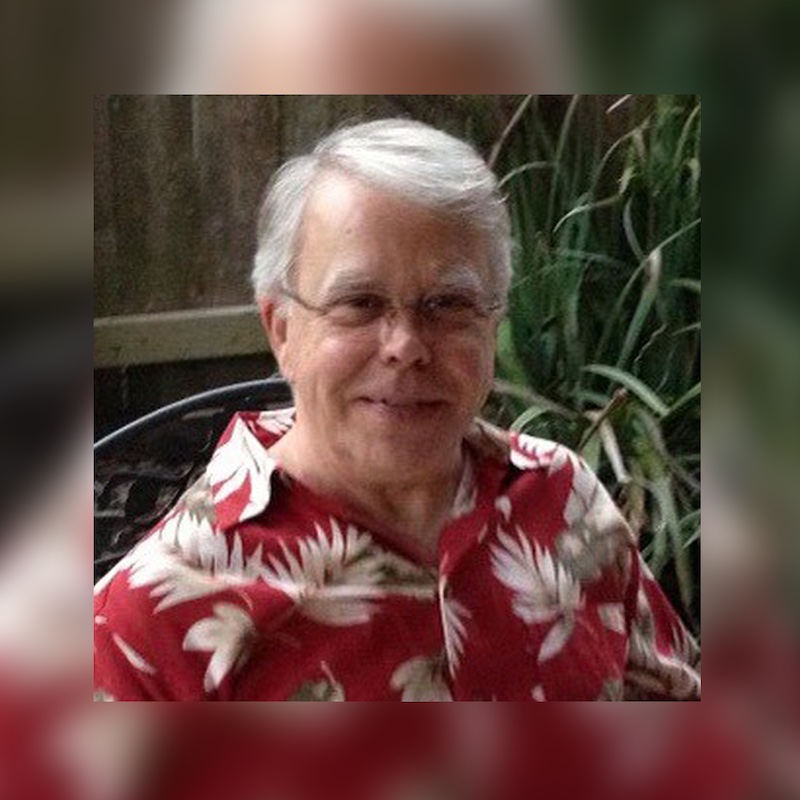 "He really taught us the importance of doing the right thing, doing it for the right reasons, and standing up for the underdog."
Those who were mentored by Dick Cigler would tell you he left a lasting impression as one of the most influential staff members at the Daily Cougar — a highly regarded champion of free speech at the University of Houston paper.
"He taught us about the importance of journalism," said Tanya Eiserer, an Emmy-award winning reporter for WFAA in Dallas and former Daily Cougar student editor. "He really taught us the importance of doing the right thing, doing it for the right reasons, and standing up for the underdog."
Nowhere was that more evident than, in the 1990s, a group of UH journalists wrote a series of articles challenging the decreased university budget for UH downtown students and the increased budget for subsidiary campuses.
Dick allowed the students to voice their concerns brazenly.
"He didn't try to, you know, tell us to back down," Eiserer said. "He ran interference, and they knew that we were an independent news operation."
Personally, Eiserer remembers Cigler as being a listening ear and a guiding mentor when she transferred from Baylor University to UH. She regarded him as one of the people that helped her become the reporter she is today.
"I learned how to be a journalist at the Daily Cougar," said Eiserer. "I would not give that time back for all the money in the world."
Cigler worked as Director of UH's Student Publications department, now known as the Center for Student Media, for 23 years until his retirement in 2010.
His impact on the Daily Cougar can be felt to this day.
Cigler died on Jan. 24, 2021, at the age of 79. He leaves behind his two daughters Kerri Runge and Michelle Cigler.
— Myrakel Baker, HPM Intern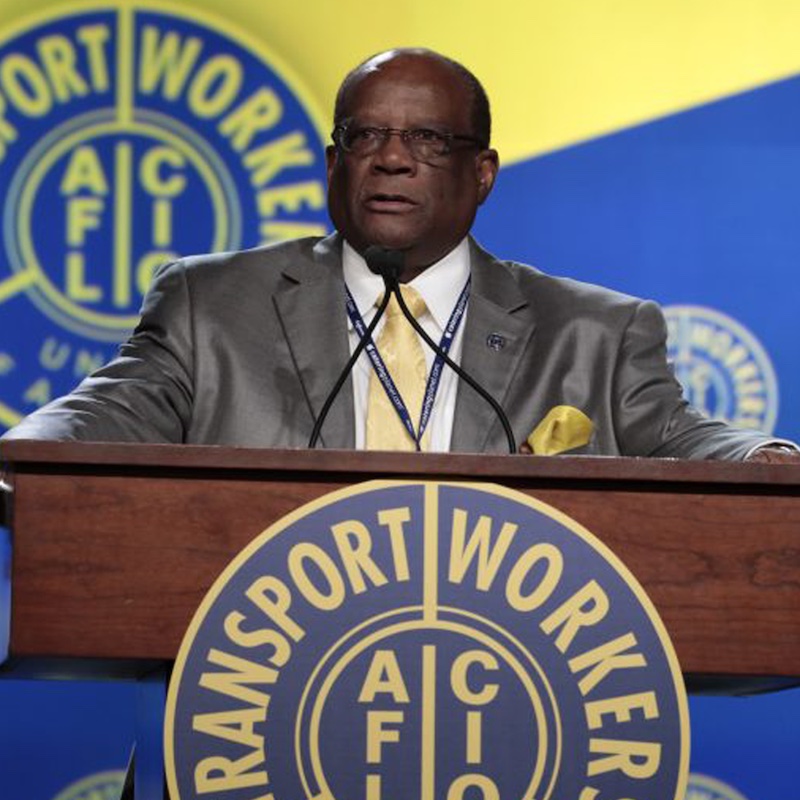 John Bland
John Bland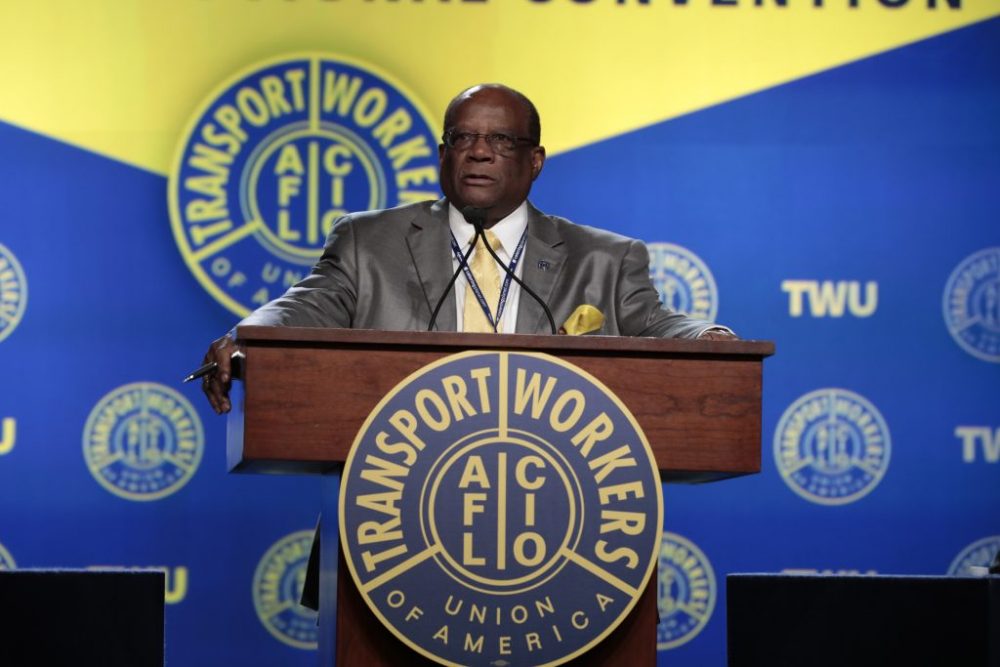 "When workers would doubt their ability to beat the odds and make change, Mr. Bland would say, 'When we fought for integration in the 1960s, they arrested me 27 times, jailed me, and fined me, but that didn't stop us.'"
More than 60 years ago, a group of Texas Southern University students took seats at the lunch counter at Weingarten's Supermarket at 4110 Almeda Road, knowing they wouldn't be served.
It was Houston's first sit-in, and that spring, Black college students in cities across the country forced the beginning of an end to racial segregation — at lunch counters, department stores, and city halls.
One of the TSU students at the sit-in was John Bland, a 20-year-old who spent the rest of his life working to advance civil rights and equal opportunity.
Bland worked as a bus operator at HouTran, now called Metro, and he spent more than 50 years organizing with the Transport Workers Union. He served as a vice president of the Texas State AFL-CIO, a president of the Houston chapter of the Coalition of Black Trade Unionists, a precinct judge, and a member of the Houston Police Department Citizen Review Committee.
"When workers would doubt their ability to beat the odds and make change, Mr. Bland would say, 'When we fought for integration in the 1960s, they arrested me 27 times, jailed me, and fined me, but that didn't stop us,'" Hany Khalil, Executive Director of the Texas Gulf Coast Area Labor Federation, said.
Bland died on July 9, 2020 at the age of 80. He leaves behind his wife, Betty Davis Bland, and their two daughters and grandson.
— Jen Rice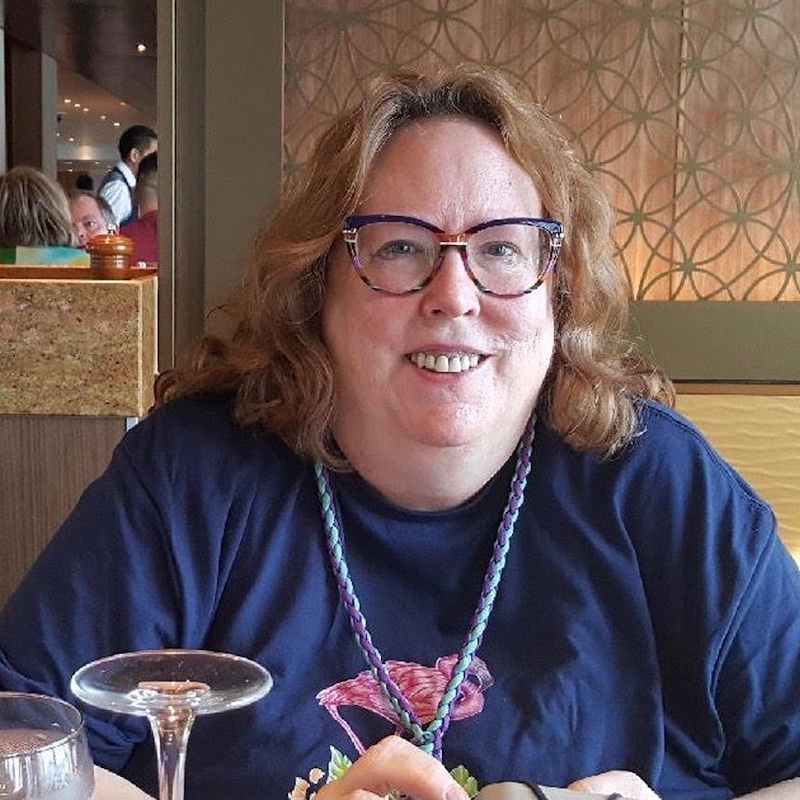 Lynn Carter-Crump
Lynn Carter-Crump
"Her stories helped me to realize that instead of just reading about going on a trip, I could do it."
In 1981, Lynn Carter-Crump was standing in a lecture hall on the campus of Texas Women's University in Houston. The 20-year-old from Lake Jackson was sporting a fluffy fur coat and a can of soda pop in hand — sugar-free, caffeine-free Dr. Pepper.
Upon seeing Carter-Crump for the first time, classmate Ruth Sathre asked, "Why bother? Just drink water."
Carter-Crump shrugged and unapologetically answered, "I like the flavor."
They had come from different worlds. Unbeknownst to them, the two would soon become best friends. Carter-Crump loved the outdoors, especially to ride her horse Bowleg. She was drawn to medicine because her mother died when she was young, while Sathre, a bookworm who grew up fairly sheltered, came from a family of doctors.
"She pushed me," said Sathre. "And I think I pushed her too. We could ask questions and challenge each other, but not take offense at it."
Carter-Crump's sense of adventure had a contagious effect. She was well-traveled. She pushed her friend to get her ears pierced. She visited the stables nearly every day — where Sathre met a horse for the first time.
"I'm very much an academic," said Sathre. "It was a whole new experience for me. Her stories helped me to realize that instead of just reading about going on a trip, I could do it."
She encouraged her husband, James Crump, to also pursue nursing. They had met in the U.S. Army, where Carter-Crump began her robust career as a registered nurse.
She returned to Texas and treated many different people — from inmates in the prison system to patients undergoing surgery to Boy Scouts when she volunteered as a summer camp nurse.
That's where she met the aquatic instructor, Ryan Sanders, a young man who went by the nickname "Twig." He showed a special interest in medicine, which Carter-Crump recognized, mentored and encouraged. He currently works as a paramedic and plans to attend medical school in the near future.
Lynn Carter-Crump, 59, died on Aug. 29 due to COVID-19. She is survived by her husband, father, son and grandchildren.
— Sara Willa Ernst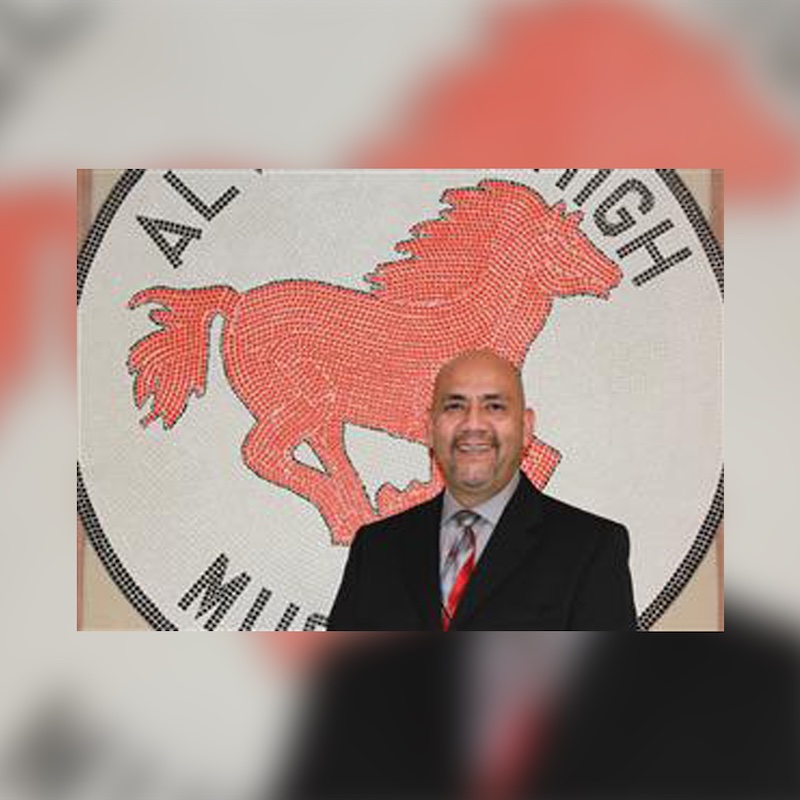 LeRoy Castro
LeRoy Castro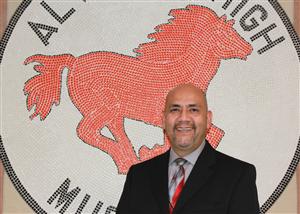 "He was always very empathetic. But rather than just slathering sympathy on somebody and feeling bad for them, it was, 'What can you do to help lift yourself up?'"
The first time LeRoy Castro went to college, he considered majoring in education. But it didn't work out. Texas A&M University was more expensive than his family realized, and Castro struggled as a first-generation college student.
Instead, he joined the U.S. Marines, and after that, worked in sales.
Still, Castro was never 100% happy in those other civilian jobs and kept coming back to education, his widow Amy Castro said.
So, in his 30s, Castro started over: He eventually earned a master's in education and built a career as an administrator in the Alvin Independent School District, most recently as the principal of Alvin Junior High.
His own dad went as far as the third grade, and his mom made it to seventh grade before they had to quit school and go to work.
"They always instilled in him, 'You can do more, you can do better,'" Amy Castro said. "I think he definitely saw the value of education."
As an educator, Castro tried to instill that can-do spirit in his own students. When he was a teacher in Pasadena, one of his students started coming to class in dirty clothes and got picked on.
Castro — who was fastidious in his own appearance, thanks to the Marines — took the student to the washroom. There, he taught the kid to do his own laundry in the sink with soap and water.
"He was always very empathetic," his wife said. "But rather than just slathering sympathy on somebody and feeling bad for them, it was, 'What can you do to help lift yourself up?'"
"And I think that's something that he did in a lot of situations, whether it was academic struggles, or at-home struggles, or whatever it may be, you know, 'What can I teach you? How can I support you, so that you can stand on your own two feet?'"
Castro died Nov. 20, 2020 from COVID-19 complications at the age of 58. He is survived by his wife Amy Castro and their daughter Kelsey.
A new junior high school in Alvin will bear LeRoy Castro's name when it opens in 2023.
— Laura Isensee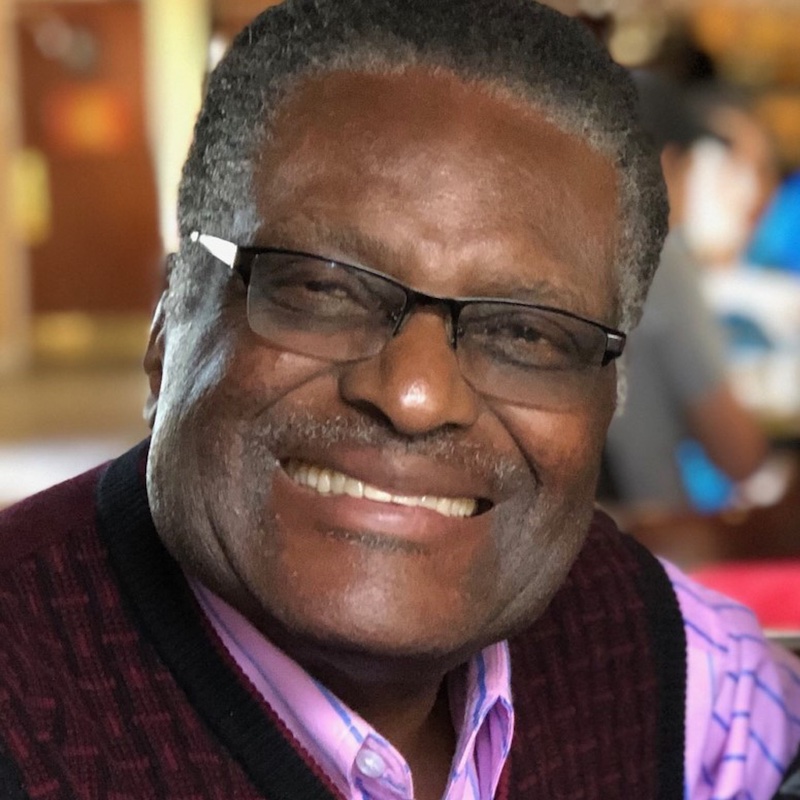 Nathanael Essissima
Nathanael Essissima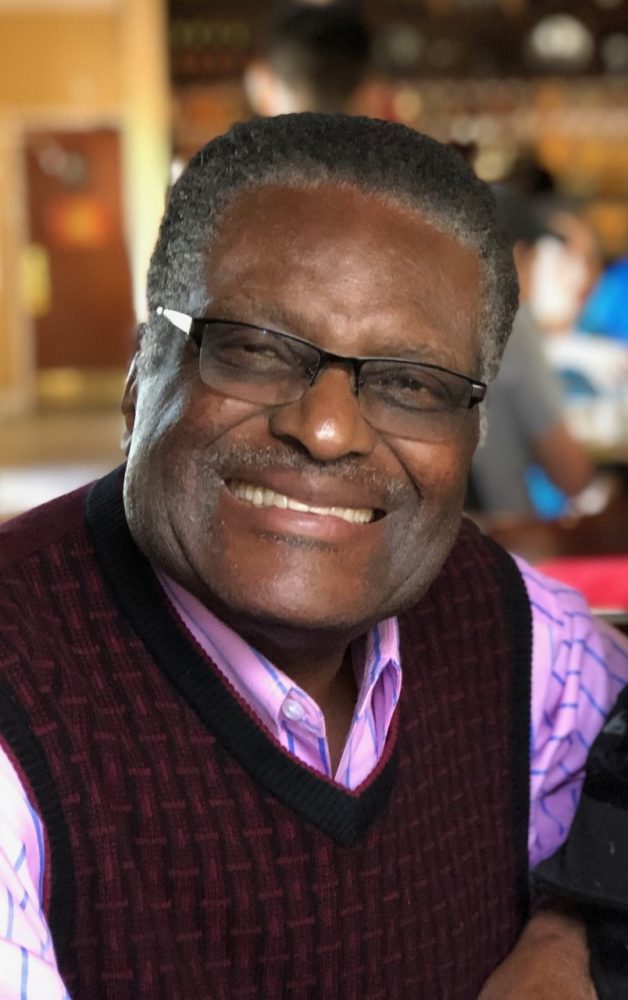 "When he came to the U.S. he did not speak any English at all. He learned to write and read English in three months. Perfectly."
CEO Nathanael Essissima's million-dollar idea came years before he was a successful businessman.
While working one of his first jobs loading trucks, as a new immigrant to the U.S., he noticed the waste produced by the disposable gloves they used. He later entered the glove sales market and established Jenessco Industries, an international company that produces sandblast cabinet gloves. His wife, Patty Essissima, has taken over his role as CEO since his death — a corporate position he spent their marriage preparing her for.
But born in the small village of Metêt in northern Cameroon in the 1940s, Nathanael Essissima didn't have his own pair of shoes until adolescence.
His entrepreneurial spirit and discipline guided him at a young age. As a kid, he would wake up at 4 a.m. to walk to market and sell the vegetables they would grow in their backyard.
Essissima was smart, patient and organized. He greeted everyone with three kisses and always thought ten steps ahead.
A scholarship first brought Essissima to Washington, D.C. where he studied diplomatic relations. There he met his late wife, Ruby Lee Boley, with whom he had three kids: Felix, Philippe and Francine. They eventually settled in Houston.
Essissima's life spanned multiple continents, countries and cultures. Lucky for him, his skill for picking up languages was enviable.
"When he came to the U.S. he did not speak any English at all. He learned to write and read English in three months. Perfectly," said Patty Essissima, his widow. The essay he turned in for his first English class was so good, she said, the teachers thought he was cheating.
French was Essissima's mother tongue, but he also learned to speak English fluently and could communicate in Spanish and Mandarin.
Their work took them on regular international trips to Germany, France and China where Nathanael would insist on trying the typical local dish. Patty's son, Benjamin Hernandez, called their marriage a "great translation", since Nathanael took the time to understand Patty's Mexican heritage — and the rest of the family took time warming up to him.
"He taught me how to enjoy red wine and I taught him how to enjoy tequila," said Patty.
Nathanael died in Houston, Texas on August 8, 2020 of symptoms caused by COVID-19.
— Elizabeth Trovall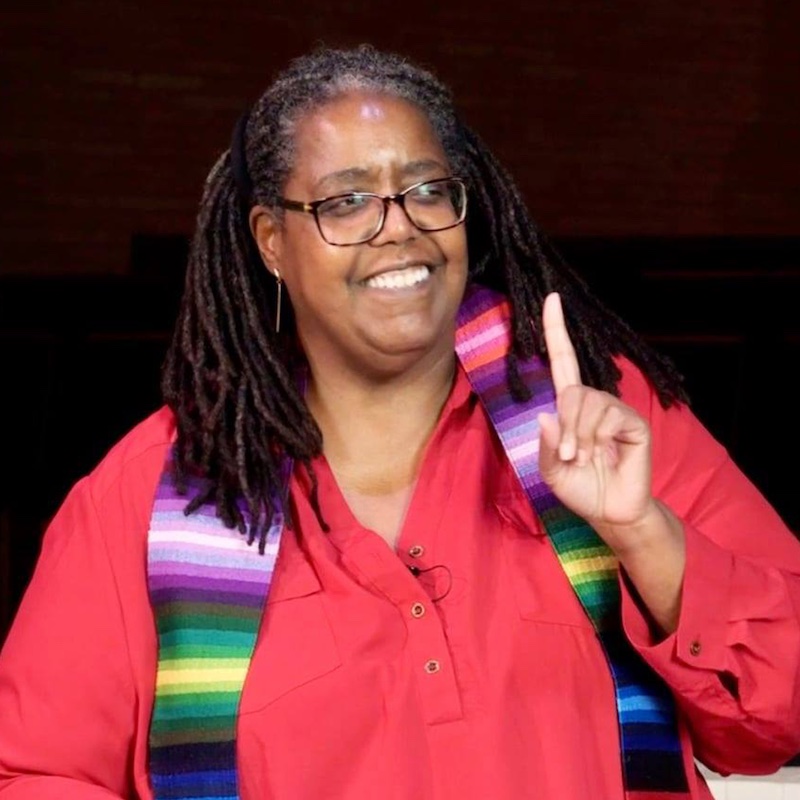 Rev. Vickey Gibbs
Rev. Vickey Gibbs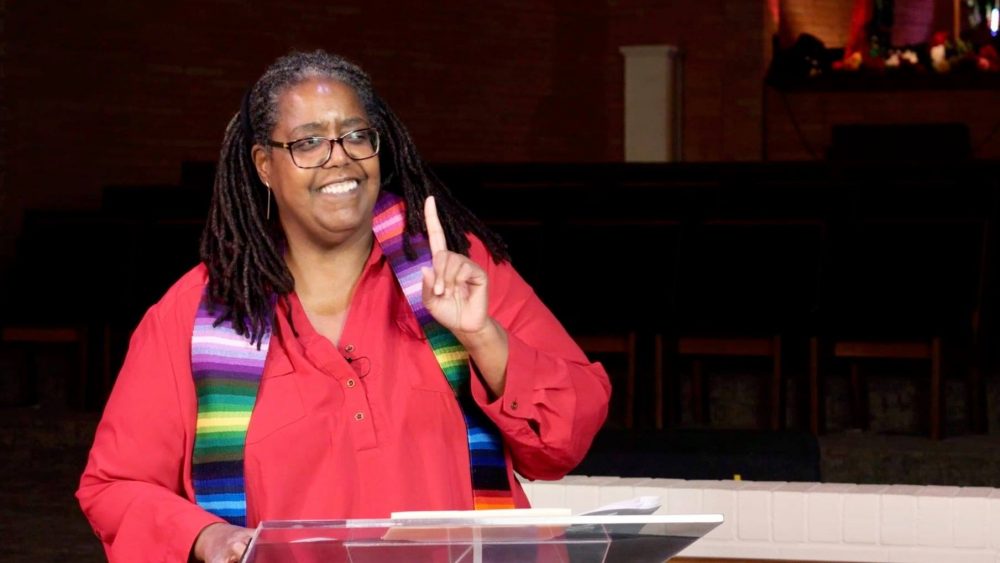 "We knew it was a holy moment. We knew she had shared her heart. We didn't know it was going to be her last sermon."
In her last sermon on June 7, Rev. Vickey Gibbs of Resurrection Metropolitan Community Church spoke about what she saw as a fractured nation and the need to "build bridges of reconciliation." Over the course of 30 minutes, she touched on a range of social issues: her frustration with people not wearing masks, the death of George Floyd, racial inequality. She preached about raising the minimum wage, immigration policy and the downfalls of the "desire for power and money."
"When we are silent when injustice happens in our world, in our nation, in our state, in our city — when we are silent we are complicit. Complicit in the injustice," she said. "We are supposed to be bridges over troubled water."
Senior pastor Troy Treash said Gibbs' last sermon embodied her work and message. It was prerecorded due to the pandemic, but Treash said he and the few other tech people in the room were left speechless when she finished.
"She was exhausted and there was just silence," he said. "We knew it was a holy moment. We knew she had shared her heart. We didn't know it was going to be her last sermon."
Gibbs died of COVID-19 about a month later, on July 10, at the age of 57.
Gibbs, who first joined Resurrection when she was 18, was known for her love of a good meal and conversation — which Treash said often went hand-in-hand with her commitment to social justice.
When Gibbs preached about social justice or political issues, church members would sometimes disagree with what she was saying. So, they would invite her to lunch to talk about it.
"She would joke that if ever she was approaching a justice issue really clearly and clarifying things that she was going to really eat well the next week," Treash said. "Because the people who had challenges with what she said would ask her to lunch, and she knew lunch was not just a 'Hey, Vicki, let's talk.'"
But he said rather than walking away, people felt comfortable approaching her and talking about their disagreements. "She had always pushed people to take another step," Treash said.
Gibbs is survived by her wife Cassandra White, their two daughters and a grandson.
— Katie Watkins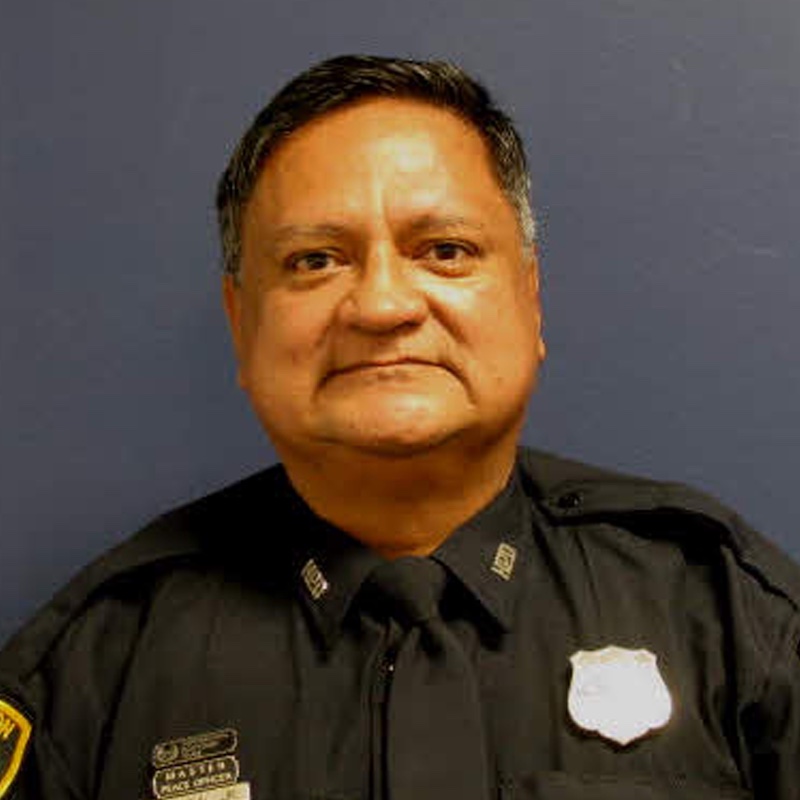 Ernest Leal Jr.
Ernest Leal Jr.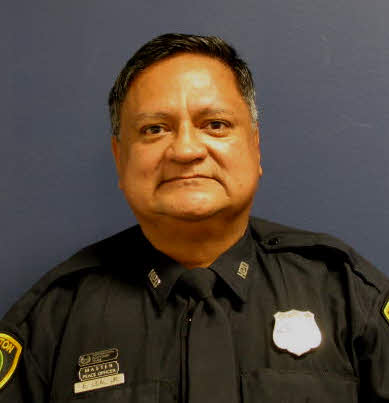 "He was my unofficial second in command. His expertise was unmatched in the squad. He was my go-to guy."
Those who worked with Ernest Leal Jr. would tell you he left a lasting legacy as one of the hardest working officers in the Houston Police Department.
He was a well-respected, beloved leader, and served 36 years with HPD, eventually finding his niche working on the North Patrol Differential Response Team.
"He was the pillar of the squad," says Seargent Tanfilo Galvan, Leal's supervisor. "He was my unofficial second in command. His expertise was unmatched in the squad. He was my go-to guy."
Leal had been pondering retirement before he died of COVID-19 on Nov. 27, at 60.
But that was the ongoing joke — whether or not he would actually leave HPD.
"He would always say, 'about 10 more months," Galvan laughed. "He was known as 'Mr. 10 months,' so nobody ever knew."
Perhaps if he would have retired, he never would have actually stopped working — especially this time of year.
Officer Leal volunteered with the nonprofit organization Navidad en el Barrio. For more than 20 years, Leal wrapped up and brought gifts to children in underserved Hispanic communities in Houston.
"It started off really small, a few officers in the east side. Now, I think they're up to like 42 elementary schools," Galvan said. "There's a lot of logistics involved. Ernie was deep in the midst of it."
Galvan said he thinks Leal wanted to become a police officer for the same reason he enjoyed volunteering: He wanted to help, and perhaps there's no better example of his legacy on Houstonians than what members of the Mangum Manor Parks Civic Group did when Leal was in the hospital: They formed a vehicle caravan of about five cars, holding posters that said things like "We Miss You Ernie," and "Get Well."
"That's a prime example of the positive impact he had," Galvan said.
Leal is the only HPD officer to have died of COVID-19 this year.
— Matt Harab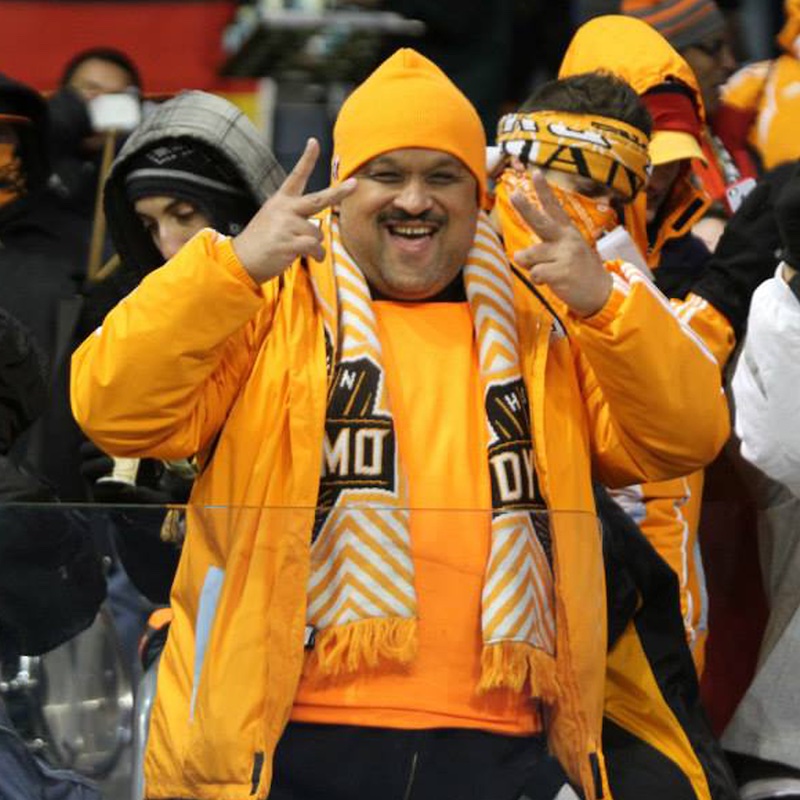 George Longoria
George Longoria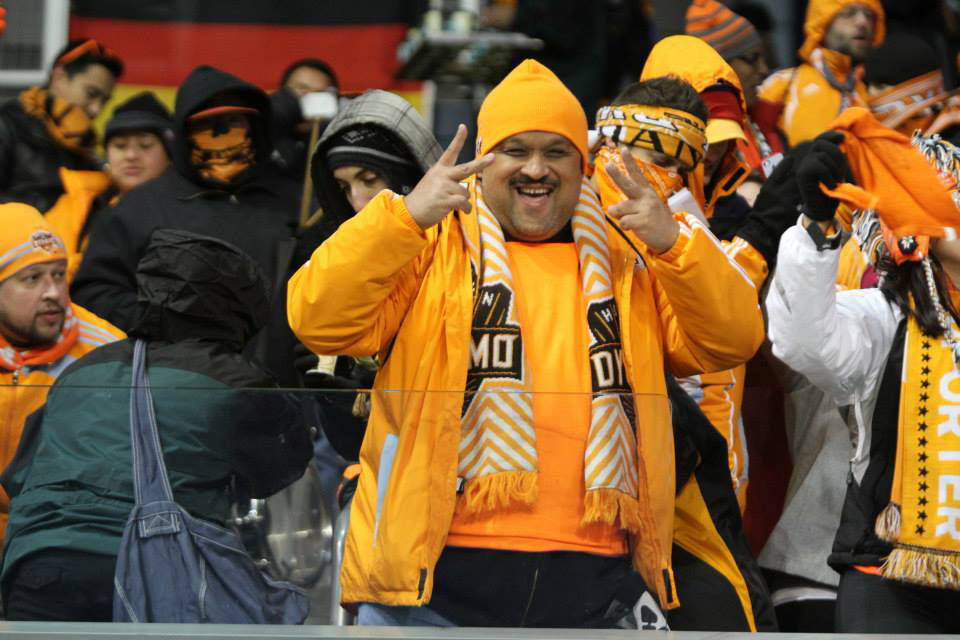 "If there was ... sports and entertainment, in one way, shape or form, George was there."
Not every security guard is a local celebrity. But George Longoria fit that description.
Longoria worked event security for the past 30 years, most notably during Houston Dynamo games since the soccer franchise's inaugural season in 2006 – first at the University of Houston's Robertson Stadium and later at BBVA Stadium. He also worked at games and events at NRG Stadium, Minute Maid Park and Toyota Center.
"If you didn't know him by name, you knew him by face," said Juan Rodriguez, general manager of BBVA Stadium. "If there was ... sports and entertainment, in one way, shape or form, George was there."
Longoria distinguished himself by his fun and friendly nature, he said, despite the job requiring some sternness.
"It was part of the experience and it was part of life for him to be there doing his job to the best extent possible," Rodriguez said, "but doing it in a way that was humane and came across as truly, truly sincere."
Players appreciated Longoria and the fist bumps he would give them as they were going through the tunnel.
Many expressed their sympathies on Twitter, including soccer gold medalist Carli Lloyd, who played for the Houston Dash from 2015-17.
This is heartbreaking 💔. George and I would fist bump every time I walked out onto the field. He was a great man and I always looked forward to seeing his smile and greeting him in the tunnel. Thoughts and prayers to his family and friends. RIP George. 😢 https://t.co/bdRnRQW4Gc

— Carli Lloyd (@CarliLloyd) July 11, 2020
Longoria died on July 10 from COVID-19 complications. He was 50 years old.
He is survived by his wife, Andrea, and his daughter, Lauren.
— Florian Martin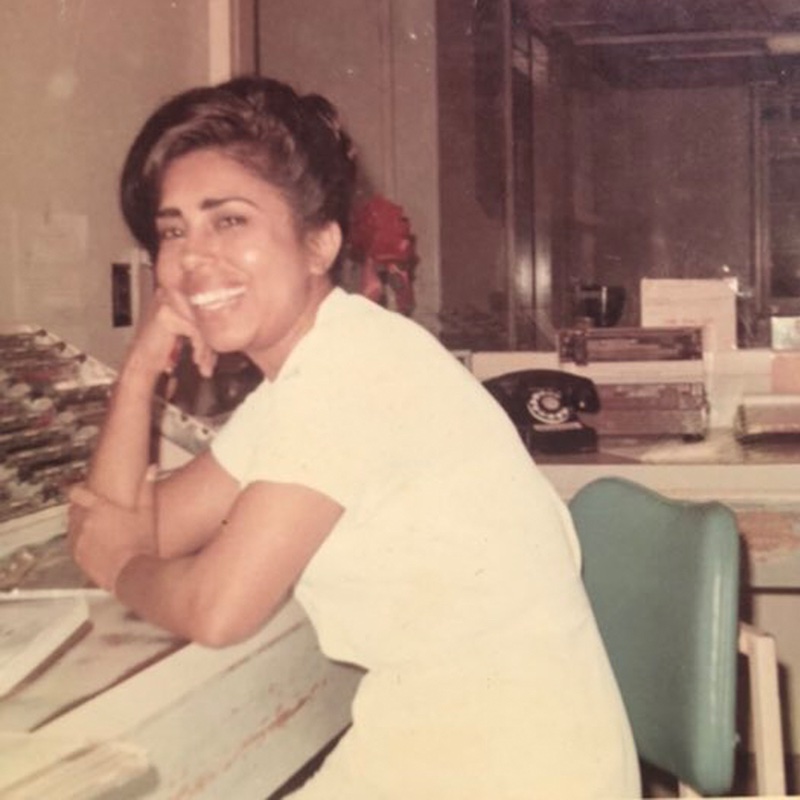 Eusebia Mendez
Eusebia Mendez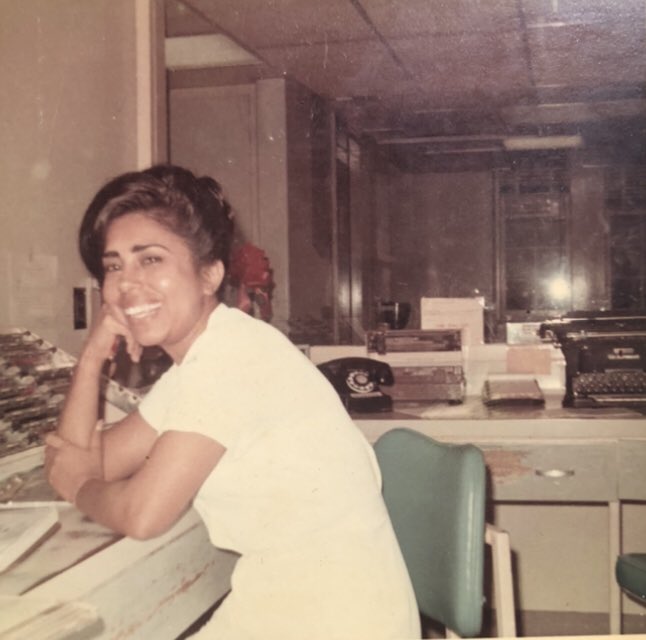 "She was very much salt of the earth."
Longtime Galveston psych ward nurse Eusebia Mendez grew up in shotgun shacks in the Rio Grande Valley, where she walked to school along the town's dirt roads and picked strawberries and oranges to afford school supplies.
Orphaned in her early teens, Mendez's philosophy on life was "if people don't love you, love yourself."
But while she may have lived by that philosophy, she also did find herself surrounded by love throughout her life.
She met her husband, Pedro Mendez Gonzalez, in her late 30s. She fell in love with him, despite some failed first attempts to woo her — whistling when she would park down the street in her Camaro.
On the day he planned to propose, authorities picked him up in an immigration sweep and he was deported. They got married in Jalisco state, Mexico and he was soon able to secure a visa, so they could start their lives together.
Her father, Jose Medina, her last surviving parent, died of tuberculosis. She grieved with her two living siblings, while they quarantined in solitude behind the walls of a house in San Angelo for six months before she moved in with her tíos.
Her independent spirit led her from the Valley to Galveston to study nursing. She worked at the University of Texas Medical Branch in Galveston for 35 years and spent most of those years at the psych ward. And her passion for psychology spilled into her personal life: She practiced self-reflection, read psychology articles in her spare time and supported mental health care.
She enjoyed mystery and horror movies and would guess the endings — sometimes with prodigious accuracy. She loved solving cryptograms in the Galveston newspaper, listening to Motown and betting on sports during the holidays. Later in life she became a senior citizen Taekwondo black belt holder.
Mendez was 10 years the senior of her husband, and handled the family finances, according to her son, Houston poet and educator Lupe Mendez. She was the "rock" of the household.
Friends called her "Cheva" or "Chevy", her son said — "she was very much salt of the earth."
She is survived by her husband, Pedro, her son, Lupe, daughter-in-law Jasminne Mendez Rosario, and her granddaughter Luz Maria Magdalena Mendez Rosario.
Mendez died at 86 on Oct. 1, 2020 of complications due to COVID-19.
Lupe Mendez said she had mortality in mind in her approach to motherhood: "I am on this earth for the time I have to teach you everything I can... so pay attention."
— Elizabeth Trovall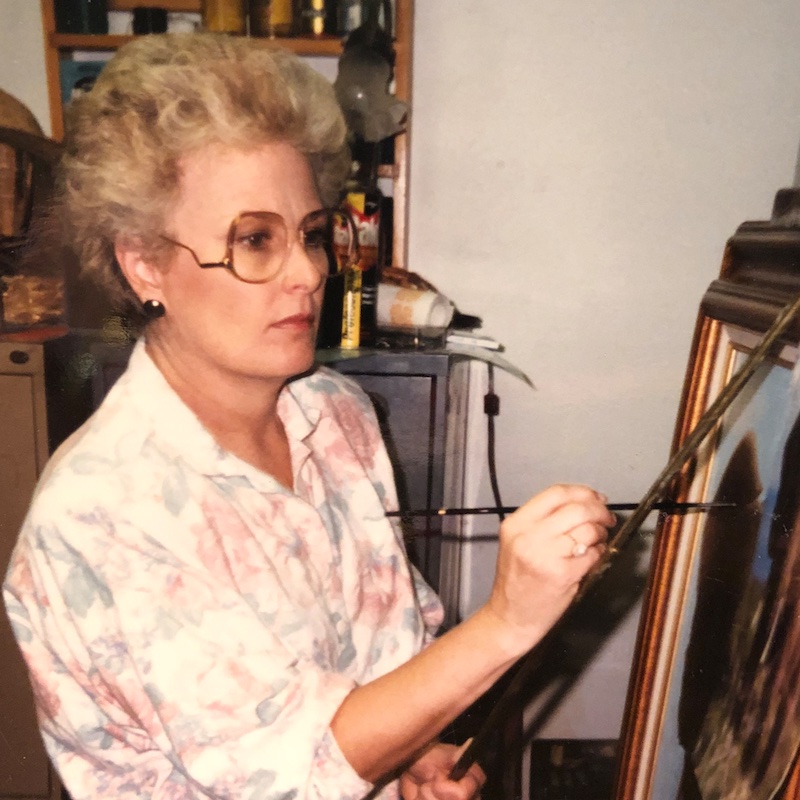 Ellen Shaw
Ellen Shaw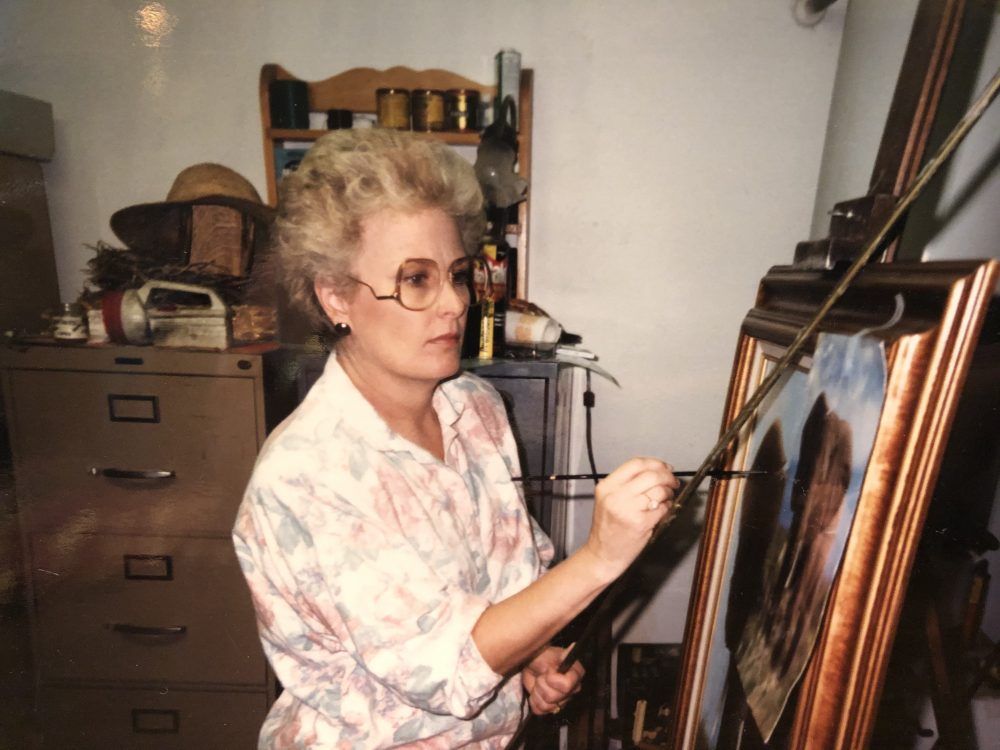 "As she grew in her faith, she realized that there are certain gifts that God gives individuals ... And she knew that this is one of those gifts."
Ellen Shaw created art in many different media throughout her life. Whether it be painting or decorating, she was constantly finding new avenues of self-expression that she was eager to share with others.
She began her journey as an artist at a young age. Shaw's art earned her praise among her peers, as well as a scholarship to Texas Woman's University. However, due to the sudden death of her father, Shaw stayed home to support her family and turned down the scholarship.
She continued to create art in the years that followed. As a devout Christian, she believed she could use her talents to help others. In 1977, she and her husband, John Shaw, converted their garage into a makeshift art studio, where Ellen taught women how to paint for 10 years.
"As she grew in her faith, she realized that there are certain gifts that God gives individuals," said John. "And she knew that this is one of those gifts."
The house they lived in was used as another art project for Ellen Shaw, who took control of the interior design process.
"People have asked me how I've been doing since she passed, and I say 'how do you think I'm doing in the house of Ellen?'" he laughed. "The paintings, the decorations, the colors. It's almost like a painting itself in many ways."
Towards the end of every year, her creativity was put on full display, as the house was covered in Christmas decorations that she created from scratch. When it came to the Christmas tree, her husband says it would look completely different every year: "She would look at it as a canvas," he said.
Then, in 2015, Shaw had determined that she had created the perfect Christmas tree.
"We fastened every ornament to every branch and we found a Christmas tree cover to put over it and put it in the garage," her husband John said.
For the past five years, the day after Halloween, Ellen and John have taken the Christmas tree out of the garage and plugged it in.
This year, the tradition continues without Ellen.
At the age of 79, she died in the early morning of March 29, marking Brazoria County's first death due to COVID-19.
— Lucio Vasquez