Video
Full Show
On-Air TV Spot
Social Media Spot
Hosts and Bios
Ernie Manouse, Senior Producer/Host, Houston Public Media
Ernie Manouse, a native of Binghamton, NY and a graduate of Loyola University Chicago, launched his broadcasting career with NBC News before producing programs at Chicago radio station WLS-AM. In 1996, Ernie joined HoustonPBS (now Houston Public Media), and as an anchor and producer, he has garnered eight Emmy Awards, five KATIE Awards, a Houston Press Club Lone Star Award, "viewer's choice" recognition from multiple local and regional publications, and the title of "Ultimate Interviewer" from the Houston Chronicle.
His intellect, natural curiosity, and ability to help people tell their story have been hallmarks of Ernie's many television projects. InnerVIEWS with Ernie Manouse, an Emmy-nominated and nationally broadcast interview series will enter its 15th season in 2016. His weekly program Arts InSight explores stories and issues of importance to the Houston arts lovers. And currently Manouse is in production on the fourth season of the nationally syndicated and widely successful Downton Abbey inspired talk show Manor of Speaking.
He has also hosted and produced WeekNight Edition, A Mother's Account: The Stella Byrd Interview, The After Party, The Last 24, A Conversation on RACE, Houston 8, A Murder in Montrose, and the annual HoustonPBS Spelling Bee, and has moderated debates of both Houston mayoral and Texas U.S. Senate candidates. Additionally, Manouse serves as co-host to finance expert Suze Orman's on her bi-annual PBS specials.
Ernie's commitment to public television extends beyond creating compelling programs. As a pledge spokesman, he is instrumental in raising over $2 million annually for Houston Public Media, and his talent has helped PBS affiliates across the country raise over 100 million dollars in support of educational outreach, broadcasting, and programming needs. Four of public television's most successful national pledge specials have been hosted by Ernie.
Outside of the television studio, Ernie dedicates tremendous time and expertise in support of the arts, education, and equality. He has worked on numerous boards, serving terms as vice-president for all of the following organizations: Stages Repertory Theatre; Dominic Walsh Dance Theater; USO of Greater Houston; PRIDE Houston; and PRIDE Fest Film Festival. Additionally, Ernie is a popular master of ceremonies, host and auctioneer for events as diverse as The Pride Parade, the U.S. Military Ball, Houston Grand Opera, and the "Big Board" at the Cattle Baron's Ball. Ernie can also be seen "on tour" with Al Pacino in the stage presentation "AL PACINO: One Night Only," where Manouse interviews the acting icon to help raise money and awareness for various arts organizations across the country.
Ernie and his cat Champ reside in the Montrose neighborhood of Houston.
Eddie Robinson, Morning Edition Anchor, Houston Public Media
A native of Mississippi, Eddie started his radio career as a 10th grader, working as a music jock for a 100,000-Watt (Pop) FM station and a Country AM station simultaneously. While the state's governor nominated him for the U.S. Naval Academy, Eddie had an extreme passion for broadcast media, particularly radio.
While earning a Mechanical Engineering degree from Prairie View A&M University, he received numerous awards as an on-air talent for NPR-affiliate, KPVU-FM. After working as a Project Manager for Exxon/Mobil and the 3M Corporation, Robinson decided to move to New York City and get a Masters degree in Media Ecology at New York University. His network television experience started as a Writer/Producer for CBS News. Eddie also worked with CBS Radio for over 7 years, including on-air work at WNEW-FM and WFAN Sports Radio. In addition, he's worked as a Writer for CNN-affiliate, New York 1; a Digital Programming Manager for MTV Networks; and a Sports Talk Show Host for SiriusXM Satellite Radio.
Eddie has returned to Houston after working as a News Host for the #1 public radio station in the country, WNYC. He's also hosted numerous shows and cultural programming for New York Public Radio's performance venue, 'The Greene Space,' and served as a contributor for Studio 360 with Kurt Andersen.
He enjoys lifting weights, attending live concerts, and is an optimistic Texans fan. He's also a member of the National Lesbian and Gay Journalist Association and a rugby alumnus for the Gotham Knights Rugby Football Club.
Photos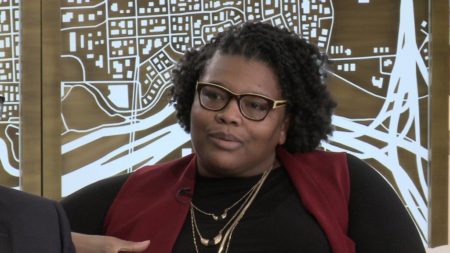 Press Release
FOR IMMEDIATE RELEASE
Houston in Black and White to air on Houston Public Media TV 8 Jan. 16, Martin Luther King Jr. Day
TV special to explore issues facing black and white communities in Houston
HOUSTON – (Jan. 9, 2017) — Houston Public Media is exploring the issues that face black and white communities in Houston during a 60-minute TV special, "Houston in Black and White," that airs on Martin Luther King Jr. Day, Monday, Jan. 16 at 9 p.m. on TV 8. The show will explore who we are, how we arrived here and what we can do to move forward into a future of healing, equality and growth. Click here for a preview.
Co-hosts Ernie Manouse, arts and culture senior producer for Houston Public Media, and Eddie Robinson, News 88.7 "Morning Edition" news anchor, guide in-depth discussions with four civil rights activists and thinkers from Houston on topics ranging from racism and Affirmative Action to police and the media. The show opens with a message from Mayor Sylvester Turner. The panelists on the show include:
"Several months ago Eddie and I both met individually with people from our own racial groups and asked them the same set of questions to create topic starters for a bigger conversation with our four special guests," said Manouse, who also served as the show's producer. "The purpose of this program is to discuss what often divides our communities, in order to get a better understanding of how we see these differences and how much we truly have in common."
He adds that the hope is that it will spur a much needed conversation out in the community and give us all an opportunity to move forward with a more positive understanding of each other.
"'Houston in Black and White' exposes the experiences of individuals from different races and ethnicities and allows them to take part in a much needed dialogue," said Robinson. "We examine why some people think racism in Houston is getting better, why some think it's getting worse, why some think it's widespread, why some think it's invisible and why many of them think, on some level, it's actually the norm."
Houston Public Media will host a live Twitter chat during the special with the hosts and panelists to talk about the show and answer viewer questions. The community is invited to join the conversation using the hashtag #HouBW.
"Houston in Black and White" is part of Houston Public Media's DiverseCity project (#DiverseCity), a yearlong multi-media initiative looking at what Houston's diversity means for the city. Stay tuned to houstonpublicmedia.org/diversecity for all Houston Public Media stories and content related to this initiative.
# # #
About Houston Public Media
Houston Public Media combines broadcast and digital assets to serve residents of Southeast Texas with a curated mix of trusted local news and entertainment with exceptional national programming from NPR and PBS. Houston Public Media is a public service from the University of Houston, its license holder, and is supported with financial gifts to the Houston Public Media Foundation. With a combined weekly audience of more than 1.5 million, Houston Public Media is committed to delivering content that expands minds and possibilities with trusted information. Connect on Facebook at facebook.com/houstonpublicmedia and Twitter at twitter.com/HoustonPubMedia