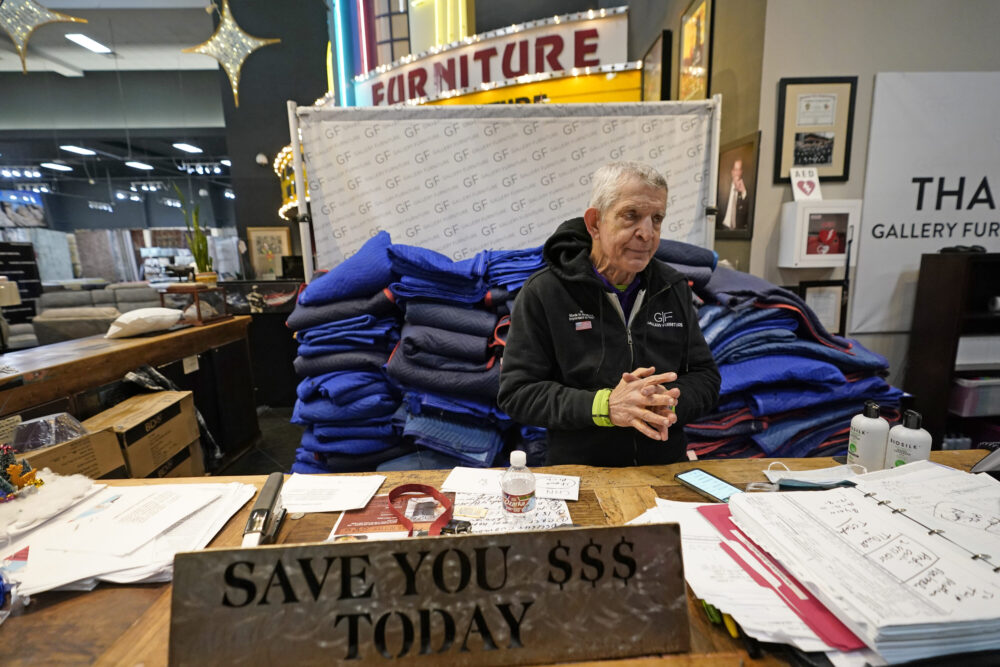 Jim "Mattress Mack" McIngvale, the Houston businessman and Republican political donor who has questioned the validity of the 2022 election results in Harris County, has launched an information-gathering campaign in search of voters who might have had problems casting their ballots.
Near the top of a new website, hardtovote.com, is a 31-second audio recording from McIngvale, who asks voters to share their experiences if "you believe you were denied the opportunity to vote" in the Nov. 8 election. The message, which identifies itself as a "political ad paid for by Mattress Mack," also has aired on at least one Houston radio station.
The campaign comes on the heels of a lawsuit filed last week by McIngvale and local media consultant Wayne Dolcefino, who sued the Harris County Elections Administrator's Office for allegedly not providing election-related records requested through the Texas Public Information Act. Alexandra del Moral Mealer, whose election campaign for Harris County Judge was backed by McIngvale both financially and through TV commercials with the Gallery Furniture owner, is one of nearly two-dozen Republican candidates in the county who have filed lawsuits contesting their losses in November.
"What Mattress Mack is doing is surfing for litigants and experts to document the problems he claims have occurred in November's election, so he can go into court and say, 'Not only do we see evidence of polling locations running out of paper, but here are the people that were harmed,'" Rice University political science professor Bob Stein said. "You have to have standing (in a court case). You have to show that somebody tried to vote and couldn't."
Attempts to reach McIngvale for comment Tuesday were unsuccessful.
Republicans both locally and across Texas have criticized how the election was run in the state's largest county, which has leaned Democratic since 2018. The Harris County Republican Party claimed in a Nov. 14 lawsuit against the county and elections administrator Clifford Tatum that he violated election laws and "illegally disenfranchised tens of thousands" of registered voters, citing reports of ballot paper shortages, voting machine malfunctions and inconsistencies in operating hours at various polling locations.
Some Republican leaders have even called for Harris County to scrap the results from November and hold a new election, although none has provided evidence of the type of widespread voter disenfranchisement that would warrant such an action.
Stein said he does not question McIngvale's concerns about voting irregularities on Election Day, but is "skeptical" about whether the issues were significant enough to affect the outcome of any races – including the one involving Mealer, who received 49.2 percent of the vote and lost to incumbent Democrat Lina Hidalgo by 18,183 votes. Stein said McIngvale could be looking to protect or resurrect his investment into Mealer, to whom he donated at least $448,000.
Stein also said McIngvale is "conveniently raising the same kind of doubts" that then-President Donald Trump raised about the 2020 presidential election, which he lost to Joe Biden.
"I think there's a political agenda here," Stein said. "The agenda here is to spread doubt in the way we conduct elections in Harris County. I don't know who that serves."
University of Houston political science professor Brandon Rottinghaus described the Hard to Vote website as "another trolling operation to try to drum up evidence of voter fraud, which has been minimal generally." He also said information submitted through the website, especially if it's done anonymously, would need to be verified and "very carefully treated" in order to be considered credible.
If claims of election fraud are publicized without being properly vetted, Rottinghaus said, that could potentially lead to criminal actions or "damage the perceptions of democratic rule." The insurrection at the U.S. Capitol on Jan. 6, 2021, was fueled at least in part by Trump's false claims that the 2020 election was stolen from him.
"There is a slippery slope here that's troublesome if these things aren't handled properly," Rottinghaus said.
The new website asks Harris County residents to share their names and contact information along with details about a "bad experience voting," including by uploading photos and videos. It also asks if informants would be "willing to be filmed for any upcoming social media or commercial purposes related to your voting experience."
"(McIngvale) seems to be confident that this a widespread problem, when the evidence doesn't back it up," Rottinghaus said. "It's certainly the case that he thought he would be a king maker, or queen maker, for the county. That didn't exactly happen."