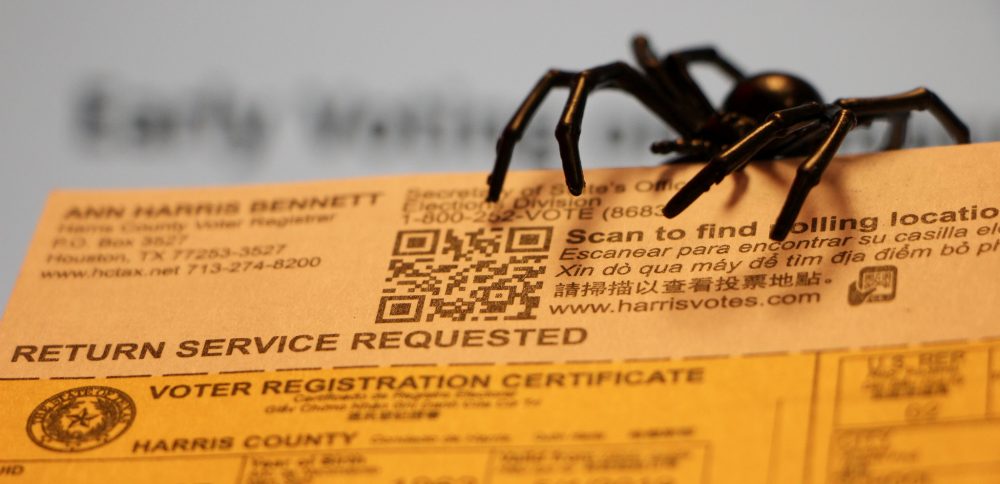 Houston-area voters can wear Halloween costumes to the polls on Monday – or any other day voting locations are open – as long as they don't dress up as Texas Gov. Greg Abbott, Harris County Judge Lina Hidalgo or any other candidates on the ballot for the Nov. 8 midterm election.
But if voters want to wear masks made in the images of former United States presidents Donald Trump or Barack Obama, or put a button on their shirt that includes the name and face of former county judge Ed Emmett, that would be allowed under Texas law.
The state's electioneering statutes have long prohibited voters, polls workers and others from wearing any clothing or apparel that represents or promotes a political candidate, party or ballot measure when they are inside a voting location or within 100 feet of one. The law was amended last fall in response to a federal court ruling that found such apparel should only be prohibited if it pertains to candidates or referenda that are on the ballot for a current election.
So Halloween costumes are permitted as long as they are within those parameters. If they violate the law, election judges likely will ask those voters change clothes, turn them inside out or remove or cover the offending item before voting.
"If you come dressed as a cat, you are allowed to vote," said Leah Shah, a spokesperson for the Harris County Elections Administrator's Office. "If you're coming dressed as Greg Abbott, (the amended law) applies. So it just depends on if you're Halloween costume is specific to a political candidate or measure on the current ballot."
Sam Taylor, a spokesperson for the Texas Secretary of State's Office, which oversees elections in Texas, said the purpose of electioneering laws is to ensure a neutral environment in polling places that allows citizens to cast votes in private and without fear of coercion, intimidation or influence. Devices that can communicate wirelessly or record images or sound also are prohibited in a polling location or within 100 feet of one.
As it pertains to the attire of voters, the law was challenged in 2018 by a Houston voter who was asked to turn inside out a Houston firefighter T-shirt. Proposition B, which asked voters to provide pay parity among the city's firefighters and police officers, was on the ballot that year.
The federal court ruling narrowed the law to allow voters to wear clothing that does not promote current candidates or ballot measures. Taylor said the ongoing election is the fifth in Texas to be held under the amended rule, adding that he hasn't heard of any problems created by the change and that it hasn't resulted in any voters being turned away at the polls and unable to cast ballots.
"Voters should be well used to this by now, but if you haven't voted in the past year, this might be something new to you," Taylor said. "Just make sure you're not wearing any apparel, T-shirts, hats or buttons related to any candidate or measure on your current ballot, and you will be good to go."
Violations of electioneering laws are class C misdemeanors punishable by fines up to $500. But Taylor said it's uncommon and unlikely for election judges to involve law enforcement over a violation of the clothing rule, adding that the state advises county elections offices to prioritize voters' rights to cast ballots as well as the orderly flow of voters at a polling place.
Along those lines, Taylor said presiding elections judges might move non-compliant voters to the front of the line so they can cast their ballot and leave more quickly, thereby minimizing the impact of their electioneering.
Presiding election judges have discretion to determine what's a violation and also have the authority to turn away voters who refuse to comply, according to Taylor, who also said those judges could allow non-compliant voters to first cast their ballots and then involve law enforcement after the fact.
"Our guidance to county election officials is to make sure the person can cast a ballot first, get in and out and not disrupt the process at all," Taylor said. "That's the priority."
Shah with the Harris County elections office, which runs elections for the largest county in Texas, said it is asking voters to comply with the clothing and apparel guidelines but would not turn away a non-compliant voter unless there was an escalated confrontation over the issue.
"We will accommodate voters as long as safety is not a concern," Shah said. "We ask voters to adhere to the electioneering laws, but we will work with everyone to ensure they cast their ballot."
Taylor said there are no other clothing-related election laws "on the books in Texas," including those that might pertain to Halloween costumes. If someone wears a Halloween mask to the polls, he said, they would be asked to temporarily remove it so their identity could be verified at check-in, much like airport security personnel asks travelers to move facemasks worn because of COVID-19.
"Halloween costumes are fair game," Taylor said.