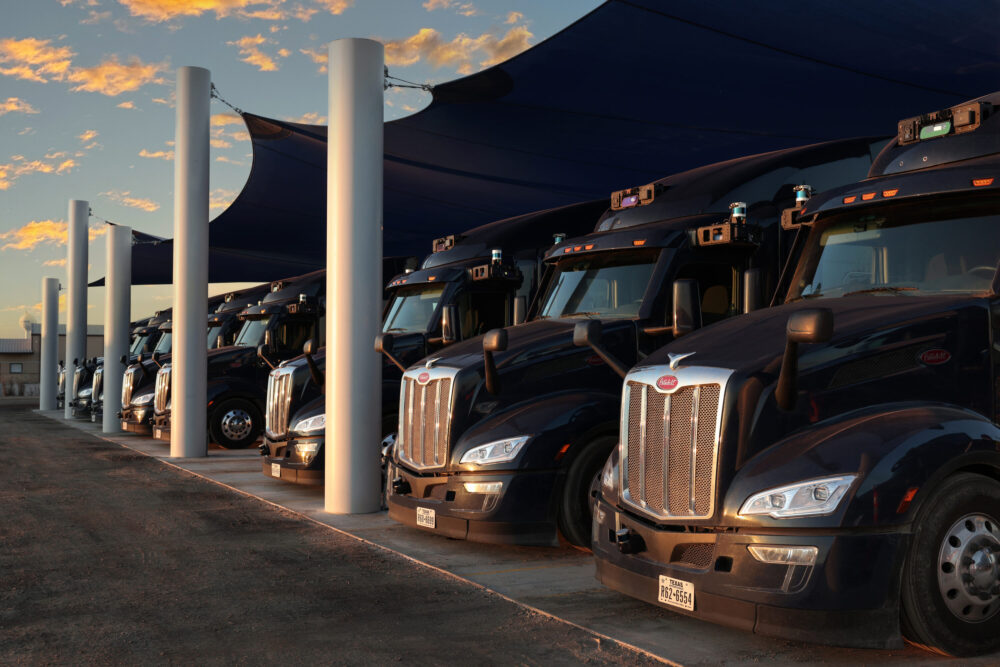 The race to commercialize self-driving semitrucks in Texas is heating up.
Aurora Innovation, Inc., which for the last 18 months has been making pilot freight hauls with autonomous trucks overseen by human operators, announced this week that it plans to launch a fully autonomous commercial freight-hauling service between Houston and Dallas by the end of 2024.
The Pittsburgh-based company, which was founded in 2017, is not the only firm developing self-driving technology to ship goods between Texas' two largest cities. Last August, California-based Kodiak Robotics began using self-driving 18-wheelers to transport IKEA products between the Houston and Dallas areas, while also having humans behind the wheel to oversee the deliveries.
Aurora said it has incrementally increased the "performance, safety, and reliability" of its self-driving system while making more than 1,000 pilot hauls between Houston and Dallas since September 2021 for companies such as FedEx, Schneider and Uber Freight. It expects to ramp up its operations by hauling 100 loads per week by the end of this year.
Aurora Horizon is the name of the autonomous trucking subscription service the company aims to launch by the end of 2024. It also is developing a driverless ride-hailing passenger vehicle service it calls Aurora Connect.
"From day one, we made foundational technology investments and strategic decisions that have helped us reach this pivotal moment," Aurora co-founder and CEO Chris Urmson said in a news release. "As we mature operations in advance of the launch of Aurora Horizon, our customers will continue to experience the value autonomy can bring to their businesses."
Kodiak Robotics said last fall that one of the goals of its self-driving system was to improve working conditions for human drivers as well as their quality of life, because those drivers could focus on shorter trips closer to home while autonomous vehicles make longer hauls. That notion received pushback from Liz Castillo, the president and founder of the Greater Houston Trucking Association, who said at the time that autonomous trucks raise safety concerns and figure to lead to job losses and a depression of wages for human operators at a time when the trucking industry already is experiencing a driver shortage.
According to a March 2022 study by researchers at the University of Michigan and Carnegie Mellon University, up to 94 percent of trucker operator hours may be impacted "if automated trucking technology improves to operate in all weather conditions across the continental United States." The study also found that the loss of operator hours associated with the automation of long-haul trucking – trips of 150 miles or longer – would "not be made up both in terms of quantity and quality by short-haul driving work."
An Aurora spokesperson echoed Kodiak's claim in an email Wednesday, saying that "building autonomous vehicle technology into the long-haul ecosystem can help the freight industry focus human drivers on more desirable, shorter trips." The spokesperson also said self-driving trucks can help combat the shortage of human drivers while expanding capacity for carriers and shippers, and that Aurora envisions a freight future with a hybrid system utilizing both autonomous and human-driven semitrucks.
Aurora announced in a Monday news release that it had made six beta updates to its self-driving system over the last 18 months and has determined the system now has all the capabilities it needs for a commercial service, with refinements set to take place ahead of the planned launch next year.
The company's most recent system update incorporated the capabilities for self-driving trucks to identify when they have been involved in a collision and respond by stopping and notifying a command center, along with the ability to detect and respond to "out of design domain" scenarios, such as encountering unexpected or extreme weather.