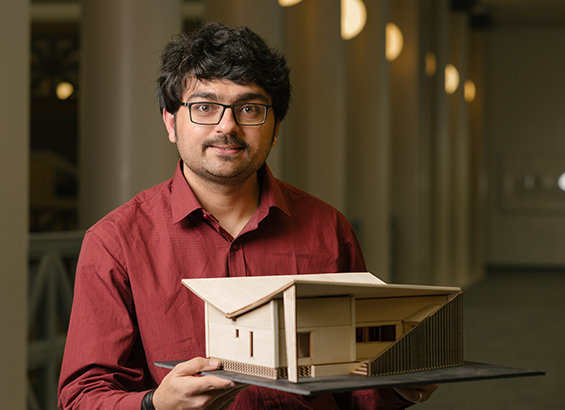 A house designed by a graduate student from the Gerald D. Hines College of Architecture and Design at the University of Houston is helping to revitalize Sharpstown. Tanmay Thakker is the winner of the inaugural Sharpstown Prize for Architecture sponsored by the Seeds of Sharpstown.
"I was totally surprised," Thakker said. "I was not thinking about winning it, but I was trying to do my best."
The organization works to promote the Southwest Houston community through arts and engagement – and partnered with professor Rafael Longoria's graduate-level studio class at UH to design a single-family house that will be built on a vacant lot.in the neighborhood.
"This is a great experience for the students to have one of their projects built," Longoria said.
Working with a $140,000 budget for the total cost of construction, Thakker's winning design called "Screen House," was inspired by his view of today's high-tech world. He'll now take part in planning the construction starting this spring.
"Once the house is built this will be a great opportunity and make my resume very strong," Thakker said.
This content is in service of our education mission and is sponsored by the University of Houston. It is not a product of our news team.