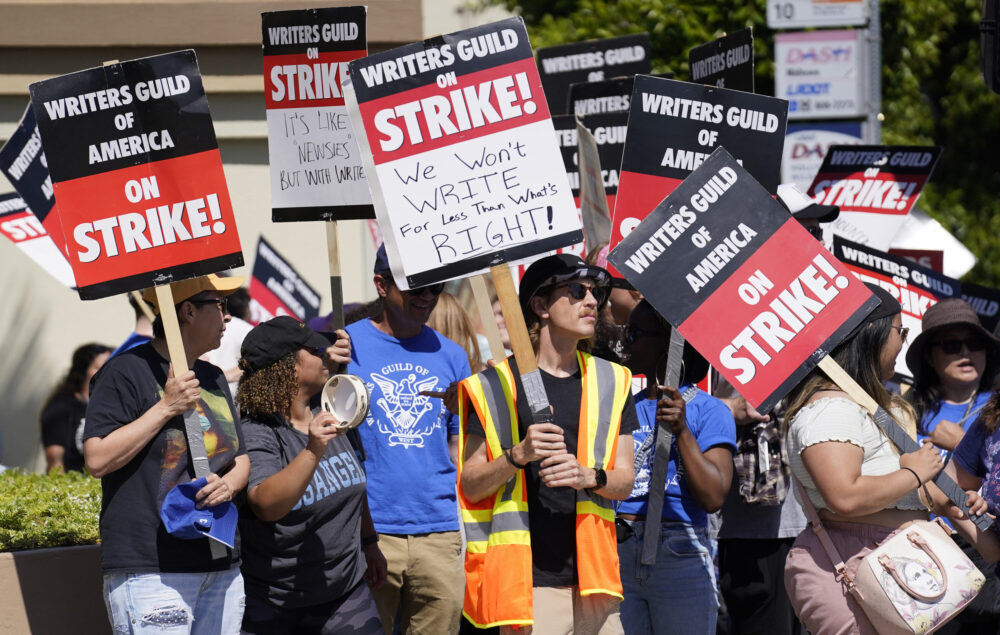 Town Square with Ernie Manouse airs at 3 p.m. CT. Tune in on 88.7FM, listen online or subscribe to the podcast. Join the discussion at 888-486-9677, questions@townsquaretalk.org or @townsquaretalk.
First, we talk to political science professor Dr. Ryan Kennedy who discusses the testimony of OpenAI CEO Sam Altman before Congress, the threats artificial intelligence could pose, and Congress' efforts to address these concerns.
Then, we're joined by The Hollywood Reporter West Coast TV Editor Lesley Goldberg who discusses the latest updates on the 2023 writers strike, why the strike is happening now, and the issues writers are experiencing. The Writer's Guild of America (WGA) has been on strike since May 2, against the Alliance of Motion Picture and Television Producers (AMPTP).
Film, TV, and Media Studies professor Dr. Miranda Banks is also with us to share insight on why the WGA has had more strikes than any other guild, history about previous writers strikes, and the current landscape of the modern entertainment industry.
Plus, theatre journalist Robert Viagas explains the latest on 2023 Tony Awards and what effect the writers strike will have on Broadway's favorite awards show.
Guests:
Professor of Political Science, University of Houston
Specializes in the area of AI and public policy
Associate Professor and Chair of Film, Television and Media Studies, Loyola Marymount University
Author, The Writers: A History of American Screenwriters and Their Guild
West Coast TV Editor, The Hollywood Reporter
Co-host of the weekly industry podcast, TV's Top 5
Theatre Journalist
Author, "Right This Way: A History of The Audience"
Town Square with Ernie Manouse is a gathering space for the community to come together and discuss the day's most important and pressing issues.
We also offer a free podcast here, on iTunes, and other apps