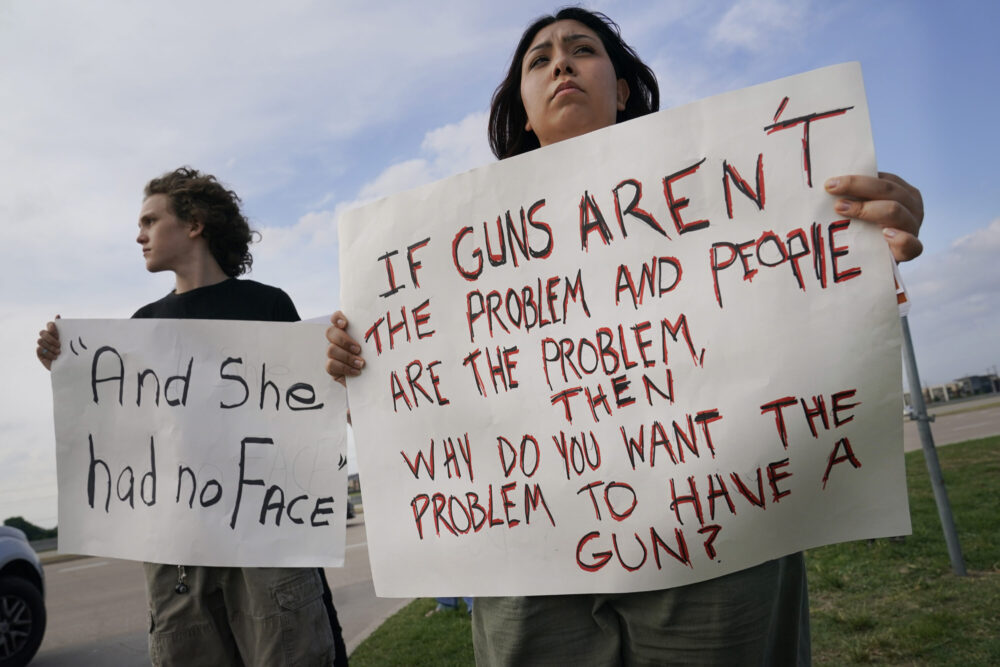 Town Square with Ernie Manouse airs at 3 p.m. CT. Tune in on 88.7FM, listen online or subscribe to the podcast. Join the discussion at 888-486-9677, questions@townsquaretalk.org or @townsquaretalk.
It was another weekend of violence in America. A mass shooting at an outlet mall in Allen, TX, killed eight people and injured seven others. This brings the total of mass shootings in America to more than 200, according to the Gun Violence Archive. Additionally, a car crash in Brownsville, TX, resulted in the deaths of 8 pedestrians, injuring 10 others, with motives still unclear.
These tragedies, along with four publicized shootings to occur in the U.S., within a one-week period last month, and a massacre in Cleveland, TX, resulting in the deaths of five people, have many frustrated and questioning how so much violence has become a common occurrence in America.
For the full hour, we welcome back psychologist Dr. Jeff Temple who joins us to share his thoughts on the persisting issue of gun violence in the country, why there are so many mass shootings taking place in the U.S., and his thoughts on overall violence in our society.
We're also joined by psychologist Dr. Dennis Reidy, who explains the patterns of behavior that can lead to violence, his thoughts on how violence in the U.S. is more than a mental health issue, and whether the rate of violence is increasing compared to the past.
Plus, we talk with Texas State Representative Jarvis Johnson (TX-139) about the House Community Safety Select Committee's vote today to advance House Bill 2744, which would raise the age to buy semi-automatic rifles in Texas.
Guests:
Psychologist
Vice Dean for Research and Scholarship at the School of Nursing, UTMB Health
The John Sealy Distinguished Chair in Community Health, UTMB Health
Director of the Center for Violence Prevention, UTMB Health
Associate Professor in School of Public Health, Georgia State University
Director of Community Outreach & Engagement for the Center for Research on Interpersonal Violence, Georgia State University
Texas House of Representatives, District 139
Town Square with Ernie Manouse is a gathering space for the community to come together and discuss the day's most important and pressing issues.
We also offer a free podcast here, on iTunes, and other apps