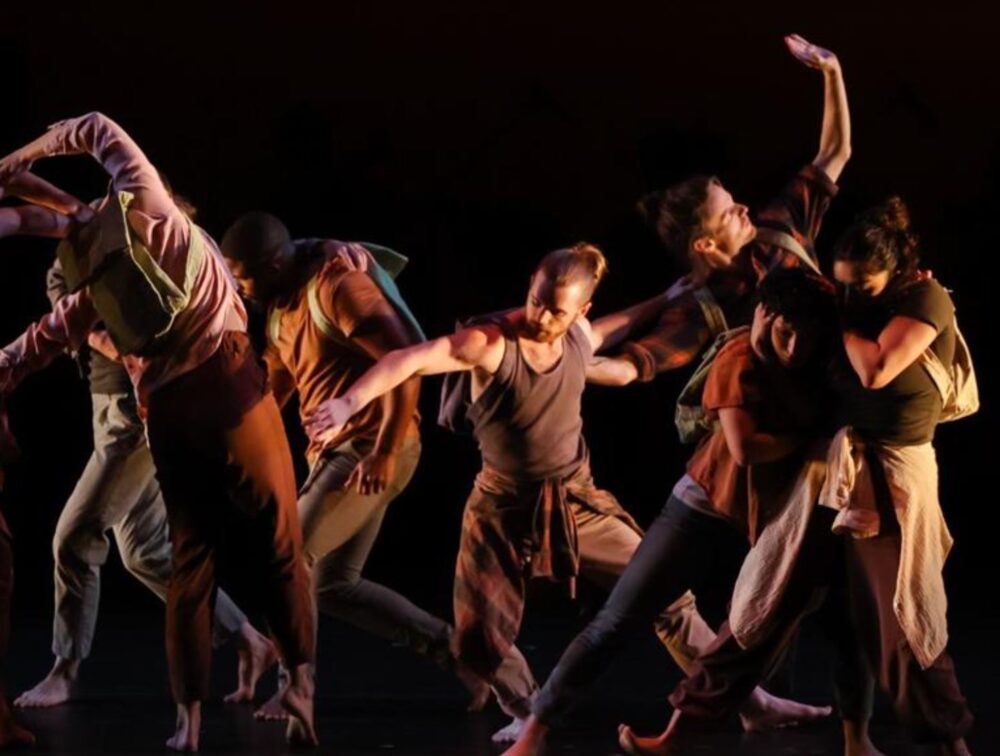 Town Square with Ernie Manouse airs at 3 p.m. CT. Tune in on 88.7FM, listen online or subscribe to the podcast. Join the discussion at 888-486-9677, questions@townsquaretalk.org or @townsquaretalk.
You heard it here first! Performing Arts Houston (PAH) announced its 2023-2024 Season lineup right here on Town Square with Ernie Manouse!
For the full hour, we're joined by PAH President & CEO Meg Booth, Director of Artistic Programming Lee Strickland, and Director of Education Claire Williamson to share details on the all the shows in the upcoming season.
We learn about what audiences can expect from the shows this season which celebrate milestones, share moments that inspire joy, as well as artists who embrace life with curiosity, humor, & curiosity.
For more information on all these productions, visit PerformingArtsHouston.org.

Performing Arts Houston's 2023-2024 Season Lineup:
Bluey's Big Play
July 29 – 30, 2023
It's the first live theatrical adaptation of the children's Emmy-Award winning animated series, Bluey, featuring an original story by creator Joe Brumm, new music by composer Joff Bush, and life-sized puppets of the beloved characters.
MOMIX: Alice
September 16 – 17, 2023
The Connecticut-based contemporary dance company combines dance, acrobatics, and illusions in the newest work by Moses Pendleton inspired by Lewis Carroll's Alice in Wonderland.
An Evening with Isaac Mizrahi
September 23, 2023
The actor, host, writer, designer, and producer Isaac Mizrahi and his band of jazz musicians perform an evening of cabaret, featuring comedic musings from his career and songs from artists such as Madonna, Billie Eilish, Barbara Streisand, and more.
John Waters: End of the World
October 13, 2023
Legendary director John Waters of Pink Flamingos, Female Trouble, Hairspray, and more, brings his new one-man spoken word comedy act to Houston on Friday the 13th.
Lila Downs: Día de Los Muertos
October 19, 2023
Grammy and Latin Grammy Award-winning singer Lila Downs brings the Día de Los Muertos celebration to Jones Hall, featuring folklorico dancing and a mariachi band.
Madagascar The Musical
October 20 – 21, 2023
The Houston debut of a new musical based on the DreamWorks animated film. It features high-energy dance numbers, excellent costumes, and comedy for all age groups.
An Evening with Howie Mandel
October 22, 2023
One of Comedy Central's Top 100 Comics of All Time and Judge on America's Got Talent, Howie Mandel makes his Performing Arts Houston stand-up comedy debut.
Step Afrika!: Drumfolk
October 27 – 28, 2023
In this Houston debut of the first professional dance company dedicated to the tradition of stepping, audiences will see a new work inspired by the Stono Rebellion of 1739. Step Afrika! was founded in 1994 by Houston native C. Brian Williams.
Vienna Boys Choir
November 1, 2023
Celebrating their 100th international tour, after 1000 tours in 100 different countries since 1924. The Vienna Boys Choir has been presented by PAH since 1979.
David Sedaris
November 3, 2023
See one of America's pre-eminent humor writers, of books such as Holidays on Ice, Naked, Calypso, and more. Sedaris will sign books for all attendance at this talk.
New/Now: The Houston Artist Commissioning Project
January 19-20, 2024
This program showcases Houston artists from a wide range of artistic and cultural backgrounds. Applications for these awards are open through May 12, 2023. Winners will be announced later this summer. For an application and more details, click here.
Les Ballets Trockadero de Monte Carlo
January 23, 2024
The all-male ballet company returns with comedic parodies of classical ballets, all performed en pointe, for their 50th anniversary tour.
Time For Three
February 9, 2024
Classically trained instrumentalists and vocalists Charles Yang, Nick Kendall, and Ranaan Meyer, combine popular genres to create their own music and sound.
Manual Cinema: Leonardo!
February 23 – 24, 2024
A film created in real-time using puppets, props, live actors, and songs to bring Mo Willems' children's book Leonardo the Terrible Monster to life.
Alvin Ailey American Dance Theater
March 7-9, 2024
This dance company celebrates the uniqueness of the African American cultural experience. Performing Arts Houston has presented Alvin Ailey American Dance Theater more than any other artist.
Bruce Liu, Piano
April 2, 2024
The first prize winner of the 18th International Chopin Competition (2021) makes his Houston debut.
The Princess Bride: An Inconceivable Evening with Cary Elwes
April 12, 2024
A chance to join The Princess Bride star, Cary Elwes, for a screening of the classic film, followed by a moderated discussion, with our own Ernie Manouse, of his experiences working on the film.
A Thousand Thoughts
April 13, 2024
A "live documentary" with the Kronos Quartet for their 50th anniversary tour with the ensemble on stage exploring their groundbreaking, multi-decade career.
Ukulele Orchestra of Great Britain
April 30, 2024
The return of the Ukulele Orchestra of Great Britain with a comedic menagerie of music genres, where audiences are encouraged to bring their own ukuleles for a special play-along.
For more information on all these productions, visit PerformingArtsHouston.org.
Guests:
Meg Booth
President & CEO, Performing Arts Houston
Lee Strickland
Director of Artistic Programming, Performing Arts Houston
Claire Williamson
Director of Education & Community Engagement, Performing Arts Houston
Town Square with Ernie Manouse is a gathering space for the community to come together and discuss the day's most important and pressing issues.
We also offer a free podcast here, on iTunes, and other apps