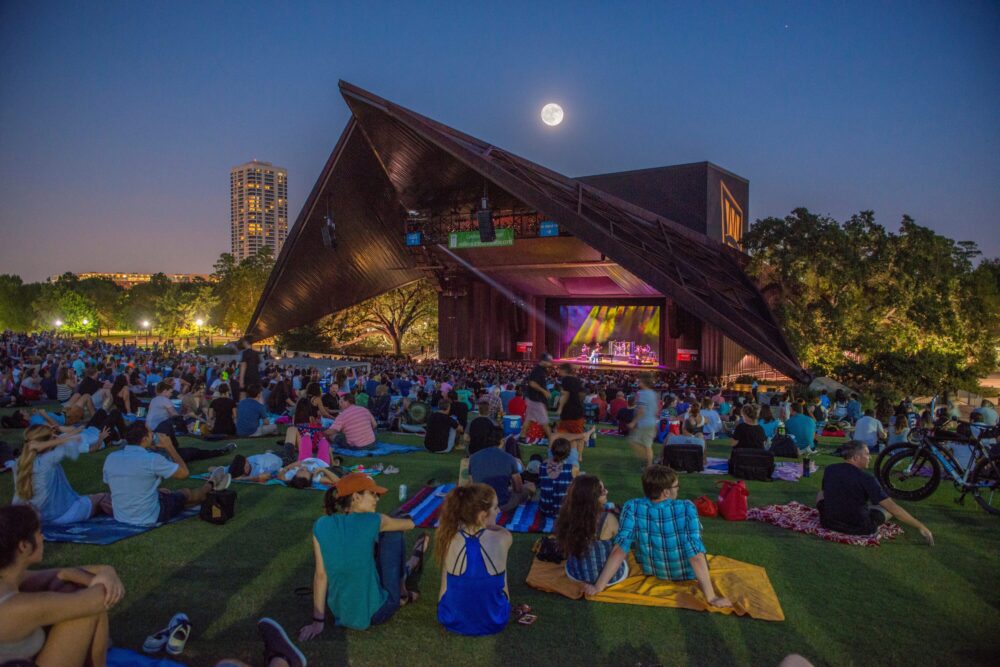 Town Square with Ernie Manouse airs at 3 p.m. CT. Tune in on 88.7FM, listen online or subscribe to the podcast. Join the discussion at 888-486-9677, questions@townsquaretalk.org or @townsquaretalk.
For the full hour, we're live on-location at Miller Outdoor Theatre to discuss this crown jewel of Houston located in Hermann Park, as 2023 marks its 100th Anniversary. Plus, we celebrate St. Patrick's Day with guests who keep Irish music and dance alive.
First, we speak with Ryan Kelly, lead singer of the Irish group and stage show Celtic Thunder. He discusses his musical journey as a performer, his passion for music, as well as the projects he's currently working on.
Then, we're joined by Chelsea Hoy and Francisco Lemus, of Trinity Irish Dance Company. Hoy explains how their innovative, dynamic company elevates traditional Irish dance and incorporates a message of female empowerment. Lemus shares his personal story of seeing Irish dance first on YouTube and then traveling 3 hours to the nearest class in Mexico. He became the first Mexican to place in the top five of the U.S. National Championships.
The Trinity Irish Dance Company will be performing at 8pm, March 17, 2023, at Miller Outdoor Theatre. This will be a free performance, no tickets required.
We are then joined by Cissy Segall Davis, Managing Director for Miller Outdoor Theatre, who explains how they offer live music, dance, theatre, and more, free for the public. She also shares details of the upcoming events for the theatre's 100-year celebration, including eight months of exceptional programming.
Also, University of Houston history professor, Dr. Debbie Harwell, discusses the history of Miller Outdoor Theatre from what was going on in Houston when it started, how it's famous hill was built, and how it survived through the pandemic.
For more information on the upcoming events for Miller Outdoor Theatre's 100-year celebration, click here. For general information about Miller Outdoor Theatre, click here.
Guests:
Chelsea Hoy
Francisco Lemus
Managing Director, Miller Outdoor Theatre
Editor, Houston History Magazine
Instructional Assistant Professor in History and Honors, University of Houston
Town Square with Ernie Manouse is a gathering space for the community to come together and discuss the day's most important and pressing issues.
We also offer a free podcast here, on iTunes, and other apps