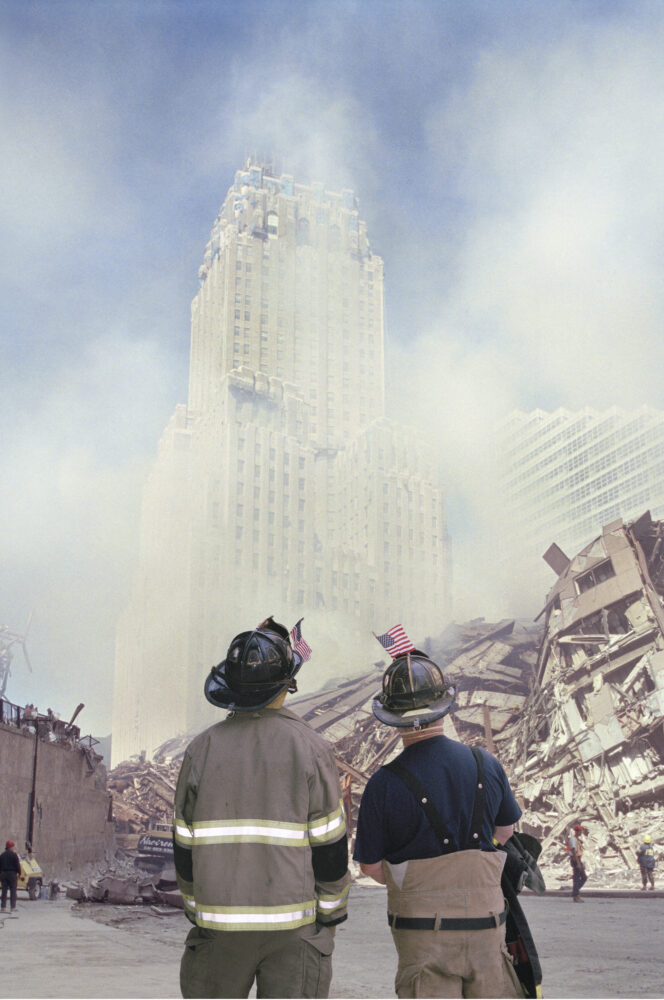 Town Square with Ernie Manouse airs at 3 p.m. CT. Tune in on 88.7FM, listen online or subscribe to the podcast. Join the discussion at 888-486-9677, questions@townsquaretalk.org or @townsquaretalk.
Never forget.
Twenty-one years later, the scars left by the events of September 11, 2001, are still fresh for many Americans who tragically lost their loved ones during the attacks.
Many, like artist Nicola McClean, remember where she was that tragic day as she witnessed the attack on the World Trade Center. As a photographer living in New York City at the time, she grabbed her camera, headed downtown, and captured what she could on film. She wasn't prepared for the devastation, but told herself in that moment, that through these images, this would never be forgotten.
Her experiences from that tragic day inspired Nicola to create the Ground Zero 360 "Remembrance" exhibition, which features photographs, artwork made from materials recovered from the Twin Towers, missing person posters, and personal artifacts from police officers and firefighters who lost their lives that tragic day. The exhibit also features the work of over 60 artists from all over the world as they reflected on their feelings of the 9/11 attacks.
In this episode, live on location at the exhibit, hear from the curator and co-founder of the Ground Zero 360 exhibition, retired NYPD Inspector Paul McCormack. He shares his experience working as an NYPD commanding officer on that day, working to locate survivors at Ground Zero with other first responders, and the inspiration he found from fellow Americans banding together in the wake of such a tragedy.
We also talk to family members who lost loved ones on that day and how they are honoring their memories. Plus, we talk with a participating artist on why it was so important for him to be a part of this exhibit.
Ground Zero 360 "Remembrance" runs September 12, 2022, through January 31, 2023 at Houston Baptist University Art Museum and Galleries. It is open 11 a.m. to 4 p.m. Mondays through Thursdays.
Guests:
Paul McCormack
Retired NYPD Inspector
Curator, Executive Producer & Co-Founder, Ground Zero 360
Michael Roque Collins
Artist
Senior Director of Visual Arts Department, Houston Baptist University
Senior Artist-In-Residence, Painting
Jim Smith
Lost his wife, NYPD Officer Moira Smith
Patrick Jackson
Lost His Brother-In-Law, FDNY Firefighter Kevin O'Rourke
Town Square with Ernie Manouse is a gathering space for the community to come together and discuss the day's most important and pressing issues.
We also offer a free podcast here, on iTunes, and other apps.