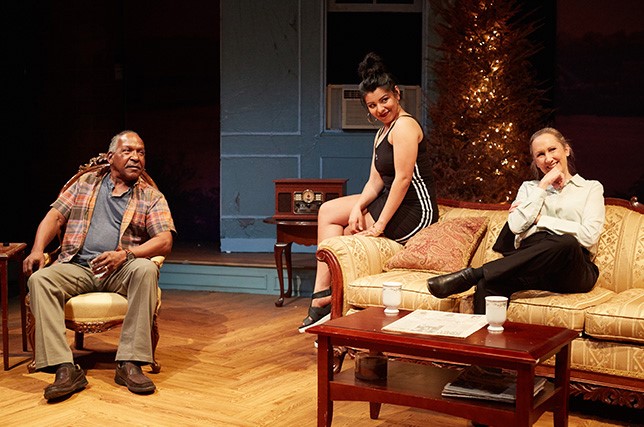 Town Square with Ernie Manouse airs at 3 p.m. CT. Tune in on 88.7FM, listen online or subscribe to the podcast. Join the discussion at 888-486-9677, questions@townsquaretalk.org or @townsquaretalk.
As we continue to highlight Houston theater, we turn our focus to the smaller, local and community theatres to provide a preview of what they have coming up this summer and in their next season.
With a long list of great theatres to feature, 4th Wall Theater is one longtime Houston theatre group that will present its final week of the playing of Between Riverside and Crazy this Saturday, a stage performance that promises a lot of fun.
Mildred's Umbrella Theater Company seeks to challenge audiences and theatre artists by creating and performing bold, innovative, and new theatrical works in their season, while also bringing young writers from across the country present plays to help stop gun violence.
Then there's Miller Outdoor Theatre's Juneteenth: The Journey to Freedom. This performance will be filled with dramatic visuals, live music, narrations, and dance — telling the story of African Americans from 1865 to today and their journey to the celebration of freedom.
Many more theaters and performing arts reviews, to include the Express Children's Theatre, also make for great performing arts conversation in this episode, as we take recommendations from our listeners on what shows impact them most.
Guests:
Houston Chronicle Theatre Critic
Professor of English at Houston Baptist University
4th Wall Theater Company Co-Founder, Artistic Director
Mildred's Umbrella Theater Company, Founder and Artistic Director
Managing Director at Miller Outdoor Theatre
Express Children's Theatre, Executive Director
Town Square with Ernie Manouse is a gathering space for the community to come together and discuss the day's most important and pressing issues.
Audio from today's show will be available after 5 p.m. CT. We also offer a free podcast here, on iTunes, and other apps.