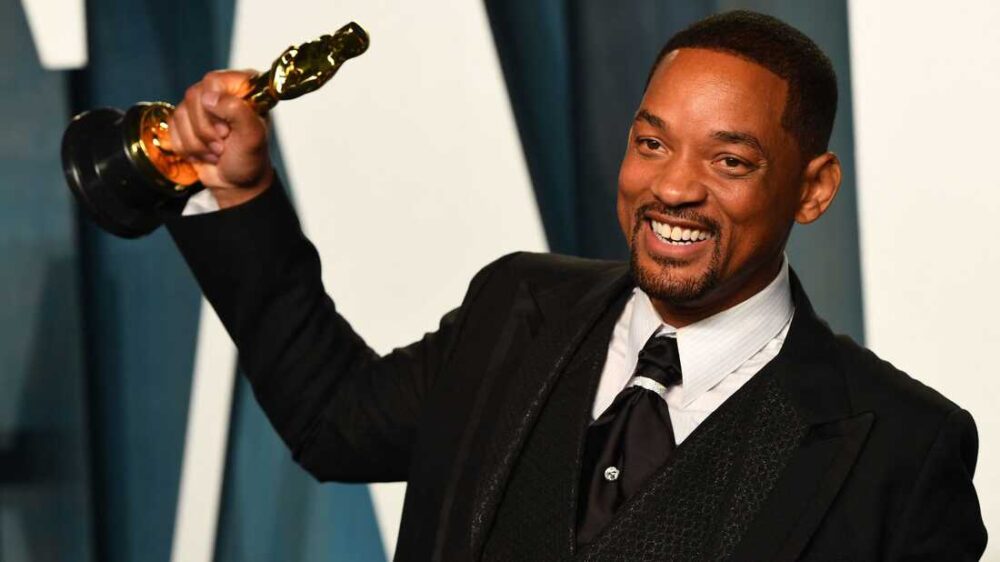 US actor Will Smith holds his award for Best Actor in a Leading Role for "King Richard" as he attends the 2022 Vanity Fair Oscar Party following the 94th Oscars at the The Wallis Annenberg Center for the Performing Arts in Beverly Hills, California on March 27, 2022. (Photo by Patrick T. FALLON / AFP) (Photo by PATRICK T. FALLON/AFP via Getty Images)
Town Square with Ernie Manouse airs at 3 p.m. CT. Tune in on 88.7FM, listen online or subscribe to the podcast. Join the discussion at 888-486-9677, questions@townsquaretalk.org or @townsquaretalk.
Most were shocked by what we saw Sunday night at the Academy Awards, and there has been a lot said and written about the violent Will Smith-Chris Rock altercation.
Often, Oscar night is an event most view in a family setting. So, how do we talk to our children about what they saw?
How did it affect you?
Are you having trouble processing it?
Today, as we take calls from our listeners, we talk with our NPR TV critic, a licensed therapist, and a mental health counselor to help us understand what we can all learn from what happened – in terms of conflict resolution and the way we handle triggers.
Plus, we continue to highlight Houston theater companies like A.D. Players, as they share what's in store for their 2022-2023 season line-up at The George Theater.
Guests:
Executive Director of A.D. Players
Incoming Executive Artistic Director
Licensed Professional Counselor with Community Health Network
Educational psychologist
Parenting advisor
CEO and Founder of Next Steps (which provides educational counseling and parent coaching)
Text "parenting" to 1-833-638-5442 for free parenting tips and weekly encouragement
Town Square with Ernie Manouse is a gathering space for the community to come together and discuss the day's most important and pressing issues.
Audio from today's show will be available after 5 p.m. CT. We also offer a free podcast here, on iTunes, and other apps.