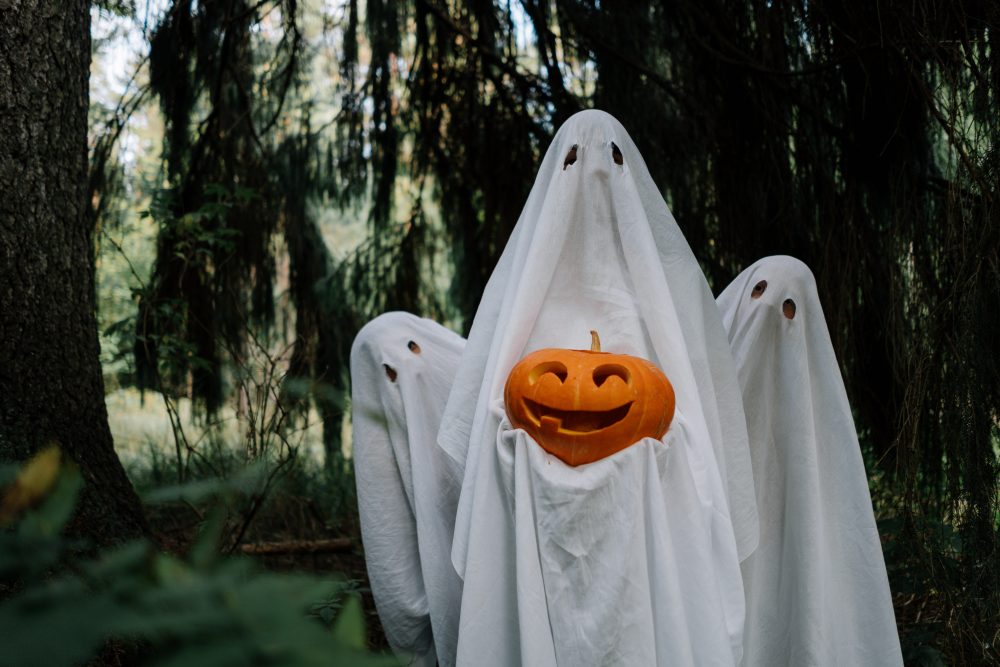 Town Square with Ernie Manouse airs at 3 p.m. CT. Tune in on 88.7FM, listen online or subscribe to the podcast. Join the discussion at 888-486-9677, questions@townsquaretalk.org or @townsquaretalk.
Have you ever stepped into a local building ... and felt it was haunted?
Do you believe you've seen a ghost from Houston's past?
Galveston is also full of ghost stories and legends, many of which can be traced back to tragic tales from the 1900 Hurricane.
Houston has its own spirit fill lore surrounding restaurants and creaky old houses.
Mister McKinney, owner of "Mister McKinney's Historic Houston Tour," and Kathleen Shanahan Maca, the author of "Ghosts of Galveston," share some of Houston and Galveston's famous haunted sites.
Artists Lofts – 1101 Elder St., Houston
This building was formerly the Jefferson Davis Hospital, and it is believed to be haunted by dead patients. The hospital was built over a former gravesite where Civil War soldiers were once buried. It is unclear if dark spirits still roam the lofts.
La Carafe – 813 Congress St., Houston
La Carafe is a bar that resides in the oldest two-story commercial building in Houston. It is said that Carl, a former bar manager, haunts this local watering hole. He's been known to push pretty girls down the stairs. People say they feel nudges and bumps from the poltergeist when they're hanging out at La Carafe. Eerie.
Spaghetti Warehouse (now McIntyre's) – 901 Warehouse St., Houston
Patrons of Spaghetti Warehouse experienced spiritual entities when visiting this famed Houston restaurant. Many of the spooky stories revolve around the elevator shaft where people have plunged to their death. Most of the ghost encounters have been on the second floor, which was open only for parties.
Maison Rouge – 1417 Harborside Drive, Galveston
Jean Lafitte is the most famous pirate from Galveston, and the ruins of a mansion built where Lafitte's mansion — Maison Rouge — once stood are said to be haunted by his spirit. Lafitte fought many battles on Galveston Island and had an affair with a voodoo priestess, so we shouldn't be surprised that his ghostly presence still remains near his former home.
Hotel Galvez – 2024 Seawall, Galveston
The Galvez Hotel was once a hangout for the elite, but it is now a playground for the paranormal. It is said that the hotel is haunted by The Love Lorn Lady, a bride-to-be that hung herself in room 501 when she learned that her fiance had perished at sea.
Haunted Walmart – 6702 Seawall, Galveston
The Seawall Walmart sits on the site of a former orphanage and is known to by locals and employees to be a hotbed for ghosts and evil spirits. The hurricane of 1900 destroyed the orphanage and killed 98 children and 10 nuns. Employees of the Seawall Walmart say that the ghosts of the orphans "play" with toys in the stores.
—
And Discovery Green celebrates Halloween with a free event this Saturday from 6 – 10 pm, including costume contests for people and pets, and the classic spooky film, Beetlejuice.
My dad was having kidney surgery at the Houston Medical Center around 2015. Late one night walking down a hallway, my sister and I almost bumped into someone. We looked back, no one there.

— Mike, not Michael (@MikeinClearLake) October 29, 2021
Lori Ann San Miguel
—
Town Square with Ernie Manouse is a gathering space for the community to come together and discuss the day's most important and pressing issues.
Audio from today's show will be available after 5 p.m. CT. We also offer a free podcast here, on iTunes, and other apps.