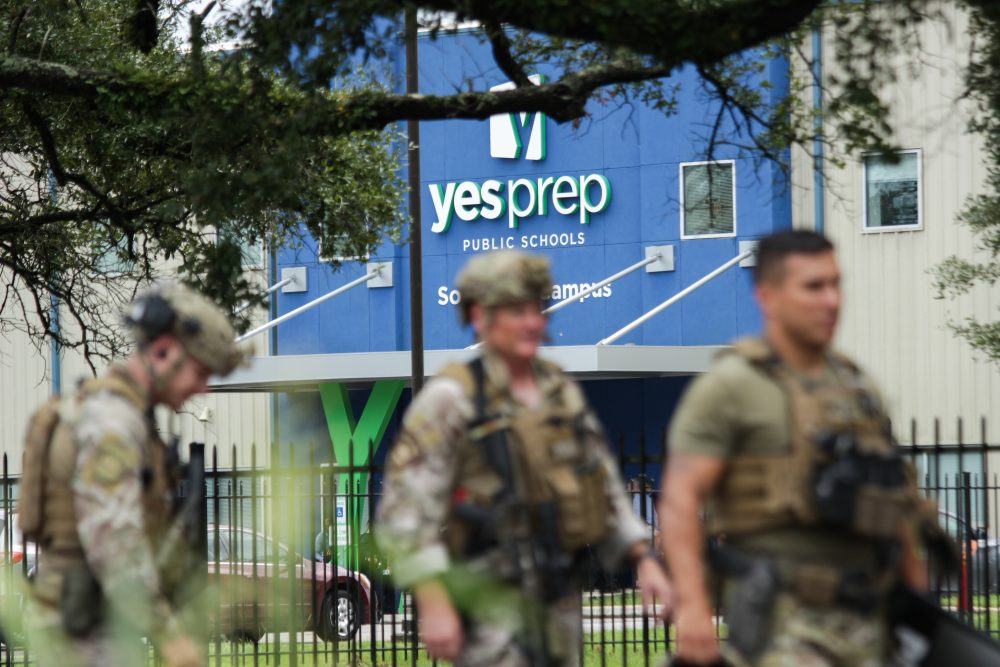 Town Square with Ernie Manouse airs at 3 p.m. CT. Tune in on 88.7FM, listen online or subscribe to the podcast. Join the discussion at 888-486-9677, questions@townsquaretalk.org or @townsquaretalk.
There's been another school shooting – and this one is close to home.
Around 11:45 am today, a shooting was reported at a YES Prep charter school campus in southwest Houston.
Here's what we know so far:
A former student of the school – an unidentified 25-year-old man, armed with a rifle – injured one staff member before surrendering to law enforcement, according to police.
The staff member was rushed to a hospital in the Texas Medical Center in serious condition and is undergoing surgery.
Today, we're discussing the the phenomenon of school shootings and the trauma it leads to.
How do we process this as a community, and as parents? And how do we keep students safe and help them to feel safe again?
Experts in psychology and school violence are here to discuss, and we get the latest on today's shooting from a reporter who was on the scene.
Guests:
Dr. Jeff Temple
Director of the Center for Violence Prevention and psychologist at UTMB
He also served on Governor Abbott's school safety committee after the Santa Fe High School shooting in the Houston area in 2018.
Kenneth S. Trump
Matt Deitsch
March for Our Lives cofounder
Human rights activist
Policy advisor on guns for the 2020 Sanders campaign
His siblings are survivors of the Marjorie Stoneman Douglas High School shooting in Parkland, Florida in 2018. A federal judge ruled that law enforcement and school officials had no legal duty to protect students during the shooting.
Lucio Vasquez
Reporter, Houston Public Media
Town Square with Ernie Manouse is a gathering space for the community to come together and discuss the day's most important and pressing issues.
Audio from today's show will be available after 5 p.m. CT. We also offer a free podcast here, on iTunes, and other apps.