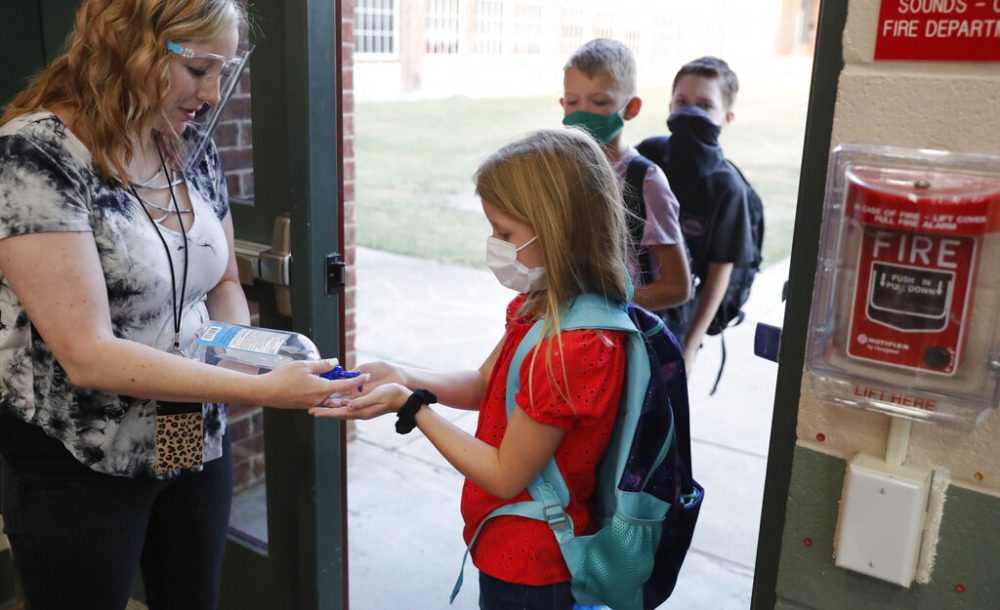 Town Square with Ernie Manouse airs at 3 p.m. CT. Tune in on 88.7FM, listen online or subscribe to the podcast. Join the discussion at 888-486-9677, questions@townsquaretalk.org or @townsquaretalk.
We ask a lot of our teachers.
Each and every day, we basically hand our children over to them. And we assume they have the best interest of our children at heart.
We expect that they will teach them but also watch over them and keep them safe.
We expect that in a fire drill teachers will make sure they exit the building safely.
We expect that if there is a problem in class teacher will help to correct it.
We have faith that, at the end of the day, our children will be delivered back to us, just as happy and healthy as when we dropped them off in the morning, and hopefully better educated.
So why stop them now from protecting our children from the worst public health crisis of our generation?
Today, experts in COVID, education and mental health join us to discuss issues facing kids, parents and schools as the academic year begins – including stresses and anxieties, lack of mask mandates, updates on vaccines for young children and more.
Guests:
Dr. Lokesh Shahani
Assistant Professor in the Department of Psychiatry and Behavioral Sciences at McGovern Medical School
Chief Medical Officer of UTHealth Harris County Psychiatric Center
Hany Khalil
Vice President of the Houston Federation of Teachers
Executive Director Texas Gulf Coast Area Labor Federation, AFL-CIO
Former social studies teacher in HISD for 9 years
Dr. Manuela Murray
Medical Director for Pediatric Urgent Care Centers
Ambulatory Operations and Co-Director for General Academic Pediatrics at UTMB Health
Hank Bostwick
Volunteer Center Coordinator for The Southern Center for Child Advocacy
The nonprofit education group filed a lawsuit Sunday night in Travis County against Abbott and his executive order prohibiting school districts from requiring masks.
Caroline Sweet
Austin school teacher who talked to her school board in favor of a mask mandate
Austin ISD announced late Monday the district will require face masks
Town Square with Ernie Manouse is a gathering space for the community to come together and discuss the day's most important and pressing issues.
Audio from today's show will be available after 5 p.m. CT. We also offer a free podcast here, on iTunes, and other apps.