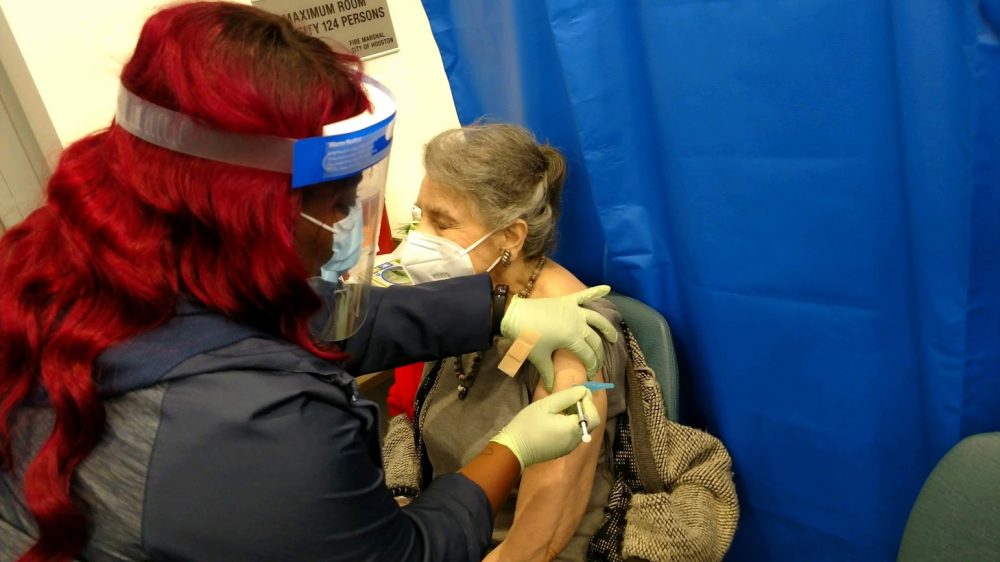 Town Square with Ernie Manouse airs at 3 p.m. CT. Tune in on 88.7FM, listen online or subscribe to the podcast. Join the discussion at 888-486-9677, questions@townsquaretalk.org or @townsquaretalk.
The more we vaccinate, it seems the more questions we have.
Today, we continue our quest for more clarity and answers to questions about everything from COVID vaccine reactions and protocol to vaccine distribution in the Greater Houston area in neighboring cities and counties.
We want to help you continue to stay safe, make informed decisions and get you in line to get your vaccine.
Officials from Missouri City and Montgomery County join us to talk about their vaccine registration systems and a new vaccine hub in Fort Bend County. And doctors from Baylor College of Medicine and UTHealth field listeners' calls.
Guests are:
Assistant professor of infectious diseases at Baylor College of Medicine
Odis Jones
Meghan Author
Public Information Officer for Montgomery County
Dr. Shreela Sharma
Professor of epidemiology at UTHealth School of Public Health
Houston Public Media reporter Matt Harab also joins Ernie with headlines from Houston and beyond, including:
Beginning next Wednesday, people in phase 1A and 1 B of the Texas vaccine distribution plan, will be able to sign up for vaccine appointments at CVS.
Next Thursday, select CVS locations in Houston will be administering the vaccine.
38,000 doses of the Moderna vaccine will be distributed to Texas next week, and they will be spread out across 70 different CVS locations in Texas.
This is all part of the Federal Retail Pharmacy program, set up with different pharmacies across the country like CVS and HEB.
CVS Health's Akash Patel did not specify which CVS locations in Houston will get doses, but he said the goal is to reach the most vulnerable.
Patel said the goal will be to reach the most in need populations: "Locations have been closed based off population density, demographics, and the CDC's social vulnerability index."
Patel added that they've selected locations with layouts best suited for setting up the vaccination clinics to safely manage the influx of patients within their stores.
Sign up for the Harris County COVID-19 Vaccine Waitlist
Sign up for the Galveston County COVID-19 Vaccine Waitlist
Sign up for the Montgomery County COVID-19 Vaccine Waitlist
Sign up for the Fort Bend County COVID-19 Vaccine Waitlist
Town Square with Ernie Manouse is a gathering space for the community to come together and discuss the day's most important and pressing issues.
Audio from today's show will be available after 5 p.m. CT. We also offer a free podcast here, on iTunes, and other apps.