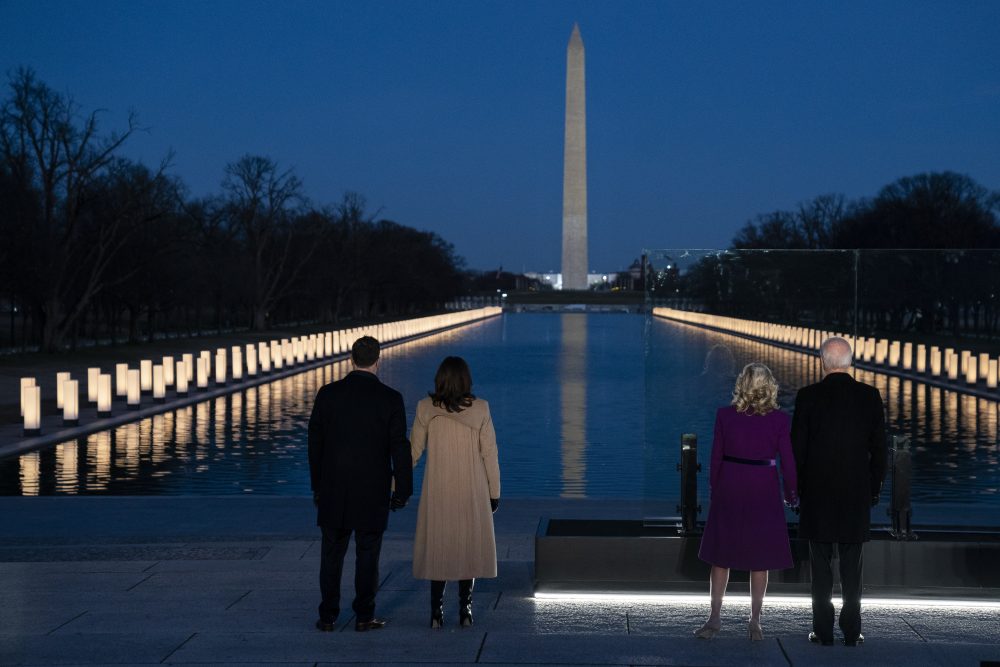 Town Square with Ernie Manouse airs at 3 p.m. CT. Tune in on 88.7FM, listen online or subscribe to the podcast. Join the discussion at 888-486-9677, questions@townsquaretalk.org or @townsquaretalk.
400,000.
Let that number sink in. 400,000 is the number of COVID deaths in the US as of this past Tuesday – a devasting milestone that we have now surpassed, and the number continues to grow.
Many of us now have been impacted by COVID, whether we have lost a loved one or know someone who has.
The vaccines that we waited for are finally here, but they haven't been easy for everyone to access.
We want to help.
Today, medical experts discuss the latest information about vaccinations in our area and how they continue to rollout.
Plus, Grammy Award-winning Houston gospel singer Yolanda Adams shares her personal story of performing at the National COVID Remembrance at the Lincoln Memorial's reflecting pool, where she sang "Hallelujah" – her voice like a ray of light in the darkness.
Guests are:
Multi-platinum, Grammy Award-winning Houston gospel singer
Host of the nationally-syndicated "Yolanda Adams Morning Show" on KTSU
Featured in the new PBS series "The Black Church" premiering Feb. 16 and 23 at 8pm on Houston Public Media TV 8
Independent Patient Advocate, Houston Health Advocacy
Chief Medical Officer for the Houston Health Department
Houston Public Media reporter Matt Harab also joins Ernie with latest COVID stats in Harris County, including:
This past week, Texas Medical Center hospitals, for the first time since the week of Oct. 19, are reporting a lower number when it comes to the daily average of hospitalized COVID patients, than the previous week.
Last week, there were on average 323 COVID patients hospitalized each day in TMC hospitals. The week before, that number was 335.
Back on the week of Oct. 19, an average of 92 COVID patients were being admitted per day. Since then, every week has been a high number. But the acceleration upwards was halted last week.
This is good news, but people should not interpret it as a time to lower precautions nor to take off masks.
Harris County Public Health reported a slight dip in their testing positivity rate, but it's still 19%. Over the summer it approached 30%.
Right now there are over 2,200 COVID patients in Harris County hospitals, which is still a few hundred below our worst day over the summer.
Just under 40% of the ICU beds are filled with COVID patients (581 people).
How To Get A COVID Vaccine In The Houston Area
Town Square with Ernie Manouse is a gathering space for the community to come together and discuss the day's most important and pressing issues.
Audio from today's show will be available after 5 p.m. CT. We also offer a free podcast here, on iTunes, and other apps.