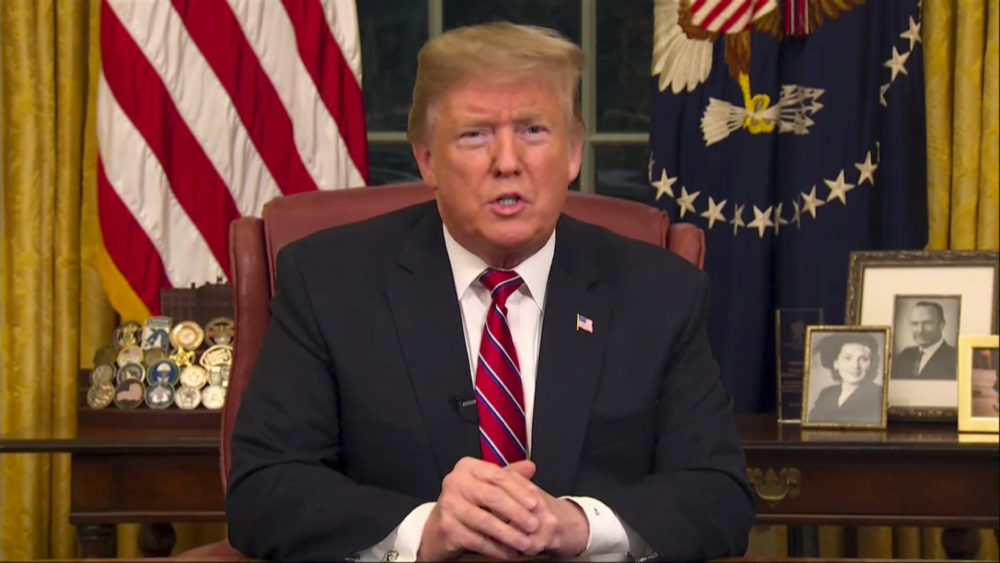 In this image from video, President Donald Trump speaks during a televised address from the Oval Office of the White House in Washington on Tuesday, Jan. 8, 2019.
As the government shutdown nears a record-setting length, President Donald Trump and the Democrats in the U.S. House of Representatives continue to jockey over the construction of a billion-dollar border wall.
Following the dueling prime time addresses by Trump and the Democratic leaders, Party Politics co-hosts Brandon Rottinghaus and Jay Aiyer highlight the politics of the biggest legislative skirmish of the President's two years in office.
You can subscribe to the podcast on Apple Podcasts. Tweet us using #PartyPoliticsPod or email partypoliticspod@houstonpublicmedia.org. Party Politics is produced by Don Geraci, the audio engineer is Todd Hulslander and our digital editor is Alvaro 'Al' Ortiz.
NATIONAL TOPICS
-White House walks back Syria withdrawal
-Manafort shared polling information with Russians
-Congresswoman Rashida Tlaib calls Trump MF in discussion about impeachment
-Supreme Court takes gerrymandering case
-Rod Rosenstein leaving DOJ – Was he forced out?
-Congresswoman Alexandria Ocasio-Cortez dances her way into prime time
TEXAS TOPICS
-Texas State Senator Charles Schwertner bows out of Chair role due to harassment allegations
-Texas State Representative Ron Reynolds released from jail in time for session
–Revenue estimate from Comptroller Glenn Hegar – does Texas have enough money for all three priorities?
-Texas 86th Legislative Session opening week
-Beto O'Rourke grows beard and the Internet freaks out