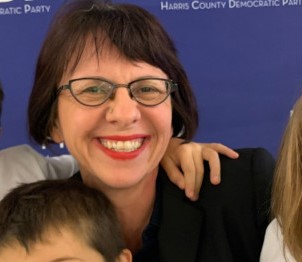 As the City of Houston's elections get closer, Houston Matters with Craig Cohen is offering listeners a chance to speak directly with candidates. As part of the series, Cohen interviewed HISD parent Annie Garcia, who is running for mayor.
It's a crowded field to replace term-limited Sylvester Turner. Garcia is up against 16 other candidates. But Houston Matters will focus on candidates who meet Houston Public Media's election coverage guidelines for such interviews. Those include U.S. Congresswoman Sheila Jackson Lee, Texas State Senator John Whitmire, former METRO chairman Gilbert Garcia, attorney Lee Kaplan, and Houston City Councilman Robert Gallegos.
Garcia heavily focuses on the need for there to be collaborative efforts locally to get the state out of Houston ISD, and to prevent the state for its attempts of taking over local government in Houston.
This interview has been edited for length and clarity. Questions from Houston Matters will be in bold. For the full interview, listen to the audio above.
There have been many cases of the district since the takeover. Reassigning principals and other staff from a number of schools, including some high performing ones. As a parent in the district as well as a mayoral candidate. What do you make of that general trend?
Well, I think it is alarming and it is so alarming that it is what propelled me to get into this race. No other candidate was talking about the HISD take over. It's treated as an issue separate and apart from city government. And as a Houstonian with three kids, where am I going to send my kids if I can't send them to public schools? We can't afford private school. And so this is something that I think all of the candidates need to be paying attention to. We have lost control of our district. Let's be very clear about what's going on here. We don't vote for our school board. Our school board is appointed, as was the Superintendent. When you go to a school board meeting, you are not able to sway them. You are not able to inject. We don't know what's going on. We have no transparency, there's no accountability in our schools and all of this is happening with the idea that somehow we're going to get a better product out of it and I push back hard on that. There's no evidence that the changes that are going to are being made are going to make my kids better, more capable adults when it comes time to graduate.
Graduate is it fair then to say it is your view that the state overstepped its bounds in seizing control of the district?
I mean, we have a situation where the legislature has passed a law where they have the ability to come into local governments, the Death Star bill, and now can override the will of the people. We can't determine our police budget. This is part of a much bigger picture and they had no right to come into our school district. They came in based on one school that had a failing grade and it was several years prior to when they actually took over the district, the largest school district in the state of Texas. We can't ignore the background to which this is occurring. Greg Abbott called a special election to pass vouchers. He's made very clear he's not going to fund public education until he privatizes it. And if it doesn't fail in this session. He said he's gonna call another session. if it fails, then, then he's gonna primary all the Republicans that are holding firm on this. They are trying to take over schools, public schools and turn it into for-profit businesses. So yes, at a minimum, I'd say they overstepped.
As you noted, there is a bigger picture here in terms of the relationship between state and local government. How would you, if elected mayor, respond to state efforts to limit the city's ability to govern its own affairs?
Well, you know, I think it's very important that we be honest about what's going on and the leading candidate in this race, John Whitmeyer, not only voted for the House Bill 1842 that led to this takeover, but in a debate when I spoke with him about it, he made clear that we need to "make it work." OK, so his attitude towards the state coming in and infringing on our rights is we're going to have to somehow go along to get along, which is how he has behaved his entire career in the state Senate. There's a reason that he is the only Democrat that controls a committee in an institution that is over one with Republicans. The next mayor needs to have moral clarity, and political courage to stand up to the state takeover. And it's not just about what happens in Houston. We need to build together a network so that we can start winning state elections. So I think our next mayor has a lot of pressure to look beyond not only what we do in our own local government, but to go and turn the tide in Texas because we need strong Democrats elected to big positions to take back our state.
Houston Police Chief Troy Finner reported that crime is down in the Houston area compared to last year. Nevertheless, in recent surveys, Houstonians have cited public safety as a major priority. What steps would you take if elected mayor to further reduce crime, violent or otherwise?
Well, let's focus on what you said at the beginning. Crime is down. Now that is, that is fact. I understand that people feel scared and then we need to ask about that. We need to figure out how do we solve that? How do we solve people feeling unsafe because they're not feeling unsafe because crime is actually up. So I think we should look what's happening in Maine: this horrible situation where we have, you know, a shooter that came into. A bowling alley when there were kids. We need to get real about a gun regulation, and I know that this seems like something that's in the purview at the state level, but I believe that there are things that we can do within the city to curb, to curb gun violence, and I think it's important that we be. Honest about what the problems are and not pretend like sending 300 more police officers on the street is going to fix a fake problem. People are scared. That's real. Let's deal with that and not pretend like crime is up.
The condition of Houston streets is something that is in the purview of city government. What would you do if elected mayor to improve Houston streets for the long haul?
Well I think we need to look at something that is an issue across city government and not just as it relates to roads. That infrastructure and access to city resources and how people get taxed there is huge inequity in our city. The roads seem to look a hell of a lot better when I'm driving over by the Galleria than when I'm on the east side of town. So we need to, we need to figure out more equitable solutions to things like roads to things like water bills and make that a priority. We should also be charging people at a rate that is reflective of values where we're trying to get everybody together at a certain point in our city.
The city's outgoing controller, Chris Brown has been warning federal funds used in recent years to maintain the city's budget will be exhausted by 2025. That, combined with limits on what the city can raise through property taxes by a revenue cap which voters passed nearly 20 years ago, means the city could be in serious financial trouble during the next mayor's term in office. What steps would you take if elected to address that?
Me, I am a Democrat and I'm a Democrat that believes in fiscal responsibility. It actually exists. So I would look at the budget and look for creative ways to cut costs as well as increased revenue. We could be doing a lot more in terms of public-private partnerships. There are ways that we can monetize the city's name and brand that haven't been explored yet. And this is a problem that can absolutely be solved, but you have to have creative problem solvers at it, not somebody's going to tell you 30 years later why it couldn't have been done when they were at the helm.
Would you favor raising the revenue cap or doing away with it altogether?
If the revenue cap needs to be raised, then it's something that the people should vote on and I believe that there's a compelling argument to raise it or to remove it, and I would make that argument.
As I noted at the start of our discussion, the focus of your campaign has been on the state takeover of Houston ISD. Technically, it is not something the mayor has any direct authority over. What do you see as the role of Houston's next mayor in seeking without that direct authority to positively influence the future of the school district?
Well, you know there's a lot of things that the mayor doesn't directly control and all of the other candidates are very willing to go and say that they're somehow going to fix, except when it comes to our schools. As a Houstonian, I have to send my kids to school and having young kids, so to go and try to separate the issue here, that somehow we're going to call, we're going to get businesses to come to Houston, but we're not gonna have a functioning public school system is insanity. I am seriously looking at leaving the district if I can't change things here. Because my kids future is worth way too much and I take this way too seriously. So the next mayor absolutely can't afford to not deal with this. So one, lawsuits: the mayor of Houston has a huge platform and can be using it to push for federal investigations and injunctions to stop what's happening right in its tracks.
And secondly, the mayor controls a very big budget. The NES schools that were taken over had all of their libraries removed. So let's just be clear here. We have a goal of improving literacy and the way we're going to do that is by removing libraries. It just doesn't seem to make a whole lot of sense to me. The Houston Public Library system could come in with ancillary satellite libraries to all of these campuses, we have an amazing parks and rec department in Houston. They're already offering things like summer camp, so we could go and expand on that footprint and offer tutorials both on weekends and after school so that we can get the state out of our district that much faster.