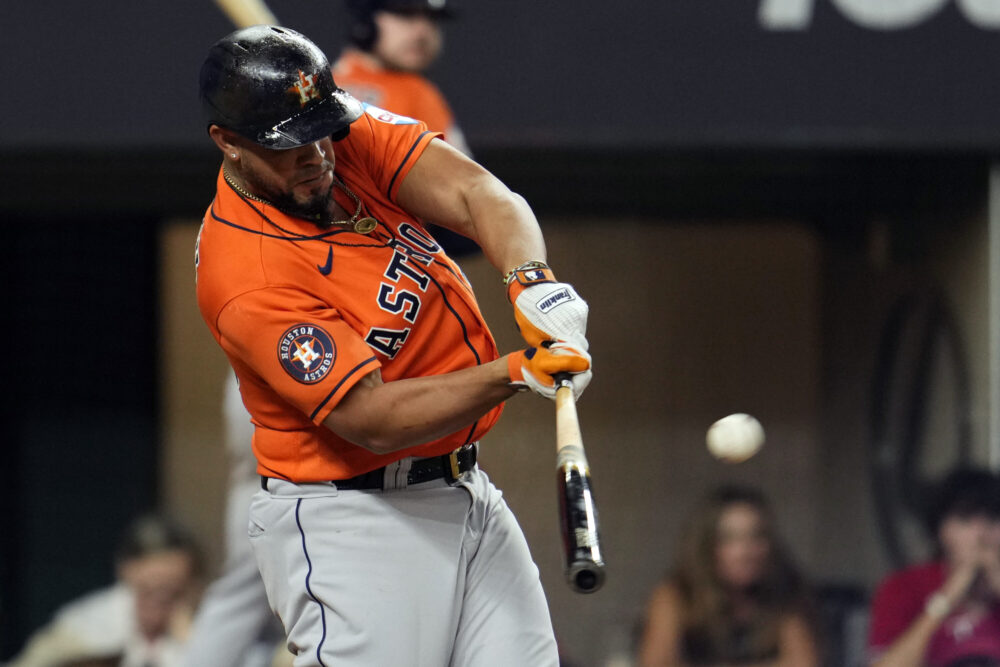 You'd be hard-pressed to identify a more dramatic and intense weekend than what was on display between the Astros and Rangers over the weekend.
It began with Game 5 Friday night in Arlington. In the 8th inning, Astros reliever Bryan Abreu plunked the Rangers' Adolis Garcia, after the outfielder had homered (and arguably showboated a bit) in his previous at-bat. Garcia took exception, shoved an umpire, and the benches cleared. Abreu, Garcia, and Astros manager Dusty Baker were all tossed out of the game.
The ensuing delay may have affected Rangers closer Jose Leclerc who, when play resumed in the top of the 9th, surrendered a pair of baserunners before the Astros' Jose Altuve smacked a three-run homer to take a 5-4 lead. The Astros held on for the win.
Abreu's appealing his two game suspension for the supposed beanball he and catcher Martin Maldonado insist was accidental. The umpires and Major League Baseball concluded it was intentional. Was it?
In the audio above, we ask Bleav in Astros podcast co-host Jeff Balke what he thinks about this.
Plus, we also discuss Game 6 Sunday night at Minute Maid Park, where the Rangers dumped the Astros 9-2 to even the American League Championship Series at three games apiece, to force tonight's decisive Game 7. Game 6 included a five-run 9th inning by the Rangers and that offensive outburst included a grand slam from Garcia.
As Balke tells us, this series has also featured some poorly called balls and strikes by the umpiring crew, six games in which the road team has won, and, despite all the ruckus, another poised and remarkable performance by Altuve.
According to Balke, it'll be important for the Astros to grab an early lead tonight. He believes they have the edge in pitching in the final game, with Cristian Javier starting against Max Scherzer, and the Astros still having several quality relievers available, even if Abreu's suspension is upheld. The first pitch is slated for 7:03 p.m.