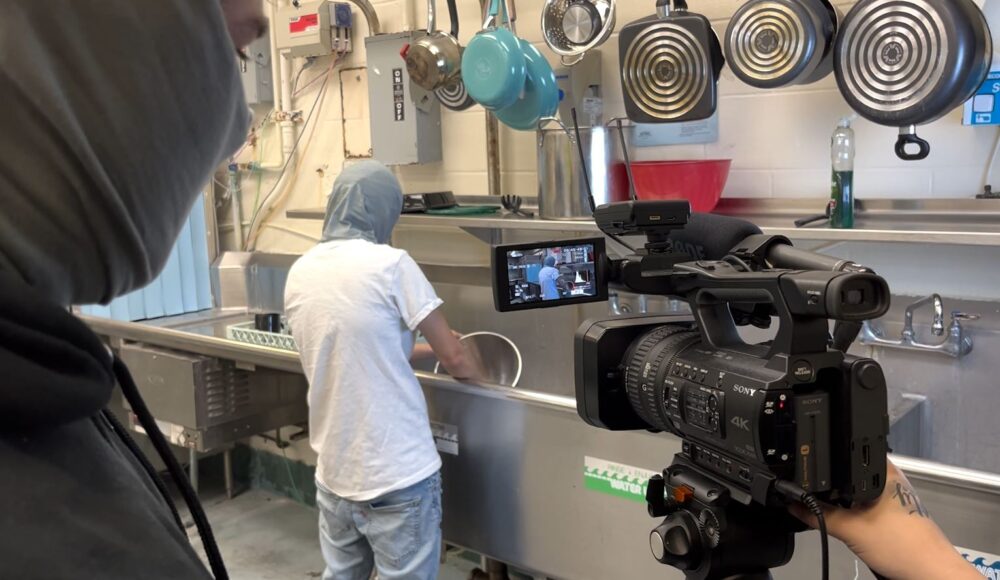 Kids who end up in legal trouble have a harder path to success as adults. That's where The Opportunity Center comes in. It's a program from Harris County that provides GED courses along with career training and certification for young people who are or were involved in the criminal justice system.
The Center also offers classes in more creative pursuits, which can also turn into careers, including filmmaking. That's something Houston Matters producer Michael Hagerty checked out during a recent visit to The Opportunity Center with Dan Gordon, executive director of the Gordon Education Initiative for the Performing Arts, James Olalekan, The Opportunity Center's assistant principal, and student filmmaker Dani Hernandez.
The building that houses the program used to be a juvenile detention facility. Olalekan says it has since been converted into a recording studio.
"So the room we are in right now used to be a lockdown facility room where it houses sex offender units. And here they lived in this room, they did programming in this room, and we have a booth right here, Control Center, where our staff would, you know, supervise supervised kids," Olalekan said. "And what's unique is that one of our staff who used to be in charge of supervisors room is now a supervisor here at the opportunity center. He is a music producer in his own rights and he gives back to the students by teaching music production here at the school with the students. So hopefully kids can chase that passion and make a career out of it themselves."
The Center also offers vocational trades, including a barber program where kids can become certified barbers. Construction, drivers licenses, art, music, welding, and dance are also offered.
"Pretty much anything that that a kid is interested and passion in, we want to make sure fulfill those needs and requests and and offer those to the kids so way that they have something to look forward to while they're earning their GED," Olalekan said. "They can also what's after that GED and answer that question, fulfill their passion and some kids, they don't know what they want to do. So this is also a great opportunity to see, 'I didn't know I like construction or I didn't know I like film making a film production. Let me now chase that passion.'"
On average, between 40 and 50 individuals are part of the program from all around the city. In some way, all involved in the center have "touched" the juvenile justice branch.
"It could be they're not even on probation, we're trying to keep them away from probation. So each individual, you know, kid has his own situation," he said. "A lot of our kids, they have not done well in traditional public schools. They have not done well in other settings, so we want to stress to them that you can be successful. People here and you can earn your GED."
Filmmaker Dan Gordon said his nonprofit has a mission to empower youth voices through the art of digital media and filmmaking.
"We don't just teach young people how to operate a camera, how to write a script, but we teach them how to tell their own story and when they can see their own story on screen," Gordon said. "I think it's very empowering. They can say that's theirs. And it's cool because at the end we're giving them vocational skills that they could also use after the program."
Gordon has been working at the center for over a year and said he has seen "tremendous transformation" in the students.
"I mean, the first week, it's all about building trust with them. They're like, 'Who is this coming in here with this camera?' And like after that, like they start buying in once they buy in and they get to see that they get to write their own film, they get to hold the camera, they get to design the lighting, the set and act in it. It's it's a very cool experience for them."
Dani Hernandez is one of the student filmmakers. She's 18 and said she got involved after she saw Gordon working on it.
"And I wasn't really interested in it, I was really making fun of him, and I came around the second day and they needed somebody to sing a verse and I read it and he liked how I read the verse,"
Hernandez said she doesn't like being on camera but likes how film can tell a story.
"Without you telling it just by people seeing it, they're going to know what's the film about. You don't gotta really talk. You just got to act and they will know what you're talking about."
Hernandez said she is close to getting her GED and is thinking about college, but "I don't really think that's a answer in my book."
"I don't know really. Just find a side hustle, so I can make me some money."
Gordon said many of the students have been dedicated and transformed in great ways.
"Dani would show up every day ready to go, you know. And I could see that she was dedicated," Gordon said. "There was another story about a young man who was in the first film, and we were writing poetry, and we would write poetry together. And I didn't ask him to go home and write poems. But he came back the next day and he wrote 3 1/2 pages of poetry because we were working every day, you know? And I was like, wow, the class inspired him to write more. And he was a good writer. Like, I think he's got a career in writing."