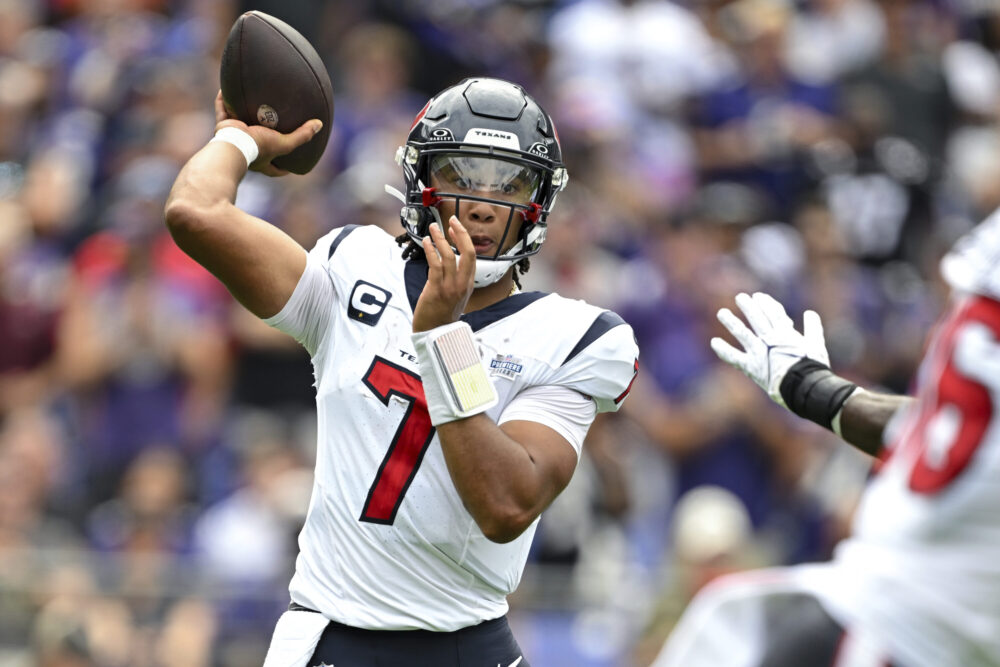 New coach. New quarterback. New defense. Same result.
The Houston Texans lost to the Ravens 25-9 in their regular season opener in Baltimore on Sunday. It would be easy to dismiss the 2023 Texans as no different from the squads that preceded them in 2021 and 2022. But beneath the score were some signs of improvement.
Against a tough opponent, the Texans held their own in the first half. Their new franchise quarterback, C.J. Stroud, demonstrated an ability to move the football down field.
And as we learn in the audio above from Jeff Balke, who writes for Houston Press and co-hosts the Bleav in Astros podcast, there are signs of a plan going forward.
We also discuss the Astros' offensive explosion against the Rangers last week.
In three games, they hit 16 home runs and had 50 hits overall. Those are both Major League Baseball records for a three-game series. And no one has ever hit five home runs and scored at least 12 runs in each game of a three-game series either.
Were the Astros that good or the Rangers that bad? According to Balke: "Yes."
The Astros also took two of three over the weekend from San Diego, averaging seven runs a game in that series and start the day in first place in the American League West, 2.5 games ahead of the Mariners and three games ahead of the Rangers.
They have a chance to build more distance this week during a series against the last-place Oakland A's and Kansas City Royals, who have a combined 199 losses this season.