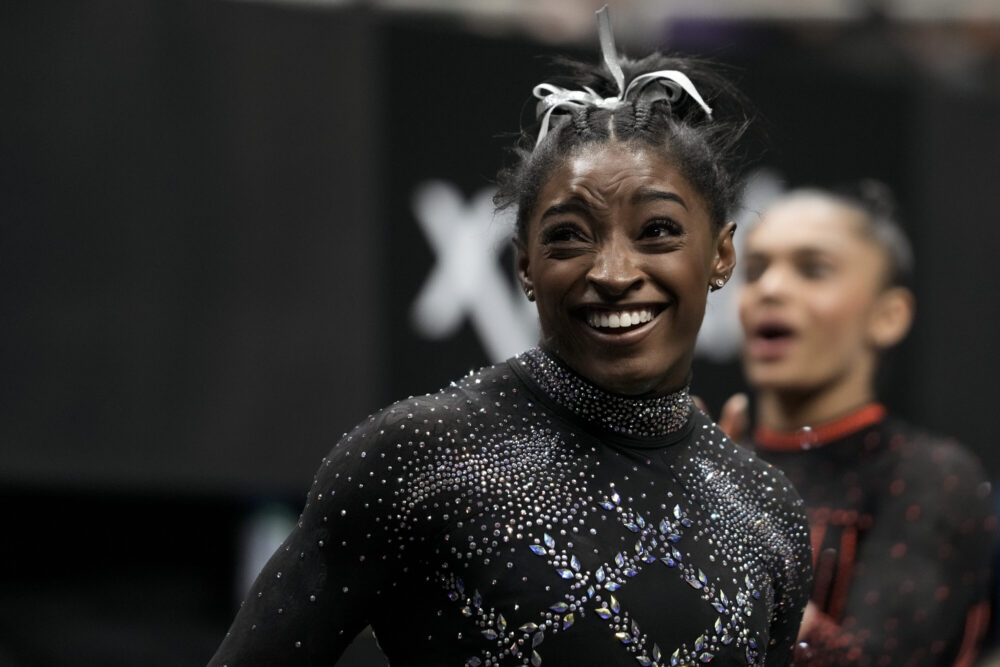 If there was any doubt Simone Biles would return to form after taking a step back from gymnastics in the middle of the Tokyo Olympics in 2021 to focus on her mental health, she erased it at the U.S. Championships last weekend.
Biles won a record eighth championship ten years after having won her first as a mere teenager.
She has been so good for so long – having first won that competition as a teenager – that it can be understandable for the rest of us looking on from the outside to assume that dominating is easy for her.
"I don't think it ever gets easier just because we have age and time against us," Biles said Tuesday at an event with Houston reporters in The Woodlands. "But I do feel a little bit more confident than I have in the past couple of months. So, I think that really helps."
While Biles might've looked cool and collected to everyone watching her compete over the weekend, even the gymnast universally considered the greatest of all time can have some self-doubt, especially after taking all that time off.
"Before I was competing at classics, I had a little bit of self-doubt, especially after coming off of Tokyo and everything that happened," Biles said. "So, now I'm kind of getting back into the groove of things…I had some mistakes that I need to clean up. But it's all about getting back out there and starting again."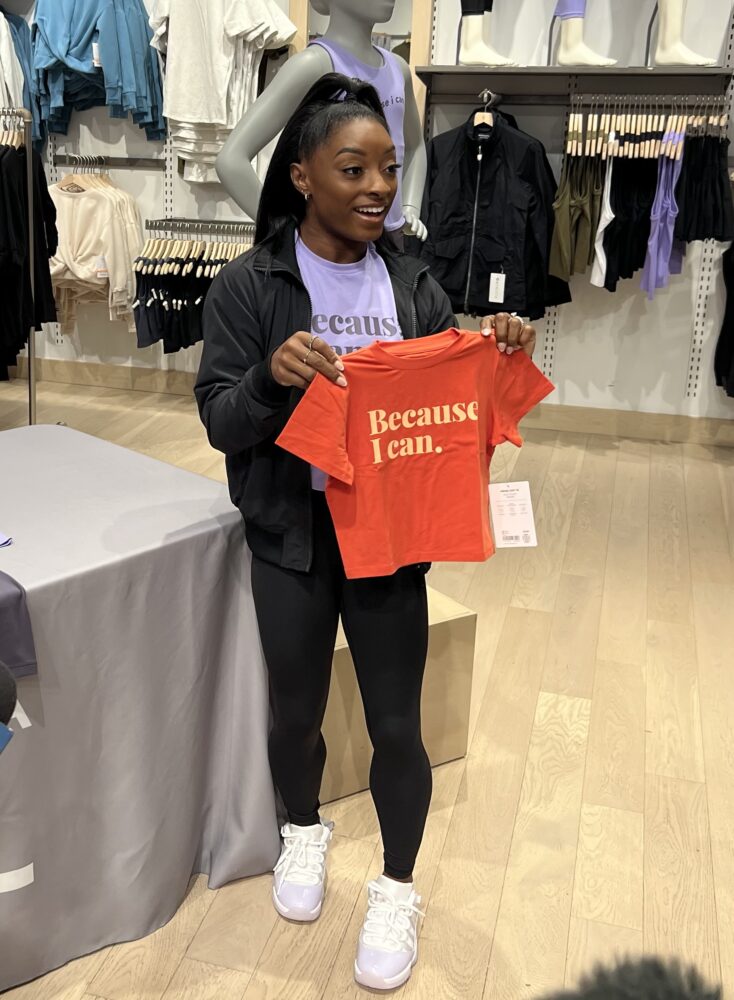 Obviously, Biles had to stay in shape to be ready to make a comeback, but she said the most important thing she did during her hiatus was simply taking care of herself mentally.
"Because I think for so long you kind of say, 'Oh, I can do this. I can do therapy after,' but, you know, sometimes your body and your mind will tell you what you need when you need it," she said. "And that's kind of what happened. So, just physically being prepared while on the time off that has really helped me so that I can be successful now."
About training and returning to competition, lately Biles has said she's "doing it for herself," which means keeping some more things private – from details of her training regimen to talking about her specific goals in competition. However, she says it's not as much about being secretive as it is about being a more well-rounded person than what she might've been as a younger competitor.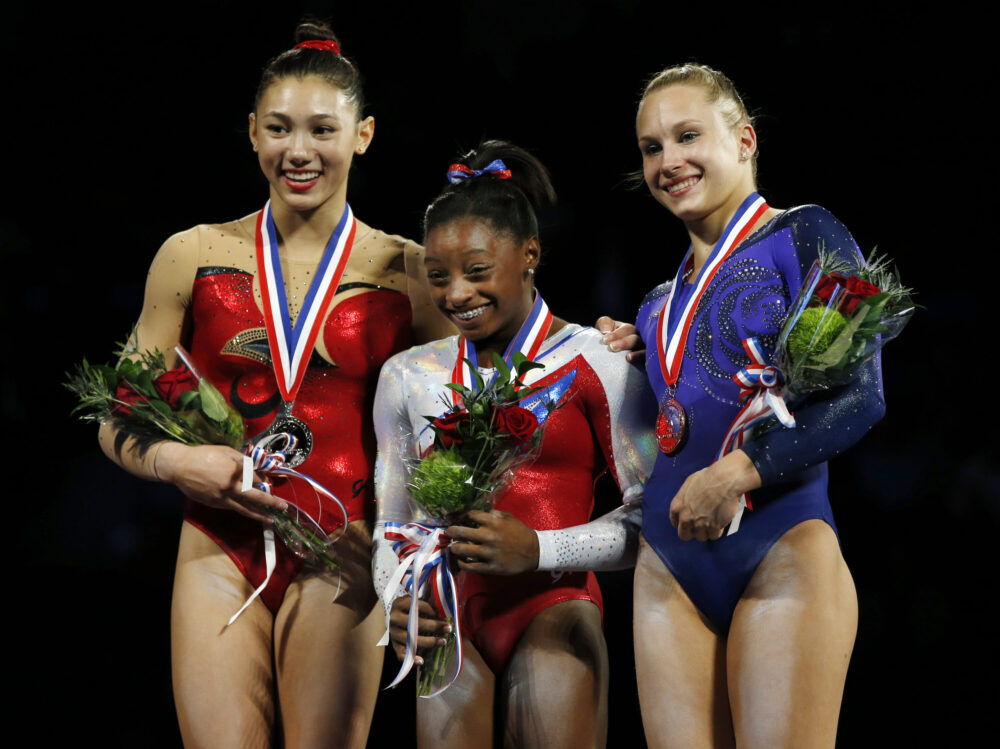 "It's kind of just taking everything one meet at a time because ultimately the end goal — would I love to do Paris [the 2024 Olympics]? Yes," Biles said. "But then we have time against us. We have to stay healthy. There's so many factors that tie into it, rather than whenever I was younger, so to say. So, just staying healthy, mentally, physically, making sure everything's aligned."
One example of that better balance: Biles got married earlier this year to former Houston Texans player, Jonathan Owens, who's now on the Green Bay Packers. Biles and Owens have dogs and are in the process of building a house.
"There's so much more in life than gymnastics," Biles said. "I love what I do. But, at the end of the day, yes, I am a gymnast. I'm really good at what I do. But I won't be doing gymnastics forever. And there's still things to look forward to past gymnastics where before I never thought so. It's just always gymnastics. So, now it's just a part of what I do. And it doesn't really define who I am as much anymore."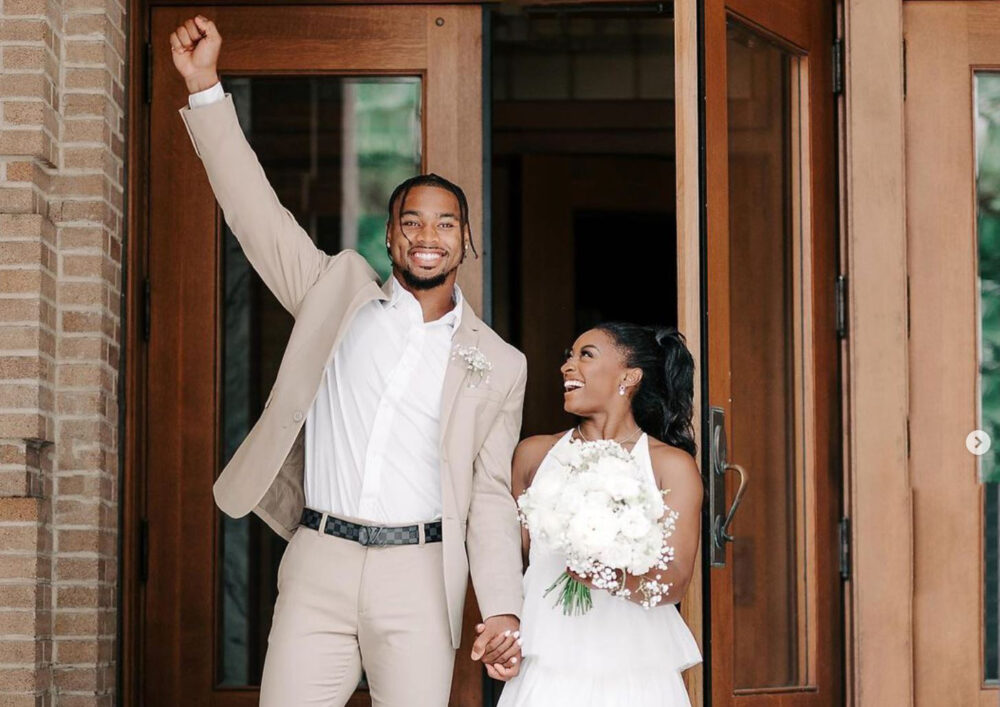 Since Biles shocked the world by withdrawing from the individual all-around final in the middle of the Tokyo Olympics, the conversations that moment spurred in our national and global dialogue have helped to make the environment safer for other athletes to do similar things since, she said.
"Everybody is sometimes unfortunately fighting silent battles that they don't speak about," she said. "So, I think it's really important that we push that mental health topic to the forefront. So people know that they're not alone. That they deserve the help. And that you can — it's okay to not be okay."