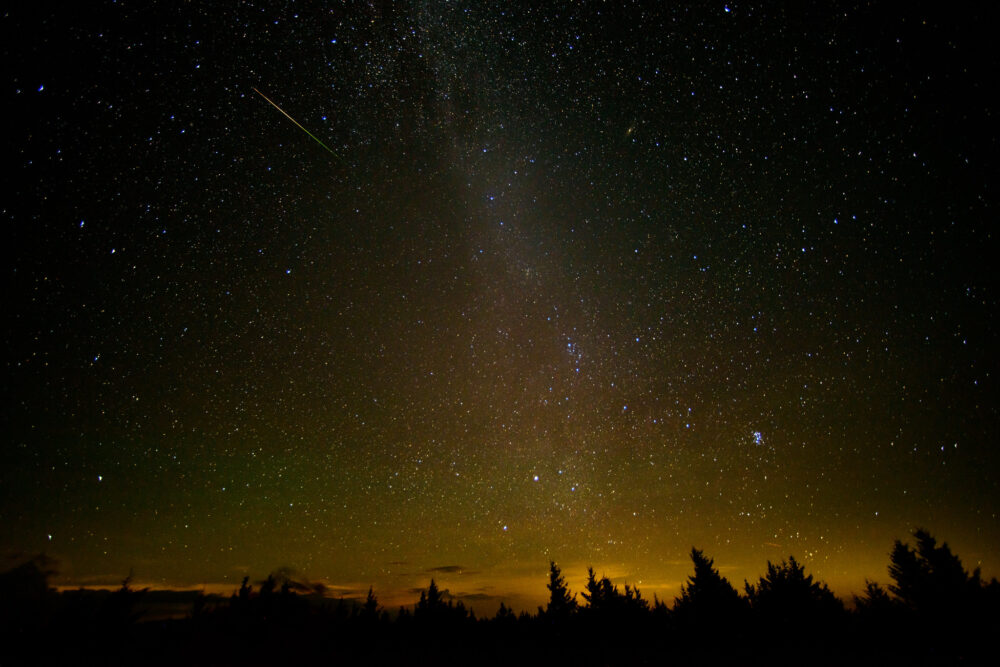 The annual Perseid meteor shower will be visible in Houston skies this weekend. But if you want the best views, you might want to get up in the middle of the night. And you might also want to find a spot a little out of town to steer clear of our city lights.
Dr. Carolyn Sumners, the vice president of astronomy for the Houston Museum of Natural Science, tells Houston Matters with Craig Cohen that sky watchers could get a view of the Perseids on Friday night, but especially on Saturday night, and to some degree on Sunday night as the earth passes through the tail of Comet Swift–Tuttle.
The meteors tend to originate around the constellation Perseus (hence the name), which rises late at night. Dr. Sumners said that means starting around 1 a.m. and ending an hour or so before dawn.
"Perseids do perform all night," she said. "But they really perform well — they're brighter, they're more fun, and the sky's darker, naturally, because people [have] got their cars parked if you wait til after midnight."
However, to see the shower, Houstonians will need to get out of the city.
"You have to be in a dark sky because meteors can't compete with city lights," Sumners said.
She recommends going to Galveston and looking out at the ocean to see a darker sky or going where there's farm land or to a state park.
The meteor shower isn't the only cool thing to see in the night sky these days. Sumners also says it's a good time to check out Saturn, which will be at its closest point to earth toward the end of August. The planet rises in twilight around 9 or 10 p.m. in the east to southeast sky.
"If you have a 30-power telescope or field binoculars of some powerful sort, you can actually see the rings of Saturn," she said. "So, I think it's cool to find Saturn, and Saturn is the best it can be."
In the audio above, Sumners shares information about upcoming eclipses, has telescope suggestions, and even shares her opinion about recent Congressional testimony about UFOs (she thinks they're most likely human-made craft). And she and host Craig Cohen also discuss what we're learning from images coming back from the James Webb deep space telescope.