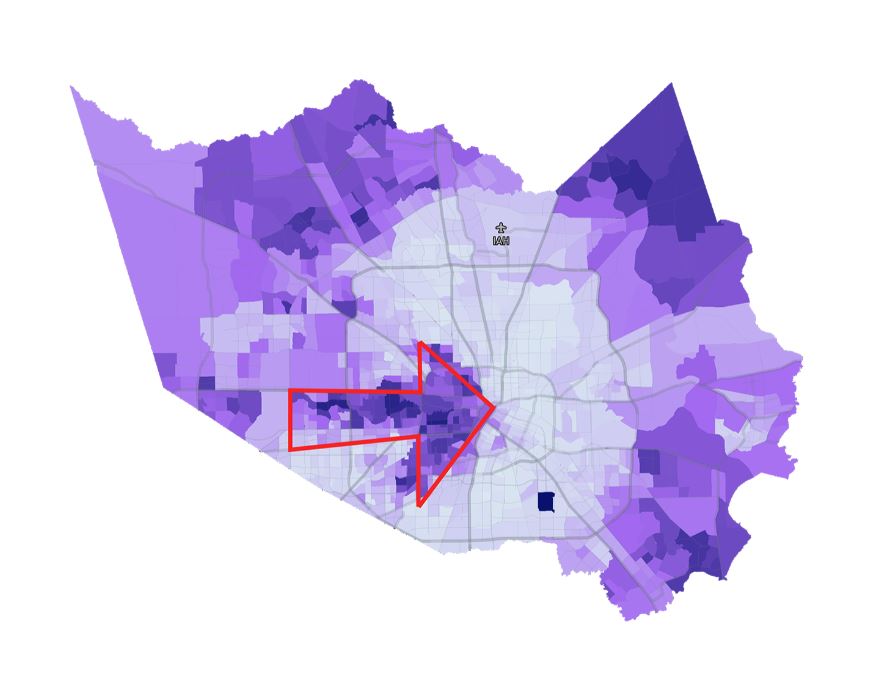 If you map all sorts of things within Houston's city limits, a shape has a tendency to form. It looks like an arrow. Really – try it out. Look at environmental factors, race, politics, all kinds of things, and the "Houston Arrow" takes shape again and again.
It begins on the city's west side, starting from somewhere around the Barker and Addicks reservoirs, including neighborhoods south of I-10 and north of the Westpark Tollway and I-69. The arrow points toward downtown with the northernmost tip in The Heights and the southern tip around West U. and Rice Village.
In 2021, One Breath Partnership, a group made up of Rice University and a number of environmental organizations, collaborated on a project examining the concept of the Houston Arrow. That effort yielded a four-part series of articles edited by Allyn West, who's with the Environmental Defense Fund. Evan O'Neil developed the visualizations within those articles.
In the audio above, we talk with them, and with Zoe Middleton, director of community affairs and advocacy for Harris County Precinct One Commissioner Rodney Ellis. Middleton was quoted in the articles.
We discuss the concept of the Houston Arrow, examples of the kinds of data that, when mapped, reveals the shape, what it may represent in terms of inequities across the Houston area, and what, if anything, to do about it.