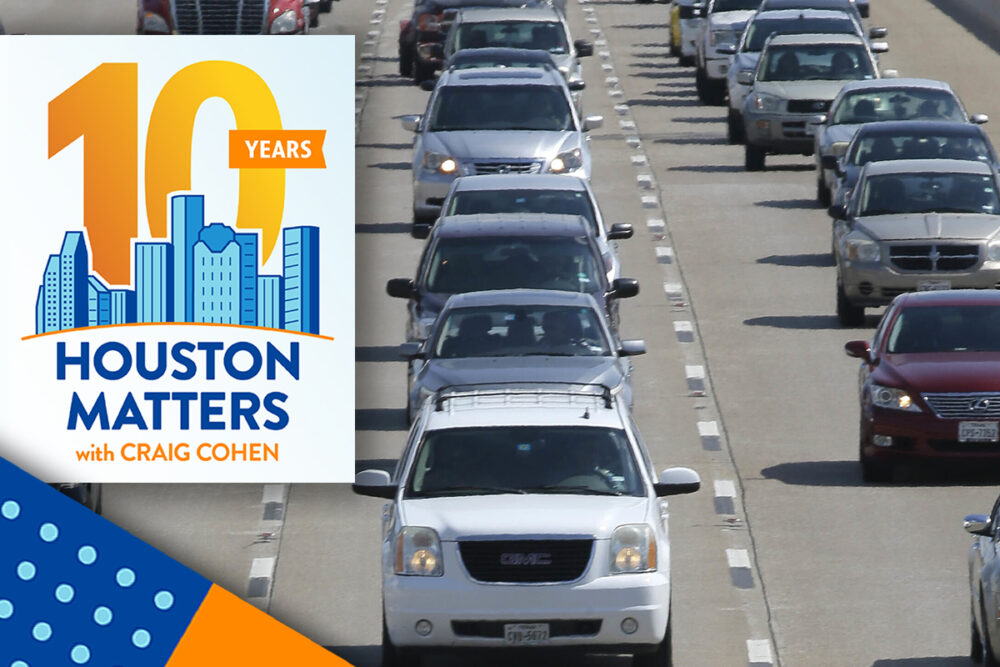 Houston Matters will celebrate its 10th anniversary on April 26. In the days leading up to it, we're taking a look back at some of the ways the Houston area has changed since this show came on the air – and ways it hasn't.
We begin our series today by talking about transportation and mobility across Greater Houston.
How we get from point A to B has changed a lot in the last decade – there are new roads, new bike lanes, and more electric cars. There have been construction projects widening highways – a LOT of that, actually, and not all of it welcomed with open arms by everyone here.
In the audio above, we delve into how else transportation and mobility have changed in Houston, in conversation with Joe Cutrufo from BikeHouston, and Mustafa Tameez, chair and board member of TAG Houston, the Transportation Advocacy Group.
We start, though, with a way Houston really has not changed all that much – and a subject that comes up more often than any other when we open up our phone lines each month for our Houstonian pet peeves conversations: traffic.
Sure, there was that stretch during the beginning of the pandemic, when traffic patterns changed – for a while. And there have been stretches when traffic snarls have increased or decreased on certain roadways at certain times. But let's be honest. No matter what we do here, no matter how many highway expansions, or re-routing or rebuilding or reimagining we do, getting stuck in a traffic jam is, well, a quintessential Greater Houston experience.
It's also an experience that Houston Matters host Craig Cohen and News 88.7's Gail Delaughter shared with listeners, and with one another, back in 2016. Back then, Gail (who's our afternoon news anchor these days) was our full-time transportation reporter, and she and Craig were on their way to a newly opened stretch of The Grand Parkway. They wanted to interview folks at local businesses there about how that new, major road construction was impacting development in the area. And they did get there, eventually, but not before their bumper-to-bumper experience.
THE CONVERSATION CONTINUES: What do you think? Is getting from point A to point B in Greater Houston a better or worse experience today than it was 10 years ago? Let us know at talk@houstonmatters.org.