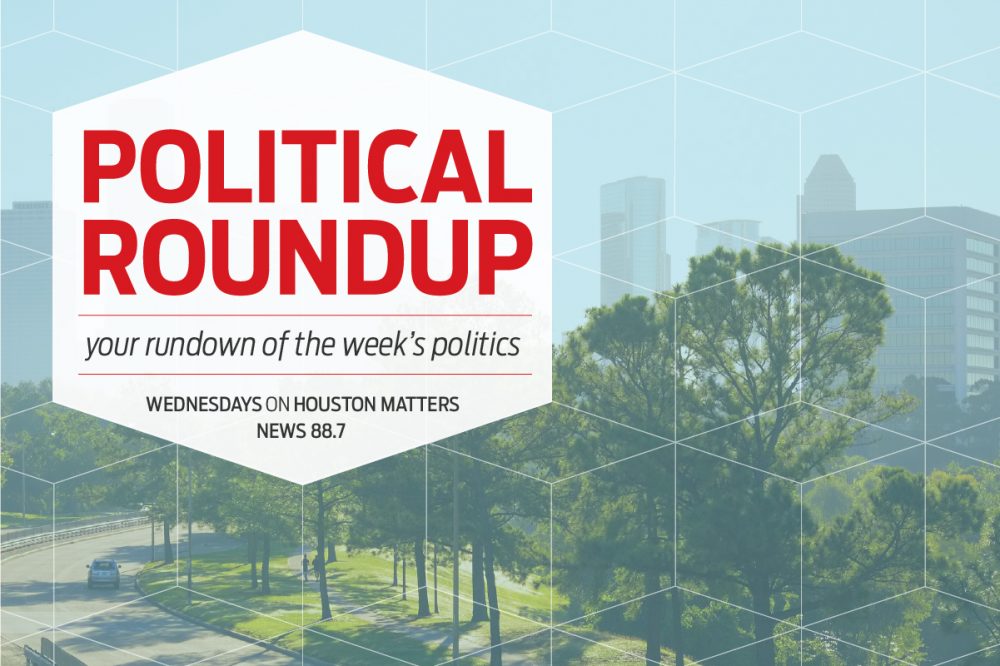 Houston Matters host Craig Cohen returned from vacation on Wednesday's (April 12, 2023) Houston Matters, and admitted up front he was "a little out of the loop" on recent developments in politics.
"But so long as no former presidents were arrested, no abortion pills in use for 20 years were suddenly threatened, no Supreme Court Justices failed to report lavish vacations, no elected officials were expelled anywhere ostensibly for talking out of turn – so long as nothing so outrageous as all that happened, it should be easy to catch up," mused Cohen, who may have been a bit more up to speed than he initially let on.
He discussed some of those — and many other topics — in our regular Wednesday political roundup, with Nancy Sims, a political analyst and lecturer in the University of Houston's political science department, and Mark Jones, a political science fellow at Rice University's Baker Institute for Public Policy.
In the audio above, they walk through (among other topics), the battle over the Texas budget at the Capitol, whether school vouchers will pass through the legislature, dueling property tax proposals, and a controversial bill that would ban citizens and businesses with connections to China, Iran, North Korea, and Russia from owning Texas land.
They also touch on Texas House passage of a bill to keep the state permanently on daylight saving time, and why, even if signed by the governor, it won't take effect without Congressional action. They discuss Gov. Greg Abbott's call for a pardon for a man convicted of killing a protestor in Austin in 2020. And they discuss the Houston mayor's race, Pres. Biden's trip to Ireland, and a U.S. Senate committee's plans to hold a hearing on the U.S. Supreme Court's ethical standards. (That came after revelations that Justice Clarence Thomas did not report years of lavish trips with and paid for by a close friend and GOP donor).
But wait, there's more! (When did this article turn into an infomercial?) They also discuss contradictory court rulings (including one here in Texas) over medication used for abortions and other uses, which the FDA approved more than 20 years ago. And they talk about the Tennessee lawmakers expelled and reinstated (or in the process of being reinstated) after ostensibly running afoul of Tennessee state House rules.
Whew!
Don't go on vacation again, Craig. Too much happens while you're gone.