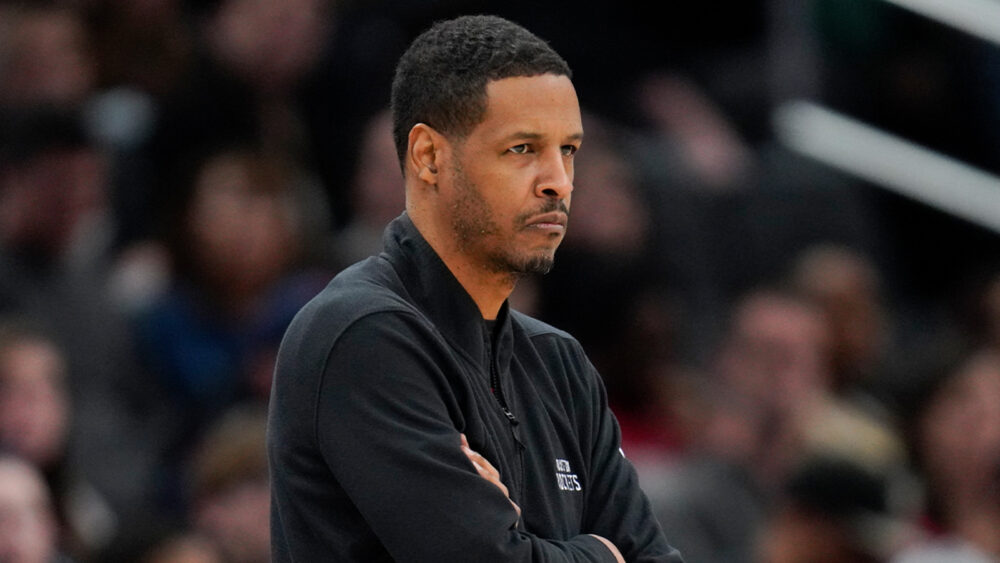 Stephen Silas won't return as coach of the Houston Rockets next season.
Silas wrapped up his third season with the team when the Rockets beat the Wizards 114-109 to finish the season 22-60. That's tied with the Spurs for the second-worst record in the NBA.
His contract had a fourth-year option that the team is declining to pick up, according to the two people who spoke to the AP on condition of anonymity.
Jeff Balke writes for Houston Press and co-hosts the Bleav in Astros podcast and spoke to Houston Matters on Monday. He said Silas was hired to coach a completely different type of team.
"When he was hired, the Rockets still had Russell Westbrook and James Harden," he said. "…The idea was that he would be coaching a team of veterans that were attempting to go deep in the post season, maybe even win a championship."
Balke said that fell apart in Silas' first season when Westbrook got traded, and Harden demanded a trade.
"Suddenly he found himself coaching a bunch of teenagers by year two," Balke said. "I just don't think he was the right guy for that job. He probably was the right guy for the job that called for working with veterans and keep that ship afloat and moving forward."
Balke said Silas remains one of the better offensive minds in basketball, but his problem was that he was overmatched defensively, and he could not corral young players.
"Some of it was not his fault, he had some veterans, but he was directed by upper management to not play those guys," he said. "He was a little handicapped in his ability to do what he needed to do as a coach."
Balke said it is being reported that there are about eight people considered to replace him.
"Most of them are assistant coaches or former head coaches," he said. "The only one the list I've seen that is a current head coach is Nick Nurse from the Toronto Raptors."
Moving forward, Balke said the Rockets will need veteran leadership.
"They need adults in the room more than anything," he said. "You need balance of youth and experience in the room."
Silas, speaking to reporters in Washington after the game was over, said he had a meeting with Rockets officials scheduled for Monday morning but did not confirm that his tenure as Houston's head coach was over. However, he seemed prepared for that likelihood and reflected on his time with the Rockets.
"I feel proud," he said. "I wanted to be a head coach my whole life. I wanted to be like my dad. Proud of these guys, proud of their hard work, proud of their growth and maturity as they got through the season."
The Rockets finished with the NBA's worst record in each of his first two seasons as they traded or released all their established stars to embark on a complete rebuild.
Houston won four of its last five games, but it wasn't nearly enough to save the job of Silas, who joined the Rockets after spending 20 years with various NBA teams as an assistant coach and scout.
"There's been a lot of talk about my job for a long time, right? For a couple months," Silas said. "They just kept playing and kept working and trying hard and weren't worried about that. They were worried about getting better and playing hard for their coach. I'm proud of that."
It was a difficult season for Silas. His father, longtime NBA player and coach Paul Silas, died in December.
"Definitely a hard year. Death is hard when your person closest to you, the person who teaches you all about what you're doing on a daily basis, you lose him, it makes it difficult," Silas said. "What made it easier was a group of guys in that locker room who wouldn't quit, just tried hard and wanted to do the right things. And a staff full of people who I could share quiet moments with or lean on."
The Rockets will be one of three teams with the best odds to win the draft lottery and get the No. 1 pick at 14%. Houston selected Jabari Smith with the third pick last year and drafted Jalen Green at No. 2 in 2021.
Houston hasn't had the first overall pick since 2002 when the team drafted Yao Ming.