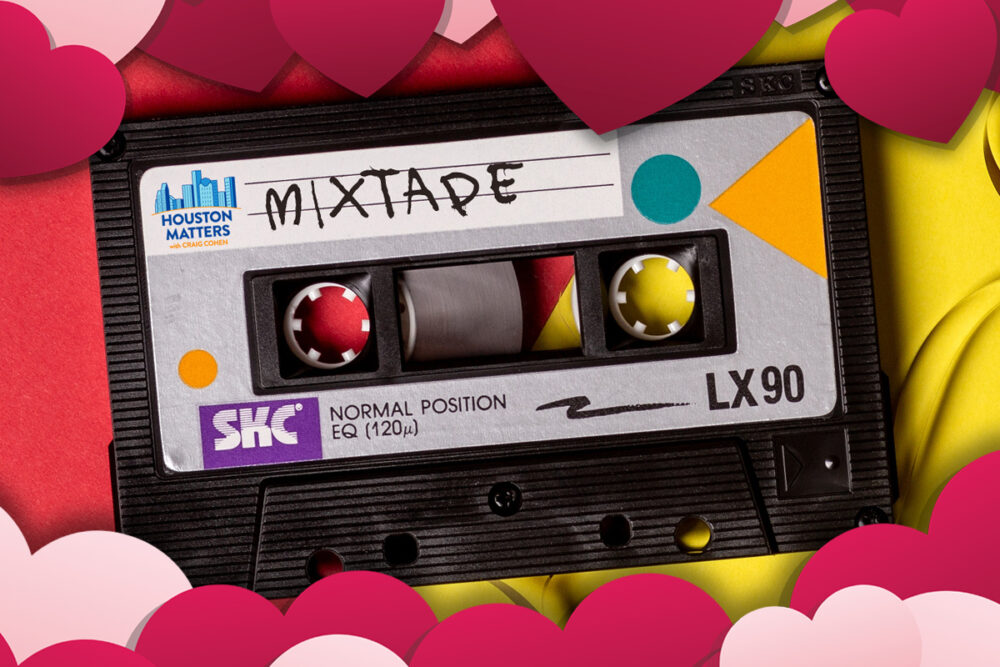 In time for Valentine's Day, we asked our listeners to share their favorite love songs for the latest installment of the Houston Matters Mix Tape — a sort of community-wide playlist of music you love and why you love it.
In the audio above, take a listen to some of their submissions, and you can find a list of the songs that were shared below.
To share your song, scroll to the bottom of the page for instructions.
The Houston Matters Mixtape – Love Songs:
Girls with Glasses by The Dishes (submitted by Andrea Greer)
Picture in a Frame by Tom Waits (submitted by Jodi Mackay)
Yolanda by Silvio Rodríguez (submitted by Kathy Butler)
Turn Off the Lights by Teddy Pendergrass (submitted by Don Geraci)
In Your Eyes by Peter Gabriel (submitted by Kimberly Tyler)
The Bones by Maren Morris (submitted by Anjuan Simmons)
Can't Help Falling in Love by Elvis Presley (submitted by Jarrod Carroll)
You Are In Love by Taylor Swift (submitted by Julie Marinucci)
At Last by Etta James (submitted by Kim Crosier)
You'll Never Find Another Love Like Mine by Lou Rawls (submitted by Lisa Trimarchi)
Beautiful War by Kings of Leon (submitted by Josh Adams)
Love Bug by Raffi (submitted by Megan Freemantle)
Life is Better With You by Michael Franti (submitted by Gretchen Gettelman)
A Kiss to Build A Dream On by Louis Armstrong (submitted by Janna Diderich)
Beast of Burden by Rolling Stones (submitted by Liz Ehrhart)
Stay by Lisa Loeb (submitted by Mary Ann Marucci)
The Song Remembers When by Trisha Yearwood (submitted by Lori King Brown)
If you want to add your own song to a future community mix tape, download the free Houston Public Media News app on the Apple or Google Play app stores.
Once you're in the app, select "open mic" in the menu, press record, and you'll have 60 seconds to tell us what the song is and why you love it.
Then press "send" and e-mail your comments to us. We'll take care of the rest. Happy listening!