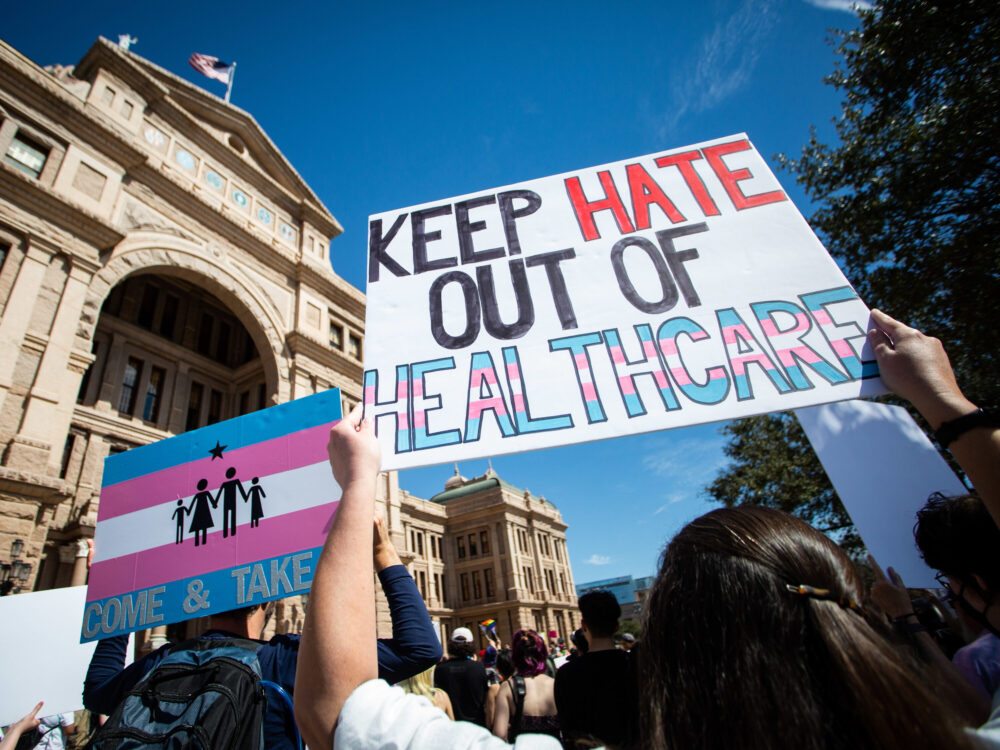 The Texas Department of Family and Protective Services in February began investigating efforts to provide trans minors with gender affirming care under the direction of Gov. Greg Abbott.
Some investigations began in March, but a state judge granted an order putting a stop to those investigations. In August, one mom said her trans 13-year-old son was pulled out of class and questioned by the Texas Department of Family and Protective Services, according to a signed declaration obtained by the Washington Post. Lambda Legal, the American Civil Liberties Union and Baker Botts Law Firm all filed two cases against Abbott, which are pending.
Eleanor Klibanoff is with the Texas Tribune and spoke to Houston Matters on Monday about the case, where Joshua Zinn filled in for host Craig Cohen.
This interview has been edited for length and clarity.
JZ: So bring us up to speed on this case. Why did Governor Abbott direct the Texas Department of Family and Protective Services to investigate these families that are seeking gender affirming care for their children?
EK: So as you said, this all sort of goes back to February. Attorney General Ken Paxton issued this non-binding legal opinion, equating certain gender affirming care with child abuse. And in response to that, Governor Abbott issued this directive basically telling DFPS to investigate parents who provide this care for potential child abuse. The agency opened up these investigations and immediately this sparked legal pushback from Lambda Legal, ACLU and some of these families who were facing this investigation. And now the Supreme Court of Texas, in June, said, you know, that basically, Abbott and Paxton and have no authority to tell a state agency to change the definition of child abuse, basically, and to tell them who to investigate. But DFPS has decided to continue on to these investigations sort of under their own authority, anyway.
JZ: Since this whole thing started in February, how many investigations how's the state opened up at this point? Do we do have a number on that?
EK: So we know the state has opened up at least a dozen investigations, and at least eight of those have been closed, you know, with no findings of child abuse. So there are just a few that remain open. As you mentioned, you know, as recently as August 30. We know that the state was continuing to open new investigations. And just to clarify, they were not blocked from opening new investigations at that point, the Supreme Court of Texas had overturned the injunction, blocking them from doing so.
JS: So well, so then that, you know, kind of gets into some of the mire of this whole case, right? Where the governor directs this agency to do this. They start investigating, a judge says no, Supreme Court says yes. And so I guess, where are we now at this point? What what is allowed and what isn't allowed as far as these these investigations into these families go?
EK: So as you said, right, it's been a lot of back and forth. And I know from talking to many of these families that has been part of the distress for them is, you know, from day to day, they're not sure where their case stands, what's going to happen, whether a judge's ruling is going to be upheld; they're waiting months for these rulings from this Texas Supreme Court. It's all been very stop-and-start, which is distressing for these families in its own way. Where things stand now is that just a couple of weeks ago, and you know, Lambda Legal and the ACLU had been really pushing different legal strategies to try to get this blocked. And so after the Supreme Court of Texas overturned the injunction, and allowed the investigations to continue, they filed a new lawsuit on behalf of three specific families, but also all families who belong to PFLAG, which is an advocacy group for families of members of the LGBT community. And, as of now, there's an injunction blocking any members of PFLAG from being investigated under this directive, so essentially, if you join PFLAG, you can't be investigated as of right now.
JZ: And so, going forward, what do you what do you expect the state will do? I mean, is the state continuing to investigate? Can they still open new investigations or are things put on hold what what is the current status of this as far as DFPS is concerned and what they are able to do?
EK: Right, so technically they can open investigations and can investigate families if those families don't belong to PFLAG. But you know, I talked to families of trans youth who say, you know, if they weren't already a member of PFLAG, they will now join PFLAG because that grants them this umbrella of protection right now. So we're unlikely to see new investigations opening and proceeding, you know, unless that family happens to not belong to PFLAG, which seems you know, fairly solvable in the short term. We expect that Attorney General Ken Paxton has told some of the lawyers that he intends to appeal this decision. This is hardly going to be the last chapter in any of this. But as of right now, it is unlikely that we will see many new investigations or much more investigative activity.