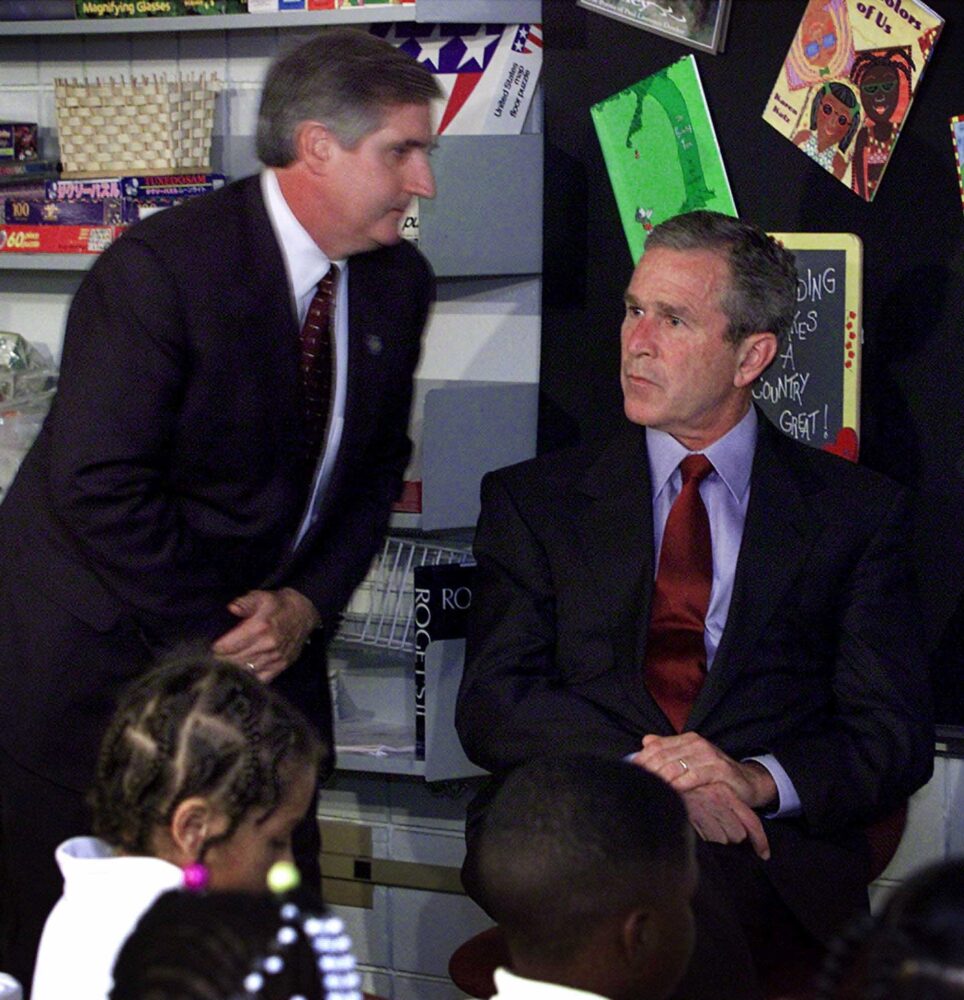 When former President George W. Bush was first informed that a plane crashed into the World Trade Center on September 11, 2001, University of Houston alum Brian Montgomery was with him.
Montgomery is a former Deputy Secretary of HUD and former director of the Office of Presidential Advance. He spoke to Craig Cohen on Houston Matters on Friday recalling the events of that day.
Take us back to the morning of September 11 2001. What was the day supposed to be about for that administration?
BM: Well, one of the signature programs of his young presidency was education reform, No Child Left Behind. And we did an event the night before in Jackson, and we were going to do an event the next morning at Emma Booker Elementary School in Sarasota, Florida. So we'd spent the night there. And so it was just one of many routine presidential events. And we were gonna go talk about education and talk to a classroom first and then go talk, do an event afterward at the auditorium. That of course, mostly went away.
When the first plane hit the Twin Towers, what do you recall about everyone's reaction at that point?
BM: So we were actually pulling in to the school when a gentleman in the motorcade sitting behind me said, a plane just hit the World Trade Center. He was on the phone with staffers back at the White House. So right away on the radio, I could hear, "We got to take the President to the holding room and talk to Dr. (Condoleezza) Rice." So we, the President, we got to the school, he gets out, the principal's there with their students, who are oblivious to all of this. So he greets them and says, 'I need to go take a phone call.' He goes on there and talks to Dr. Rice. And I told someone that we got to get a TV in here. They wheeled a TV on a cart with rabbit ears. And we're watching this and the military aides who were already getting plans into motion said, "We got to get out of here."
But the President did begin that event, right?
BM: He did begin the event, and the students were actually reading to him. So he's doing the event, I'm in the room next to where (he was), and the second plane hits. (Chief of Staff) Andy Card, he went over to the President, leaned in to him and said 'A second plane's hit the World Trade Center, America's under attack.'
Up to that point, you're an expert on advance on planning out scheduling the moment by moment of what a president is going to be doing. And it's all worked out to the minute. And now you find yourself taking off on Air Force One, with no idea where you're going, what's going to happen next. Who's doing what, I assume you're just kind of sitting on the plane going, huh, I wonder now what's going to happen?
BM: Well, we wanted to get the president to secure site. Sure. And remember, it was about this time, we were landing every commercial airliner in the country. And so we were worried that a plane may try to fly into us. So what better secure site than a base that has a nuclear weapon? So that's when we went to Barksdale Air Force Base in Shreveport, Louisiana. That was the first chance we had to call our loved ones and tell them we were okay. Although Andy Card said don't tell them where you are. So we took off shortly thereafter heading for STRATCOM, which is at an Air Force Base in Omaha, Nebraska. Air Force One didn't have direct TV in them like it does now. And so we're only picking up images as we would fly over a populated area on the TV on board the plane, and we were getting verbal instructions for the ground about what's going on, but we couldn't see a lot of it unless we're flying over a big city. And then we pick up a signal and then it would go out.
After the Air Force Base in Omaha you took off for Andrews Air Force Base. At what point was that decision made, that the second stop was not the place to stay?
BM: Well, the President finally wore down the objections from the Vice President, from the Secret Service that we're going back to Washington DC. We were way, way, way underground. And that was a moment that I realized that this day is just gone completely unlike we thought it would go. We woke up in the morning at an elementary school. Now I'm how many stories underground in the nerve center for fighting a nuclear war. This is this is almost surreal. So we flew back. About two hours later he addressed the nation.
And then you also were with the president when he visited Ground Zero a couple of days later
BM: Yeah, so we did the Pentagon visit later that (next) day. And then we planned the event for Ground Zero on September 14, that Friday. That morning we had an event at the National Cathedral, very moving for families who lost loved ones. But yes, then we we flew to McGuire Air Force Base, got on Marine One and other helicopters, and then headed toward Ground Zero.
As you think back on those extraordinary days, awful, horrific days, what sticks out in your mind above all else?
BM: You know, I don't ever… I've never really felt threatened that day, later on I found out things I say 'Boy, I'm glad I didn't know about that, then.' But it's just amazing that you have people … when I was at the Pentagon the next morning, people had been there all night, looking trying to look for survivors. And unfortunately, there weren't many. But I would just watch them in amazement. I don't think I can ever do that.
What do you think those of us who did not have the vantage point you did on September 11, 2001? What should we know about how things played out that day?
BM: Well, the the communications for us were pretty good. But as we learned later, the breakdown between agencies, law enforcement, there was a lot of communication lapses as we all know. But despite technology, we were able to stay in touch and know what was going on. But you know, so there wasn't a playbook. Nothing says 'Oh, hey, attack on World Trade Center turn to page 28.' There was nothing for that. Especially when we didn't know what else we might have been exposed to. How many planes had been hijacked, which is why every plane was ordered to land to the nearest airport. So there's a little bit of the unknown, but we said you know, we're gonna stay at this, President Bush is resilient, you know, we're gonna we're gonna show strength there. And what's his why he wanted to get back to DC.