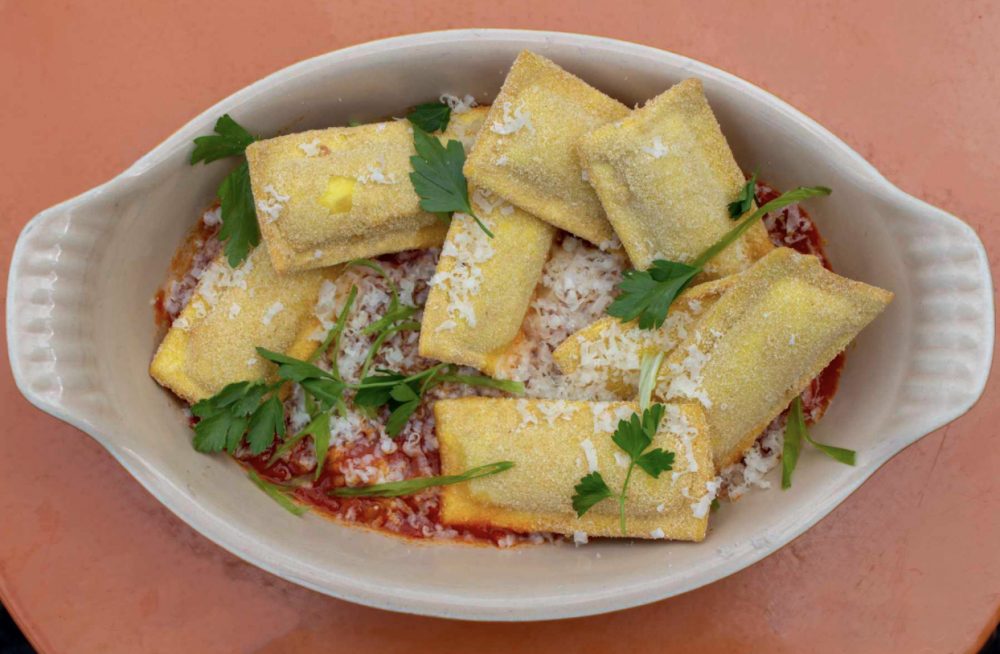 As the host of a show called Houston Matters, Craig Cohen is sometimes asked what he thinks Houston is missing.
"After spending about ten minutes pontificating on our lack of a National Hockey League franchise, I inevitably turn to food and mention a staple of my childhood in St. Louis – toasted ravioli," Cohen said.
The classic Midwestern appetizer is typically stuffed with beef, veal, or pork – or a combination of the three (you can also find it in cheese or spinach ravioli form), then breaded, deep-fried, and served with marinara or a tomato-based sauce.
And it can be found here in the Houston metro area. Among the Greater Houston restaurants that offer toasted ravioli or deep-fried ravioli are Lasagna House, Lomonte's, Hasta La Pasta in Katy, and Spaghetti Western, which serves a southwestern, jalapeño-infused variation.
"It's a short list," Cohen said. "But it got a little longer recently when James Beard award-winning Chef Chris Shepherd opened the latest incarnation of his One Fifth restaurant on Westheimer – One Fifth Red Sauce Italian."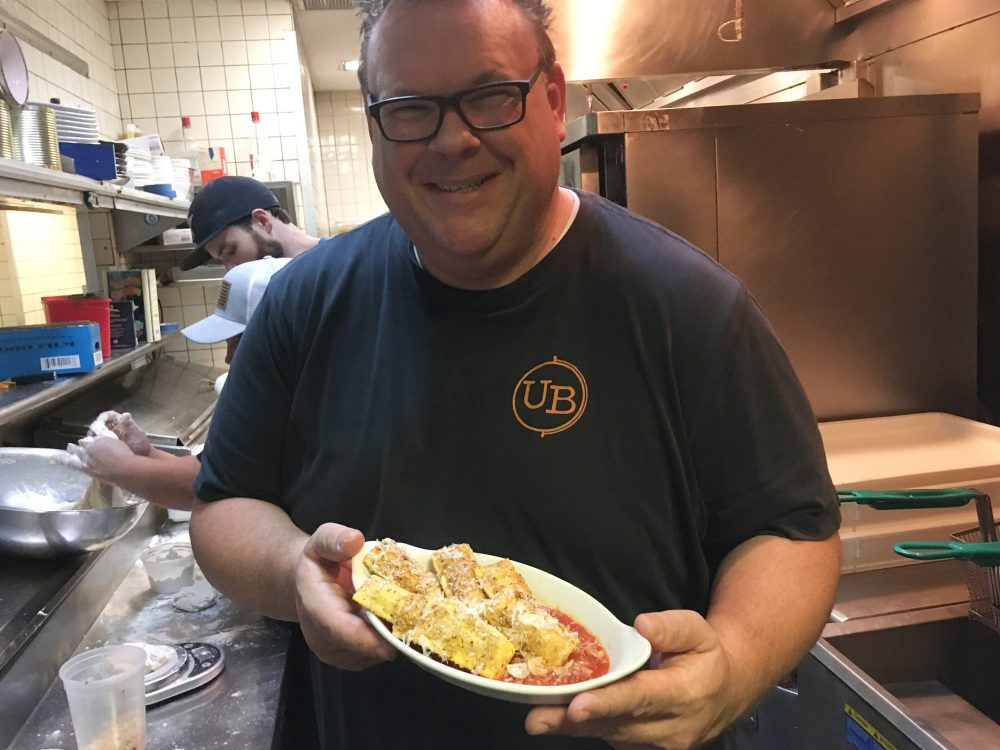 Cohen visited the restaurant to ask Shepherd how toasted ravioli wound up on his menu. Turns out it's all about family...
This interview has been edited for length and clarity.
Chris Shepherd: I was born in Nebraska, Grand Island, but moved to Tulsa, Oklahoma (when) I was one. My family on my mother's side is in Omaha, and the toasted ravioli went from St. Louis up into Nebraska. So, I grew up with it at "Mr. C's" (the now-closed Mr. C's Steak House) when we'd go get red sauce Italian. There's a bigger Italian population in Nebraska, in Omaha specifically, and it was always one of those things that always hit the table, no matter where we were – toasted ravioli. And it was like just this thing from my childhood. So, when we started talking about this concept it was like bringing back memories from being a child growing up and having these dishes that you don't see anymore. I wanted to put my mom's lasagna on, I wanted to put Mr. C's steak special – which was a seared filet and pasta with red sauce – so we do that on the menu, too. [As for] the toasted ravioli, we went to a place that makes some raviolis, and I fried them up, and I was like 'nope – not it!' It was just a congealed mess of meat.
The people that make our pasta for this concept is Back of House Pasta or 'BOH' Pasta. I [told them] "I need to see your four-cheese ravioli. I need to know what this is like." They sent it, and we just put a little bread crumb on it, dropped it in the fryer, toasted it up, and I was like, "this is perfect! This is exactly what I want!" And I hope the people here enjoy [it].
You know, it's funny to see people come in here and say, "I'm from St. Louis – nobody knows about this!"
VIDEO: Chris Shepherd Makes a Batch of Toasted Ravioli
Craig Cohen: Tell me a little bit more about Mr. C's. What should we know about this place?
Shepherd: The Caniglias. South side of Omaha. The neighborhood wasn't the best of neighborhoods, but it was one of these places that had been there for so long. It was just like this magical wonderland. Outside [there were] all [these] ornate Italian garden statues, everywhere, all over the place. As a ten year old, it was like "this is cool!" And then you walk in and the walls are painted of the cities of Italy, and there's Christmas lights hanging everywhere, and it's the red and white checkered tablecloths, and it's just like super 'red sauce!' It's Americana that doesn't exist. And it's no longer there. (Mr. C's Steak House closed in 2007 after operating for 55 years). But it was something for me and my family growing up...Mr. C's was something special to me as, like, a family meal. I wanted to bring that here as well.
Cohen: Getting back to the toasted ravioli, was it just there (at Mr. C's) that you came across it in Omaha, or all over?
Shepherd: All of 'em – a lot of 'em, yeah, almost all of them, but our family almost always went to Mr. C's.
Cohen: How do you think that happened? I've always been curious about why [toasted ravioli is] so incredibly popular in St. Louis, and clearly also in Omaha, Nebraska, and hardly anywhere else?
Shepherd: It's a Midwest thing. It just kinda travels in that little area. You get regionality. Like, look at the hot dog. That's a different thing everywhere you go. Toasted ravioli – I don't know why it hasn't made it anywhere else. You would think it would be a very New York/New Jersey thing, but it's just not. And I think that makes it special. It's something somebody from the Midwest, especially from St. Louis, can say 'this is ours,' you know, 'this is part of our culture.'
Cohen: It does seem like that's the way a lot of things in Houston eventually become popular. We're not maybe so much known for, 'oh, that's a Houston thing,' so much as 'that's another city's thing that we have now turned into our own thing.'
Shepherd: Yeah, that's what we are as Houstonians. Most of us are transplants from somewhere else, and we bring our own little bit of love and culture to our city. I think that's a beautiful thing. Whether it be Vietnamese or Mexican or Honduran or Salvadoran or Thai or St. Louis. (Laughs) I think it's a pretty cool thing to see.
Cohen: Again, though, why do you think toasted ravioli isn't on more menus here?
Shepherd: Yeah, it's like one of the easiest things, right? It's like every fun kind of Italian place you would think would have [it] because it's really easy to do! (Laughs)
But it's all about the right pasta, the right mix of the ingredients. I know making ravioli to fry isn't always the smartest thing, but if you have someone that's making a quality one for you, then it's perfect.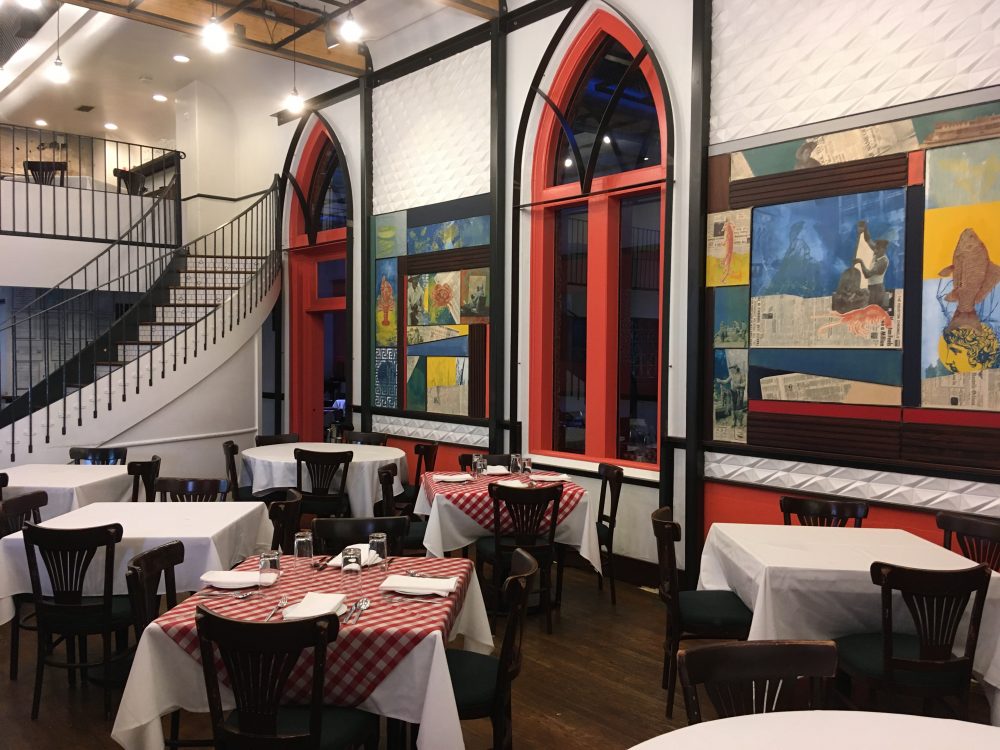 Cohen: I did notice [your toasted ravioli is] a little different in terms of the look than what I grew up with. I notice the shape [is] more rectangular [rather than] square or circular (some are circular and more oversized and overstuffed). Is there any reason?
Shepherd: Yeah, it's BOH's style. And I was totally surprised. I said, 'send me ten pounds – I need to see it.' And it came in and I was like, 'oh, wow!' You know, it's elongated, it's a rectangle more so than anything else, and I was like, 'I can get down on this' because...the minimal amount in the oil, right, to texture getting crispy without stuffing popping out is perfect. And if you get the big raviolis, you're always going to get those little busters. And this is a dish that takes 35 seconds to get it crispy. Because it's elongated, it gets hot fast. So, I'm never having to worry [if] it's cooked.
Cohen: You mentioned the stuffing. In St. Louis, I grew up with mostly either beef ravioli, or combinations of beef, veal, and pork, and only occasionally would someone serve cheese ravioli as toasted ravioli...is there any particular reason you decided to go with cheese?
Shepherd: I think the denseness is what I get afraid of. Also, I wanted something that didn't have meat in the first course, so people have the option to just eat some cheese, basically. Cause everything else can be really heavy. And as I said, we tried some meat raviolis and it was just – it was so dense, and it wasn't crispy and light like I wanted it. We may eventually work into a meat variation, but [BOH's] four-cheese blend is pretty fantastic.
Cohen: Another ingredient in all of this is the sauce you dip it in, do you go for a marinara sauce?
Shepherd: We do our house tomato sauce. It's pretty much what goes into our spaghetti and meatballs. But not all things. We use different tomatoes for different aspects of different dishes.
Cohen: Do you think giving people the opportunity to sample toasted ravioli may lead another restaurant or two to pick this up and try it out?
Shepherd: You know, it's super easy. It takes what, 45 seconds. On a busy night? Yeah, I would think so.