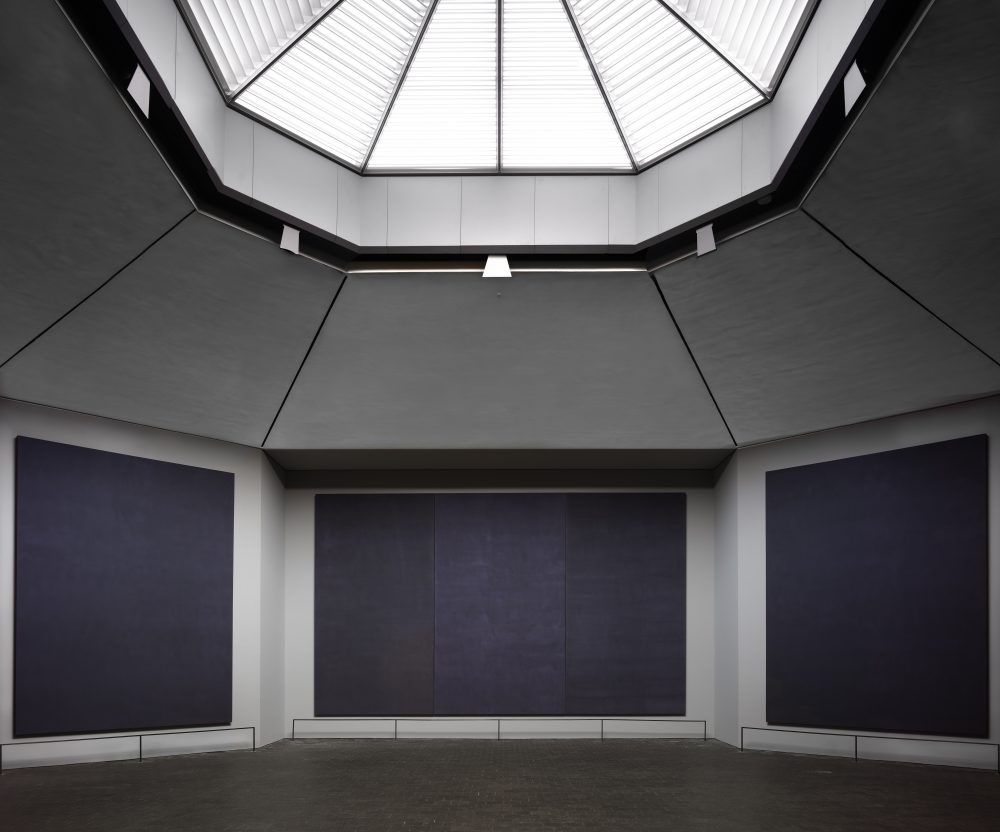 The Rothko Chapel in Montrose has been a place of pilgrimage for art lovers and spiritual seekers for nearly fifty years. And for at least the last twenty, the painter's son, Christopher Rothko, has led efforts to restore the chapel and to fix one vexing problem that has challenged architects since it opened.
In the audio above, Don Geraci speaks to Christopher Rothko in a sneak preview of the restored chapel, finally ready for its place in the sun.
"I think the first thing that strikes people when they walk in is the octagonal shape of the chapel," said Rothko. "It's an unusual space, although it's actually based on a traditional Byzantine design."
Many visitors to the Rothko Chapel have used it as an interfaith sanctuary to reflect, meditate, and pray. The required silence of the space, coupled with grey concrete walls, could either relax or intimidate a guest with its pensive atmosphere
Natural light from above causes the 14 massive, abstract expressionist paintings to shift from flat black to hidden shades of purples, maroons, and blues. The colors can be muted or vibrant depending on the weather and time of day.
However, the lighting visitors have come to expect was not Mark Rothko's original intention. The skylight, integral to the original design, was incomplete until now. When it was first built, the Texas sunlight blasted in through the skylight which overpowered the room and could have potentially harmed the paintings.
"The de Menils quickly realized that the lighting was problematic," Rothko said. "And in 1974 they put a scrim over the skylight to cut the level of light but it didn't do anything about directing the light to the walls."
Gene Aubry and others attempted to correct the skylight with baffles which served until the restoration in 2019 when a revised skylight was installed to bring the appropriate amount of light onto the paintings.
The design firm, Architecture Research Office, was selected in 2016 to create the master plan for the restoration of the Chapel and the Rothko campus. Their plan extended the grounds passed Sul Ross Street to a new public courtyard. Service buildings were also added, including a new welcome house and program center for events and education.
The project also added new landscaping by landscape architect, Thomas Woltz, designed to extend the experience of the Rothko Chapel as an open-air meditative space with gardens that surround the building.
"I think my father would be thrilled," said Rothko. "I think he was a relatively unique artist, certainly for his time in that he understood how essential it was for his painting to be displayed properly. He understood that they were so simple that there was a fragility in that. That it doesn't take much to turn them into simply decorations, or something that you don't notice. And that this place… amongst all of his works, really lives and dies by how that presentation works."