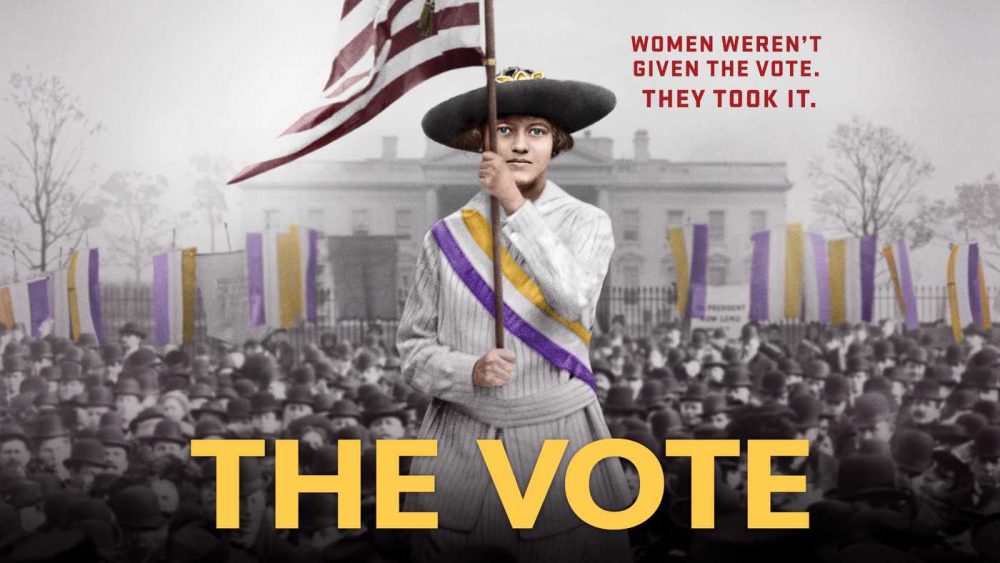 Nearly 250 years ago, our nation's founding fathers signed the Declaration of Independence, proclaiming "all men are created equal."
But it took nearly another 150 years before women successfully concluded the long, arduous fight for their right to vote with the ratification of the 19th Amendment, which occurred 100 years ago this August.
To mark that anniversary, the PBS series American Experience is presenting The Vote, a two-part documentary detailing that fight, the tactics, and the warriors who fought it. It airs July 6 and 7 at 8 p.m on Houston Public Media, TV 8.
In the audio above, Houston Matters host Craig Cohen speaks with Michelle Ferrari, the film's writer, producer, and director, and Betty Chapman, a Houston historian who is co-curating an exhibit on the suffrage movement in Houston at the Heritage Society Museum at Sam Houston Park.
Full Human Beings
Ferrari said much of the struggle during the suffrage movement was convincing Americans that women were capable and deserving of basic human rights.
"Women were not considered full human beings," she said. "And it took quite a long time to convince Americans that they were."
When the suffrage movement officially got underway in the mid 19th century, women had no legal rights
"They couldn't divorce," Ferrari said. "If they worked outside the home, the paycheck would go to the husband. If they dared to divorce, they generally lost custody of their children. And they didn't get equal pay for equal work…all of those expectations and those ideas about women being domestic creatures had to be overturned before women could really be allowed to participate in the public sphere."
In the first women's rights rally, which was held in in Seneca Falls, N.Y, in 1848, Elizabeth Cady Stanton echoed the Declaration of Independence in drafting her own Declaration of Sentiments, Grievances, and Resolutions, which stated: "We hold these truths to be self-evident: that all men and women are created equal."
The outline included the goal of women achieving the right to vote.
Radical Tactics
As the fight for suffrage progressed, some factions broke with traditional ideas of activism at the time, arguing radical action was the way to obtain the right to vote, Ferrari said.
"It was by no means a unified movement…one wing was very, very focused on lobbying and forming patient relationships with legislators," she said. "And then you had another group that threw to the wind and engaged in protests and civil disobedience, really, for the first time in American history. White women and black women were the first to picket the White House. And as those pickets became problematic for the government, those women were arrested and jailed. And when they attempted to declare themselves political prisoners and did not achieve that status, they went on hunger strikes. These are tactics that we normally associate with the Civil Rights Movement."
Houston's Role In The Fight
According to Chapman, Houston became a part of the suffrage fight in 1903 when Annette Finnigan started a women's rights chapter and served as the movement's state president.
Her legacy in the suffrage movement and philanthropy for the arts in Houston can be seen in antiquities collection at the Museum of Fine Arts, Houston.
"I hope they see that will that women really persisted," Chapman said. "They did not give up. They were times that I'm sure they thought, 'Oh what are we doing? We're never going to get there.' But because they did really persist — and of course I think woman voting today, I would like them to have that attitude — I think that is the message we need to give women today. That this is your responsibility and it was hard-won."