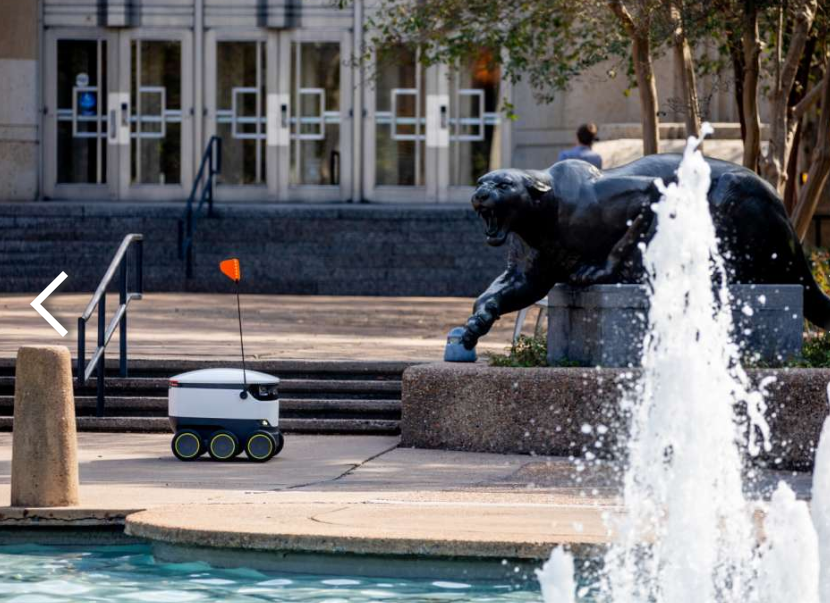 Last fall, the University of Houston became the first college in Texas to use robots to deliver food orders on campus.
Some 30 of the six-wheeled, white, rectangular robotic vehicles deliver food orders from several campus restaurants.
VIDEO: Delivery Robots at Work on the UH Campus
Hungry UH students and staff can use the Starship Deliveries app to order food from 11 different restaurants, and a robot will drop it off at a building's entrance.
From my office window, I see these robots running around delivering food…students take photos, talk to them and find them quite amusing. pic.twitter.com/1Q9UuTucPp

— Renu Khator (@UHpres) November 13, 2019
We decided we wanted to learn more about them. So, we gave Houston Matters producer Brenda Valdivia an assignment: order something for the robot to deliver. So, she did. But things didn't go quite as planned.
She ordered a cup of white tea lemonade from Starbucks (which normally costs $3.95 but totaled $7.46 after various delivery fees).
And there was some confusion about where her order was going to be delivered. So she ended up having to chase down her order — so much so that she had a bit of a collision with the robot when it stopped abruptly.
I think I pulled my neck a little chasing that robot. #thatismylife

— Brenda Valdivia (@valdeeveeah) January 17, 2020
Aaron Becker, an assistant professor in the UH Department of Electrical and Computer Engineering says the robots aren't perfect yet but they offer a nice — and futuristic — solution for busy people on campus.
And he says they know how to handle one of Houston's biggest problems — heavy rain. During the first week they were on campus, one of Becker's post-doctoral students saw one sitting in front of a puddle.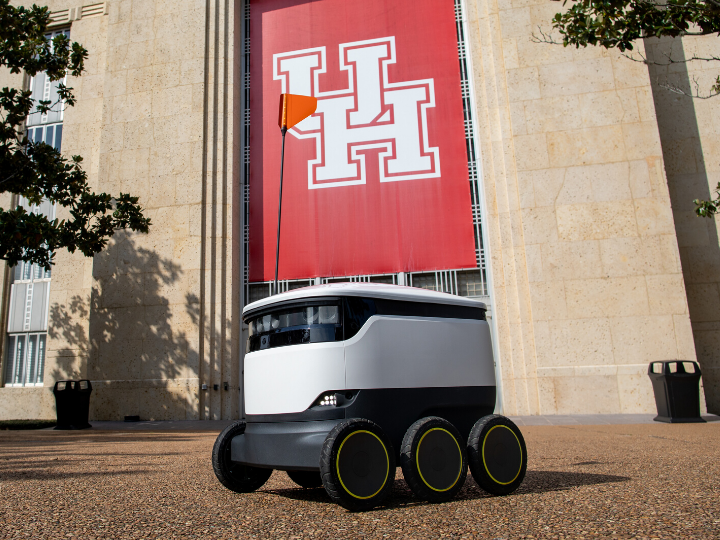 "And it would inch forward and then notice the puddle and it would back up and it would look at it," Becker said. "That's actually very wise, right? You're not supposed to drive in Houston through any water that you can't see the bottom of. And the robot couldn't see the bottom.
In the audio above, Becker tells Houston Matters producer Brenda Ruiz more about how the technology works and about the potential to see robots like this someday traversing the city as a whole.