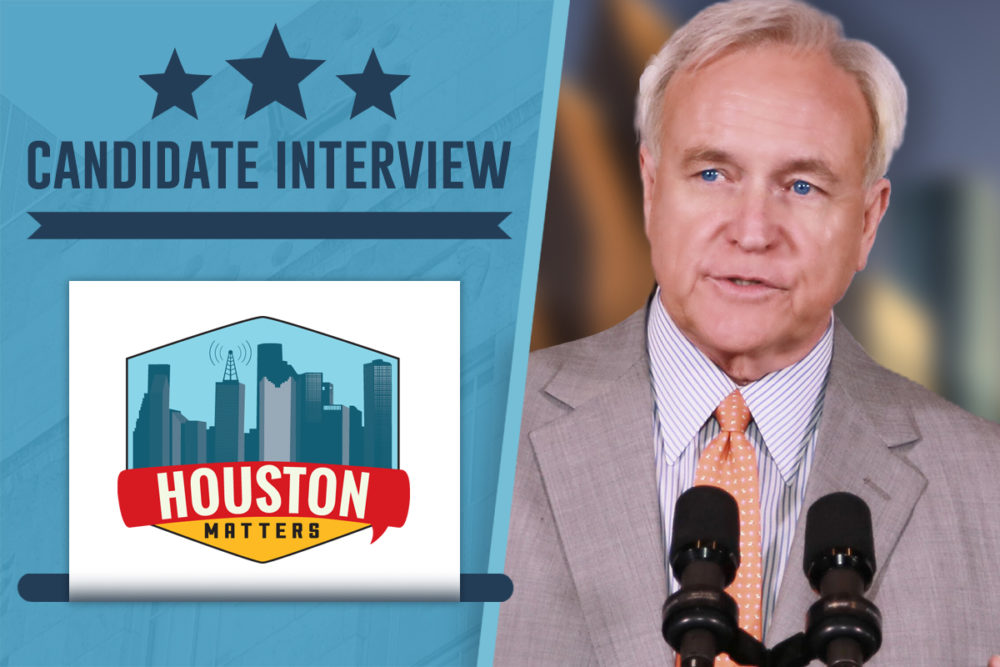 Bill King says he ran for mayor in 2015 because he didn't feel like the city was working very well.
"And four years later, I feel exactly the same way," King told Houston Matters host Craig Cohen. That's why King, an attorney and the former mayor of Kemah, is running again.
In the audio above, he explains what problems he wants to see addressed, outlines where he stands on numerous issues and answers questions from our listeners.
Here are a few highlights from the interview:
What's Not Working In City Government
"The streets are still a mess. Thousands of Houstonians have flooded over the last four years. Our own flood czar admits it — we're no better off to deal with flooding than before. Violent crime is on the rise after a 30-year decline. And the 540 new police officers that [Mayor] Sylvester [Turner] promised us are nowhere in sight. And all of this relates back to just this incredible mismanagement of the city's finances that has continued and gotten much worse under this administration."
Issues With Basic Services
"We can't seem to pick up the garbage anymore, and when we pick up recycling we send it to the landfill and not to the new recycling center we just built. When I look around at these basic services the city is supposed to provide it doesn't seem like to me much of anything is working very well."
How Funds From The City's Drainage Fee Have Been Spent Since 2011
"The city's collected almost a billion dollars in drainage fees since then. And we know from the city's records that not more than about half of that has been spent on drainage. And I just think that that's a terrible public policy decision that was made. Now this goes back to the previous administration but has been continued into this administration. Spend the drainage fee on drainage — every penny of it — until we get ahead of this problem."
Improving Public Safety
"We absolutely need more police officers — I think 500 to 600 more police officers. But we also need to manage the police department better. One of my favorite sayings is 'If you can't measure something you can't manage it.' And so what's the metric that we're managing the police department to? And I think it ought to be the clearance rate — how many of a particular crime are we solving? And we still do a terrible job on that. We've done a terrible job for a long time, and nobody is holding the police department accountable for improving that metric."
Whether The Mayor Should Be Considered The CEO Of The City
"I think this absolutely is a CEO. This is the strongest mayor form of government in the country. By the way, I think it's too strong, and I think we need to make some changes to transfer some of the power from the mayor's office to council. I don't think this is healthy, and I've actually proposed some specific reforms about that. But, yeah, this is absolutely a management job. This is not a philosophical or ideological job. It's not a partisan job. This is a fix the streets, fix the flooding, catch the crooks, pick up the trash, make sure the water and sewers are working [job]. That's why we organize municipal government. We need a manager in this job."
Pay Parity For Firefighters
"This whole dispute with the fire department was a dumpster fire that Sylvester [Turner] intentionally set to distract from his gross mismanagement of the city's finances. Last year — this is not counting any raise for the firefighters — we ran a $435 million deficit in the general fund. That's what our auditors say. Now Sylvester gets up and lies over and over and says we have a balanced budget. We aren't even close to having a balanced budget. So, all of that had nothing to do with the firefighters. And so he went off and started this fight with the firefighters to distract people from the fact that we're running these huge deficits already…and we should've never gotten in this situation in the first place because the firefighters asked to submit this to binding arbitration in the summer of [2017]. Sylvester refused to do that. If we had done that this would be completely behind us."
More Candidate Interviews:
This is the fourth and final of our interviews with the Houston mayoral candidates who met Houston Public Media's campaign requirements. Here are the others: