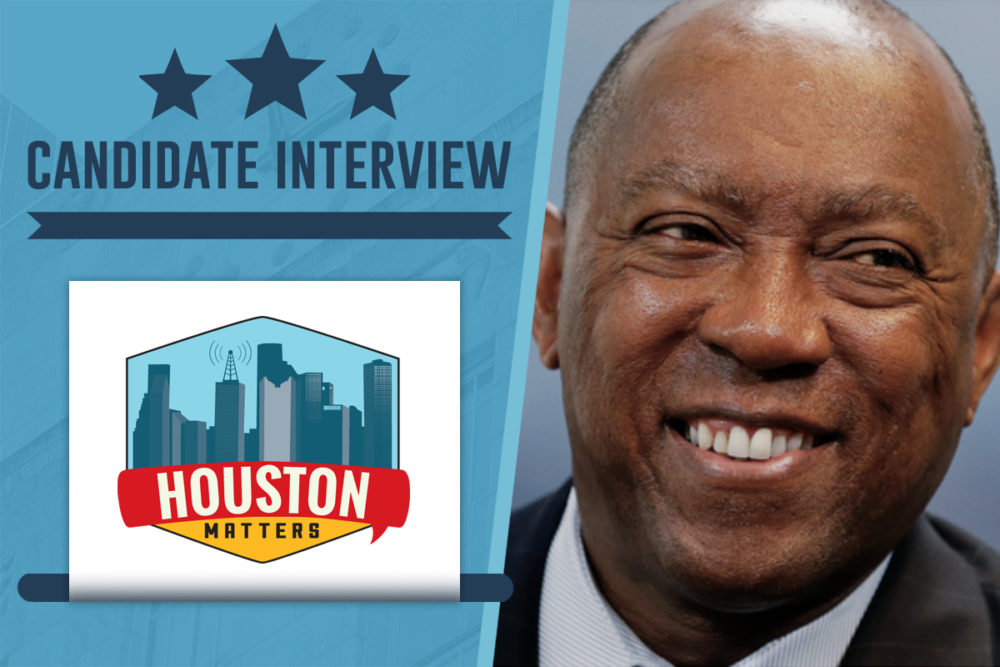 After four years dealing with battles over pensions, a standoff with the firefighters union and the devastation of Harvey and Imelda, why would Mayor Sylvester Turner want another term in office? The answer is simple, he says.
"Well, because it's a great city," Turner told Houston Matters host Craig Cohen. "And there are a lot of things that we accomplished in the first term, but then there's still a lot of things that have yet to be accomplished."
One of those tasks yet to be accomplished is completing the long recovery process after Harvey. After shorter-term issues like debris removal were addressed, Turner said the focus has now shifted to the more tedious and lengthy task of repairing people's homes and working on infrastructure to prevent future flooding.
"So the continuity of leadership is critically important on that," he said.
In the audio above, he tells Craig why he deserves another term, outlines where he stands on numerous issues and answers questions from our listeners.
Here are a few highlights from the interview:
Pothole Repair
"I came in four years ago — it was pensions and potholes. And we said that we would assess and address potholes by the next business day. We have done that for four years 96% of the time. You call in. Send it in. The crews are out there, and they are repairing those potholes. But now it's more the panel replacements. In many cases the streets simply need to be repaved. That's work that still continues."
Why It Takes So Long For Homeowners To Get Government Funds For Homes Damaged By Harvey
"There are several steps that we have to go through. It is a reimbursement. Let me be very clear — this is not $1.3 billion sitting in the city's bank account. It has been made available. But, on every file, whether it's reconstruction or whether it's a reimbursement check, you have to go through, one: the eligibility requirements. Which means we are obligated by the federal government and state to verify income, to verify home ownership. That's the eligibility. And then we are obligated by the feds and the state to do an environmental site inspection for lead and asbestos on every single home. That takes about 45 days. Then you send the file up to the General Land Office — the state. They review the file for eligibility as well as the environmental site inspection. That's on every file…You are looking at a process that's going to take about two to three years to get everyone through the system. What we did a few weeks ago at City Council is that we authorized an additional $4.5 million to bring on more inspectors for the environmental site inspections."
His Relationship With The Firefighters Union
"We have done more for the fire department than what has been previously done probably in the last 20 years. Buying more equipment, armored vests for the firefighters that they are now wearing — about a thousand of them — that came under this administration. Bringing on new trucks and providing more training — there are 80 now firefighters who are specifically trained in dealing with flood situations. That didn't exist before…Do firefighters deserve pay raises? Absolutely. But they deserve pay raises that the City of Houston can afford."
Reducing the City's Carbon Footprint
"The City of Houston for the first time in its history is implementing a climate action plan to become carbon neutral by 2050. We're moving in that direction. We're committed to reducing greenhouse gas emissions. We've changed out our street lights, for example, to LED lighting. That will reduce greenhouse gas emissions by 5%. We're looking at utilizing more electric vehicles."
His Response To Stories Critical Of A Particular Airport Employee, Who Was Characterized As An "Intern"
"[The man's $96,000 salary] is not coming from the general fund. It is coming from the airline and the airline fees [not taxpayers]. It is an executive management development position. This is not an 18- or 20-year-old intern or someone in school. This was a position created by the airport director to breed local talent in the city of Houston within the airline industry so that we don't have to go outside the city to find that talent…So this particular position, designed by the airport, working in collaboration with the chief economic development officer of the city — I had nothing to do with determining the pay. Nothing at all. With the City of Houston, you have to look at what the position is, and the range that is allowed by the human resource department. This particular person has three degrees: bachelor's degree, a Master's from Texas State University, and a law degree from Thurgood Marshall. And so what is the issue?…So this is an issue that, quite frankly, goes nowhere."
Addressing Homelessness in Houston
"The large percentage of people that are on our streets are suffering with mental behavioral health issues or substance abuse. It's not just about providing them with a place to stay. It is important that we provide them with the wrap-around services that they need so that we don't put them in a unit, and then they find themselves back on the street. And you have to work with people that are homeless one person at a time. And often you have to approach them five, six and seven times. So, the key to homelessness is wrap-around supportive housing. And a lot of that has to do with resources."
More Candidate Interviews:
This is the third of our interviews with the four Houston mayoral candidates who met Houston Public Media's campaign requirements. Here are the others: