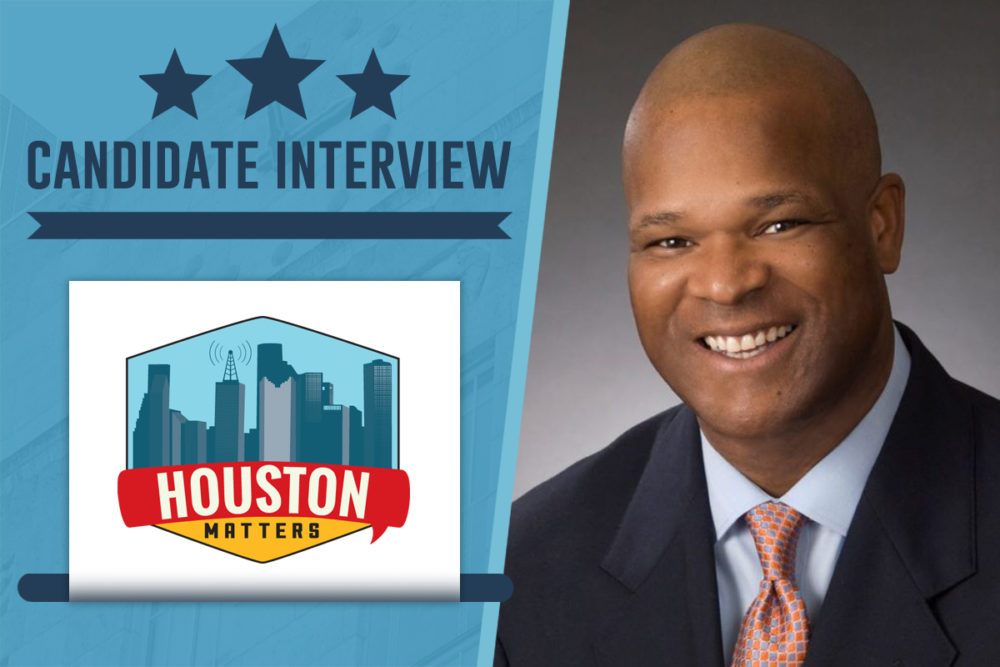 City Councilman Dwight Boykins says the city needs new leadership.
"We've gotten to a point to where it's becoming, I think, a dishonest distrust in our leadership," Boykins told Houston Matters host Craig Cohen. That's why the councilman, who currently represents Houston's District D, is running for mayor.
In the audio above, he tells Craig why he's running for office, outlines where he stands on numerous issues, and answers questions from our listeners.
Here are a few highlights from the interview:
Flooding
"My public works director will come in, and we will assess streets with curbs and gutters in the city of Houston, go inside and add two additional inlets on each side of the street. So when rain drains in your neighborhood you have six different inlets as opposed to two on each end of the street."
Public Safety
"If you're a police officer — which we have about 5,200 police officers — 1,200 live within the city of Houston city limits. So, a police officer under a Boykins administration as mayor would be able to opt into taking a patrol car home with the understanding that they have to patrol 30 minutes before they go to work and 30 minutes when they return and also leave that patrol car in the driveway. And that would deter crime in neighborhoods immediately."
Economic Development
"I think it's important that we look at ways of bringing in businesses — making certain that businesses understand that in order to do business in the city of Houston that they put that money back into Houston's economy. What bothers me more than everything is that when you have RFPs and RFQs going out, and you have out-of-town companies coming in, taking this money back outside of our city. That dollar's not turned back into the city's economy. So, we need to make certain that we allow opportunities for businesses large and small to benefit in the city of Houston that will create job opportunities and economic opportunities throughout our city."
Cleaning Up Dilapidated Structures
"We have a Department of Neighborhoods that's been underfunded for many years, and as mayor I will restructure the entire — entire — city budget. We will have different departments set up that will be focusing on neighborhoods. So, the Department of Neighborhoods requires you — if it's a vacant home or vacant building — to board it up and make certain it's not leaning or about to fall in. And so we don't have enough inspectors. Where the focus — the revenues have been placed — in the Department of Neighborhoods to hire inspectors to go out and inspect all these buildings. That will be a focus in the Boykins administration."
Response to Controversial Remarks to a Group of Students
"As a leader in this city and as an adult, it is our job to protect our children. And the intent was taken out of context. But, let me say this to you: I will be the first advocate to make certain as the mayor of this city that I stand with every child in this city. And I'm not going to play politics. I'm going to be straight with you. And, if you know my background, I've spent a lot of time talking to kids. And I didn't mean to offend anyone, but I'm not going to sit up and tell you I will turn my back on not being honest with the people in this city."
How The Incident Might Shape How He Approaches Issues Facing Women
"Not just women but boys — little boys have to be accountable as well…I grew up with all brothers Craig, and I'm learning every day from my beautiful wife, again, of 30 years, the impact that different issues have on women. And, as mayor, I'll make certain that that becomes a top priority for me. If you know anything about me, you know who Dwight Boykins is and what he stands for when it comes to doing what's right."
More Candidate Interviews:
This is the second of our interviews with the four Houston mayoral candidates who met Houston Public Media's campaign requirements. Here are the others: