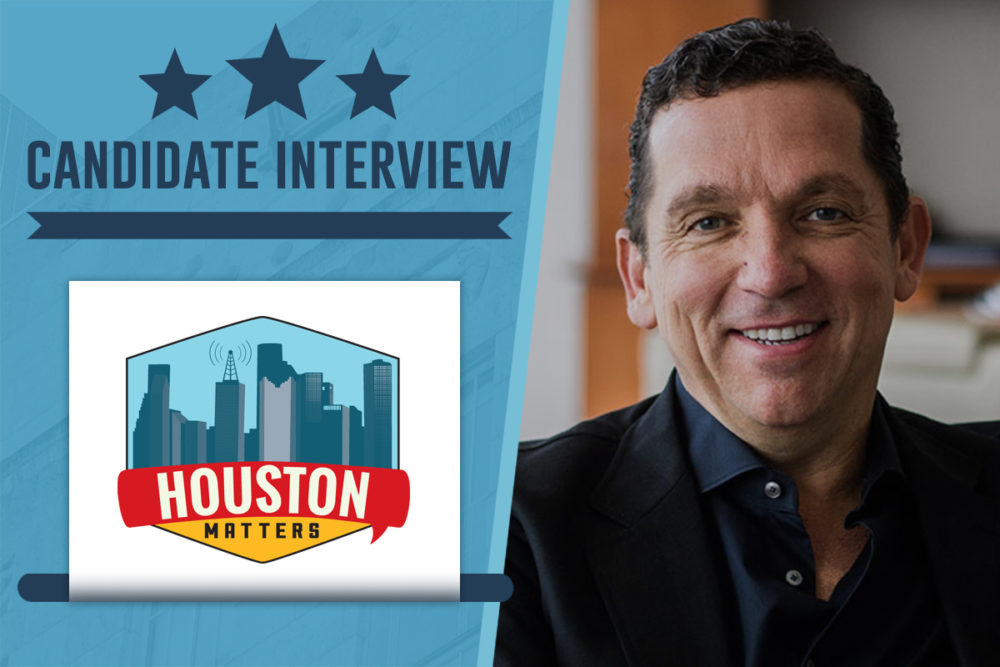 Attorney and businessman Tony Buzbee says Houston has been good to him, so he wants to help get the city "back on track."
"Because I really feel like our city's broken," Buzbee told Houston Matters host Craig Cohen. "It's not working for the people that live here. And I think I have that talent, and certainly that drive and energy to do so. And I'm really looking forward to the challenge."
In the audio above, he tells Craig why he's running for office, outlines where he stands on numerous issues, and answers questions from our listeners.
Here are a few highlights from the interview:
Party Affiliation
"I say [I'm] fiscally conservative and socially responsible, and I'm not sure where that puts me on any sort of spectrum. And I kind of reject those labels because I think there are a lot of people like me. There's some things in some of the parties they like. Some things in the party that they can't countenance. I really just have kind of figured out that neither party really covers all the issues that I really care about. I'm a person who cares deeply about homelessness and how we can deal with it. The stray animal population. But I'm also a guy that's never seen a penny that I can't save, and I don't know what that makes me."
Top Issues
"Well, let's just start with the streets. In some areas across the city they're undriveable. So a lot of times across the city, trash doesn't get picked up, and if it does, it doesn't get picked up on time. We've heard about the 2.6 million pounds of recyclables that went into the landfill rather than being recycled. We've heard about the police officers and the firefighters fighting in court with the city on this Prop B issue."
Crime
"I've had three events where there were break-ins in multiple cars of people who attended my events. I got broken into myself. There are crimes that are reported but not notated. I'll just give you an example. The four people whose cars were broken into at my events, the police did not even respond to any one of those. Those never made it into the crime data. Some of these petty crimes have become so rampant across the city that they're not even responded to or reported."
Houston Equal Rights Ordinance (HERO)
"I hope in the city you'd be hard-pressed to have anybody that would be against equal rights in employment, equal rights in housing. I hope people would be hard-pressed to be against that. The issue was always public accommodation, and that's where the rub was. There just wasn't a consensus there and I don't think the last effort at the HERO ordinance was done very well. And so what I've said is I won't personally bring it up myself. If it comes up, I'm going to darn well make sure that every stakeholder's involved in this so there's not another public fight like this, because it was very divisive for the city."
Pay Raises for Firefighters
"It's really unacceptable that we have a mayor that's fighting with our public safety professionals and also pitting them against each other. I mean we should never have a situation where our firefighters and the firefighters union is litigating in court against the police officers and the police officer union. And of course the city is involved in that litigation as well. That should never happen. That should have never gotten to that point."

"The budget in the City of Houston is right about $5.4 billion yearly. Prop B, which is what the people voted for, is probably about a $53 million proposition. So we're talking about less than 1 percent. We're talking about a rounding error, if you will. So this is something the mayor could do if he would prioritize it."
Air Pollution
"We need to be honest. We talk about air monitoring. I don't trust the air monitor system whatsoever. I've been in the trenches over the years fighting for people who have been exposed. I represent people from the ITC fire, that fire that burned for several days. It is in fact those folks in areas across town – not in River Oaks, not in Uptown – but people on the East End of town, for instance, who are traditionally exposed to these things, and I don't think our air monitoring system is up to the task. So that's something that we're going to work with industry to make sure that the air monitoring system is actually workable, that our mobile monitoring system is actually workable, and that we have protections in place long before there's an event like that just recently."
More Candidate Interviews:
This is the first of our interviews with the four Houston mayoral candidates who met Houston Public Media's campaign requirements. Here are the others: