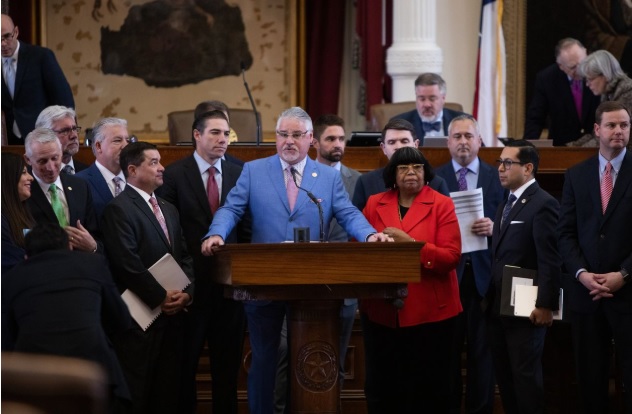 A majority of Texans approve of spending more on education and want property taxes limited, though support varies between demographic breakdowns, according to a survey by the University of Houston's Hobby School of Public Affairs.
Gov. Greg Abbott declared both school finance and property tax overhaul emergency items for Texas lawmakers this session, which is scheduled to wrap up next week.
Researchers surveyed registered Texas voters at the end of March 2019, finding broad support for increased spending on schools including pay raises for teachers and librarians, as well as expanded funding for early childhood education programs and school districts with higher percentages of low-income students. A plurality, but not majority, of Texas voters supported additional funding bilingual programs and extracurricular activities.
Most respondents said they were unfamiliar or only a little familiar with the state's "Robin Hood" plan, which through its recapture provision sends money from school districts with high property values to districts with lower property values. Two-thirds of respondents either strongly or somewhat approved of the program. At the same time, 40% indicated the state should make ending recapture a priority.
News 88.7's education reporter Laura Isensee has all you need to know about school finance in Texas.
Respondents mostly favored three ways to pay for increased school spending: closing corporate tax loopholes, 'sin' taxes and an oil and gas severance tax. Seventy-five percent of those surveyed supported closing loopholes that allow large corporations to use the assessed value of properties similar to their own instead of a property's actual value, researchers said. Survey results indicated a majority of support for legalizing and taxing casino gambling and recreational marijuana, and increasing alcohol taxes. Respondents also indicated support for a tax on oil and gas producers who extract natural resources for consumption out of state.
Lawmakers had proposed funding school finance changes with an increased sales tax, an idea that ultimately will not see a vote on until 2021. Surveyors found Texas voters were opposed to increasing the sales tax, especially among African American and Latino voters.
A majority of respondents also said property taxes were either very high or high. Four percent said they considered property taxes low or very low. Nearly 80% of respondents supported establishing caps on how much money school districts, cities, counties and other jurisdictions can raise through property taxes.
Differences in opinion largely fell along demographic and political lines. Rural and more conservative voters tended to oppose tax increases – both on property and 'sin' taxes – while urban and suburban residents were more open to those taxes, said Pablo Pinto, director of the Center for Public Policy at the Hobby School.
"The other big divide that we see, and we've seen it in previous surveys as well, is a generational one," Pinto told Houston Matters. "Younger generations – people under 40 – are more willing to see the government stepping in, and they're more willing to entertain paying higher taxes to support those services."
Another divide — white democrats tended to be more supportive of "tax and spend" policies than African American and Latino democrats, Pinto said.
The regular 2019 legislative session ends on Monday, May 27th.
Listen to the full conversation with Pinto on Houston Matters in the audio, below: