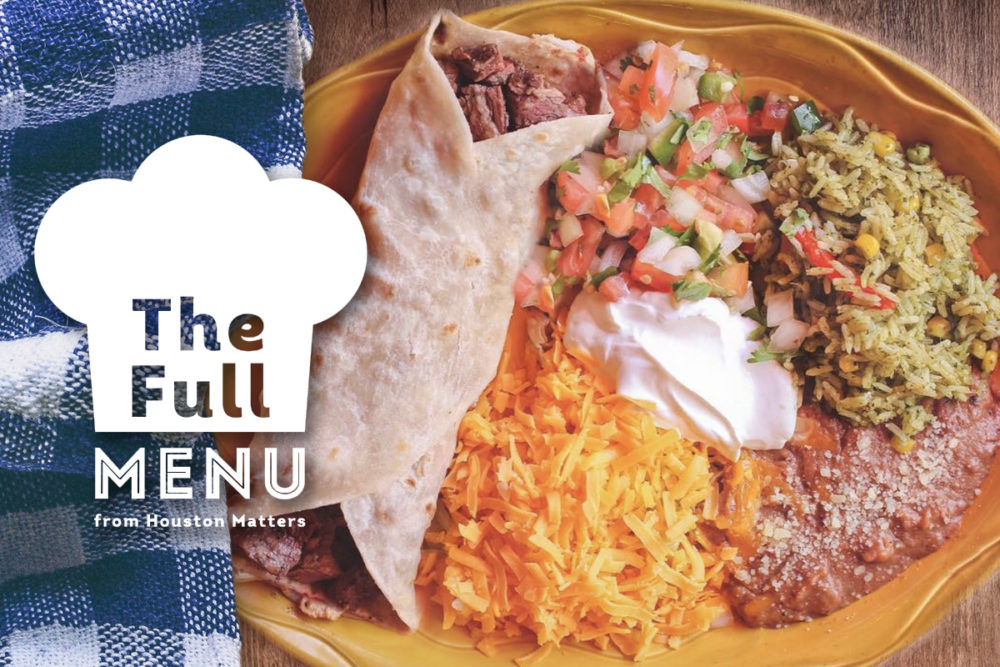 If you're looking for Mexican food in Houston, chances are you don't have to go very far from where you are right at this moment. Our city has a plethora of choices for Tex-Mex, interior Mexican and tacos.
In the latest, two-part installment of The Full Menu, our group of local food experts — Eric Sandler of CultureMap Houston, Gwendolyn Knapp from Houstonia and David Leftwich of Sugar and Rice — share their favorite spots from around the city. Below, we highlight six of the best restaurants for Mexican food in Houston.
Quesadillas y Mas Los Parado

Location: Northside (3930 N Main St)

Leftwich says: At the corner of N. Main and Temple, across from a Shipley's and parked in front of Ely's Beauty Salon, you'll find Quesadillas y Mas Los Parados, a taco truck that serves some of my favorite food in Houston. I highly recommend getting the flor de calabaza and the huitlacoche quesadillas on their truck-made blue corn tortillas. Wash them down with their rotating selection of aguas frescas.

Chuy's

Location: Various

Knapp says: Sure it's a chain. Sure it's from Austin. Sure it's crammed with the campiest diner decor and rocks easy listening songs like Fogerty's Centerfield over the sound system. But Chuy's has been around long enough to become a Houston staple (just try navigating the parking lot on a Saturday night), and gets the job done in terms of Tex Mex on the cheaper side of things, right down to free chips and salsa and that irresistible creamy jalapeno ranch dip. I tend to order the queso compuesto, the crispy tacos or tacos al carbon with beef. It's not revolutionary, but it is in my regular rotation, and they always have to-go orders filled in about 20 minutes max.

La Guadalupana

Location: Montrose (2109 Dunlavy St)

Sandler says: This Montrose cafe has been a neighborhood staple for years. Chef-owner Trancito Diaz once worked at the Houston Country Club, and his skills are on full display with the signature almond croissants and creamy tres leches. On the savory side, diners will find first-rate Mexican breakfast dishes, especially when paired with the cinnamon-flavored house coffee or a Vampiro (a mixture of orange, beet, and carrot juices).

Puebla's Mexican Kitchen

Location: The Heights (6320 N Main St)

Leftwich says: Puebla's Mexican Kitchen is an unassuming neighborhood Mexican restaurant with good breakfast tacos, even better breakfast tortas, and a Friday special that you don't want to miss. On select Fridays (check ahead), they serve cemita: a Pueblan torta that layers a brioche-like, sesame seed-studded bun with a thin, crispy milanesa — that hangs over the plate — sliced avocado, white cheese and more. It's one of the best sandwiches in town.

The Original Ninfa's on Navigation

Location: East End (2704 Navigation Blvd)

Knapp says: In my book, it should be a James Beard classic. The tortillas, handmade right by the front door, are worth the trip alone. But I think what truly sets Ninfa's apart — other than being a Houston landmark where Mama Ninfa made fajitas famous, and having the best green salsa and margaritas in town, and just being outstanding in general — are Chef Alex Padilla's upgraded additions to traditional Tex Mex. Next time you go, try the wood-fired oysters and the halloumi-like queso asado, and definitely add a grilled quail to your order of fajitas.

Pappasito's

Location: Various

Sandler says: As we note on today's show, where someone lives determines their favorite Tex-Mex restaurant as much as the quality of its food. Growing up in Sugar Land, Pappasito's became my family's go-to, and we ordered the same thing every time: a mixed fajitas platter with beef and chicken in a sufficient quantity to feed our family of five and take a little bit home. Thirty-ish years later, I still find myself going for the flavorful, medium rare beef fajitas, but now they're joined by one of the restaurant's tart, never-too-sweet house margaritas.
In case the above suggestions weren't enough to whet your appetite, here's the full list of restaurants mentioned in this episode:
Ninfa's
Pappasito's
La Hacienda
Hugo's
Caracol
Xochi
Cuchara
Picos
La Fisheria
Sylvia's Enchilada Kitchen
Irma's Original and Irma's Southwest
Chuy's
El Tiempo Cantina
Goode Co. Kitchen and Cantina
Superica
Killen's TMX
Gerardo's
Tacos del Julio
Pollos y Carnes Asadas El Norteño
Puebla's Mexican Kitchen
La Vibra
El Bolillo
Taconmadre
Teotihuacan
La Guadalupana
El Topo
Cantina Barba
La Calle Tacos
Luna y Sol
La Casa Bakery and Café
Las Tortas Perronas
El Ultimo
Taqueria el Taconazo
Tia Maria's
Tacos Tierra Caliente
Laredo Taqueria
El Patio/Club No Minors
Larry's Original Mexican Restaurant
El Norteño
Torchy's
Velvet Taco
Tacodeli
Fusion Taco
Quesadillas y Mas Los Parados