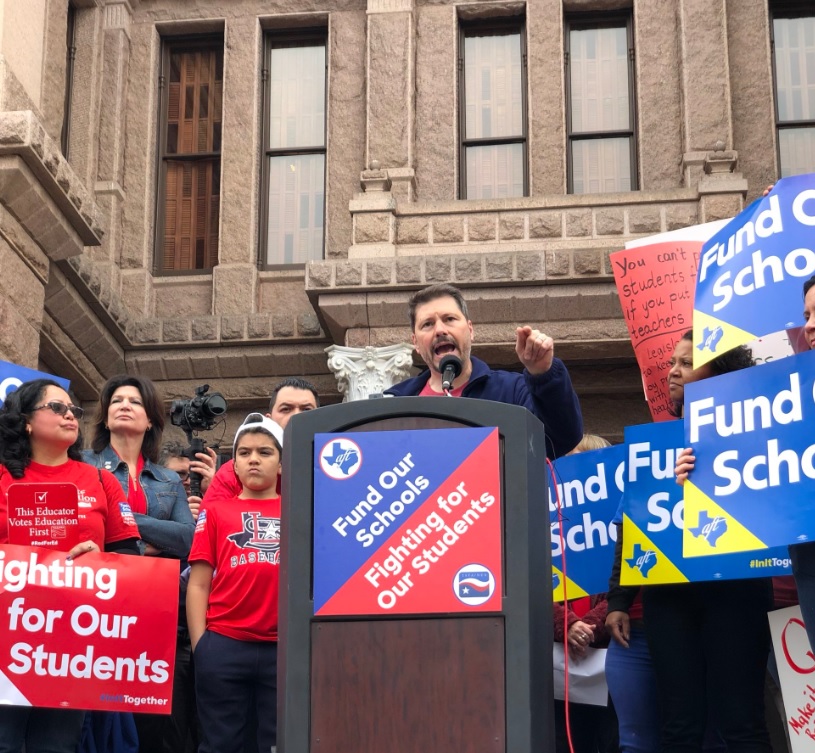 Houston teachers are spending Monday in Austin, marching and speaking to state legislators about the financial needs they want to prioritize for public education in Texas. It's a crucial moment in the state for school funding reform, since Governor Greg Abbott, Lieutenant Governor Dan Patrick and House Speaker Dennis Bonnen have designated it as a priority for the 2019 legislative session.
Zeph Capo, president of the Houston Federation of Teachers, talked to Houston Matters about the day of action at the state Capitol and weighed in on the legislation that has already been filed.
Republican State Representative Dan Huberty authored House Bill 3, the school finance bill that has been introduced in the House and has been dubbed "The Texas Plan." It proposes a $7 billion increase for public education, while the Senate's proposal increases school funding by approximately $3.9 billion. The Senate version includes a $5,000 pay raise for full-time teachers and librarians. The House version does not includes pay raises, but does call for merit-based pay increases for teachers.
Capo said teachers are spending the day in Austin getting a chance to "talk and tell their story" directly to the state lawmakers that will spend the next few months designing and negotiating a new funding system for public schools. He told News 88.7 that approximately 350 HFT members from HISD took part in the day of action in Austin.
Capo said the Senate's proposed $5,000 pay raise is a good start but isn't enough because Texas teachers would need to get a $7,000 raise per year to reach the national average, according to data from the National Education Association.
For the HFT president, one of the downsides of the Senate bill is that it doesn't include raises for paraprofessionals, those who assist teachers on their daily tasks, and other public school employees such as bus drivers. "The entire team is important and everybody needs to be included in some way," he said.
Capo commended House Bill 3 because it proposes a higher increase in funding than the Senate bill, but said that too much of the increase is connected to merit–based pay systems.
He also said the state's turnover of math and science teachers is particularly concerning, noting many are leaving education jobs because they can double their salaries in the private sector.
Read this story by HPM's education reporter Laura Isensee to learn more about how Texas pays for its public education system.