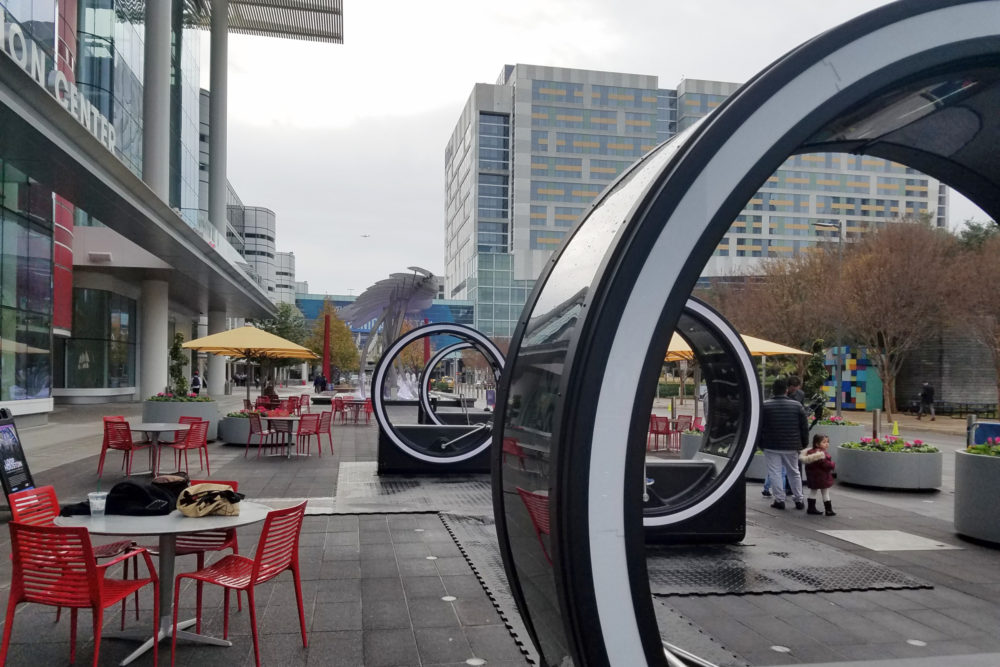 Visitors to the George R. Brown Convention Center downtown might notice some big, circular devices on the plaza at Avenida Houston. They're part of an art installation, aptly called LOOP, which is described as a cross between a music box, a zoetrope (an early form of hand-cranked animation), and a railway handcar.
And, while some artwork is to be seen and not touched, that's not the case with this exhibit. Visitors sit inside the devices, and using a little elbow grease to crank a metal bar, they can watch images of a fairy tale scene come alive all around them.
"The faster you pump, the faster it goes around," Christine West, the cultural programs manager with Houston First, told Houston Matters. "And you also start to hear some music or sounds that are associated with the piece."
At night, there are lights that blink as part of the animation and also on the loop's exterior. "They're fun during the day, but at night they really are dynamic," West said.
The stories are all based off fairy tales, including Pinocchio, Jack and the Beanstalk, and Alice in Wonderland.
West said, so far, LOOP has appealed to a wide range of ages.
"They're very durable so families climb on them; we've had as many as three or four children in at one time," West said. "But also young and old, I mean who doesn't remember being told a fairy tale. Or, even remember from the past century how movies used to be made."
LOOP has been traveling around the U.S., with Houston as its fifth stop. It will be on display downtown through Jan. 6.
In the audio above, Houston Matters producer Maggie Martin visits the installation and learns more from Christine West, cultural programs manager with Houston First.