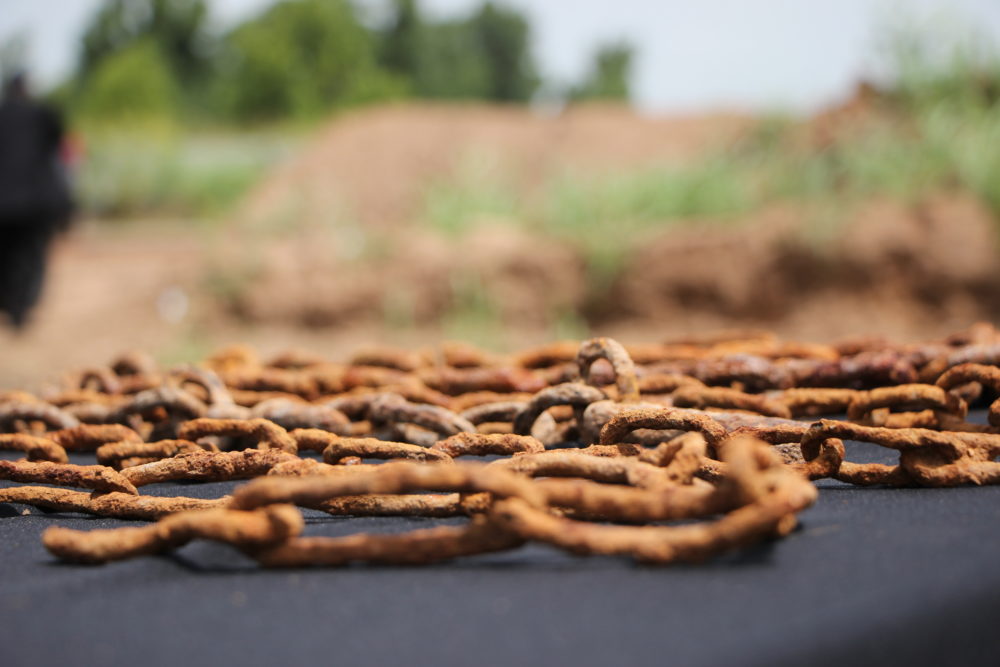 A judge ruled to allow for more time to decide where to rebury the nearly 100 human remains that were discovered earlier this year at a Fort Bend ISD construction spot.
The decision follows a request from the school district to move the remains to the nearby Old Imperial Farm Cemetery.
"We asked the judge for permission to re-bury them at the Imperial Farms cemetery and at this point he decided he wasn't ready to rule yet," Veronica Sopher, the Chief Communications Officer for Fort Bend ISD, told Houston Matters. "He wanted us to continue having conversations about that, and what that might look like, and how that might happen."
The remains are believed to be of African American prison inmates who were forced to work in the sugar cane fields while they were serving their time. DNA testing is being used to identify the bodies.
The unmarked graves were discovered when Fort Bend ISD started construction on the James Reese Career and Technical Center. The construction on the project is halted until a decision has been made regarding where to bury the remains.
The school district wants the remains to be moved to Old Imperial Farm Cemetery, which is believed to contain graves of guards and prisoners who were once part of the Imperial State Prison Farm.
"We do plan on memorializing the land where the remains were found. The way the building is being built, we will be able to create space inside the building and outside of the building acknowledging what happened," Sopher said. "We don't believe that having remains alongside the school building is an appropriate use of that space, in such a way where people can go and have reflection time and learn."
But others say the remains should be reburied where they were found out of respect. Ken Brown, an anthropologist at the University of Houston, told Houston Matters he believes the descendants should decide what happens to the remains.
"Why do these genetic studies of these individuals if in fact you're not trying to find their descendants?" he said. "Let's get these people identified before we go through the process of reinterring them."
The judge set March as a tentative deadline to revisit the issue, with additional community input occurring in the interim.