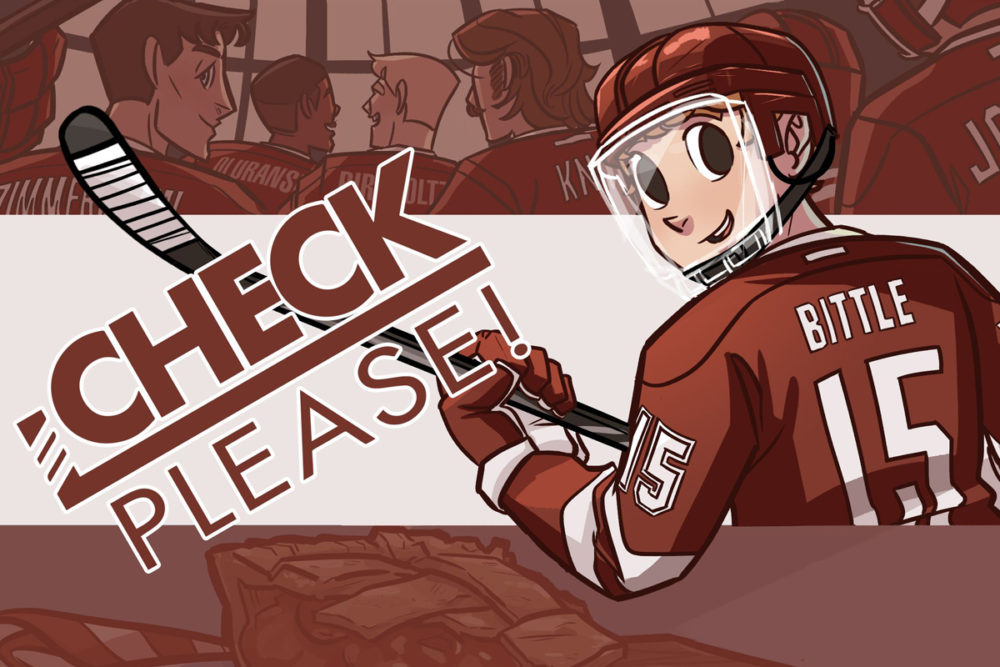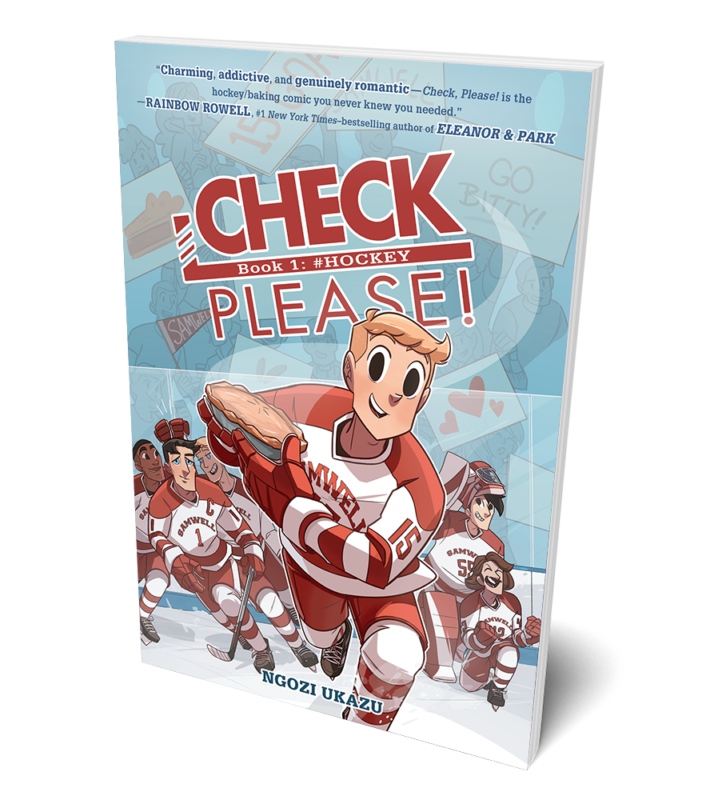 When Ngozi Ukazu was growing up in Houston, she loved making her own comics. She even worked as the comics editor for the newspaper at Bellaire High School, The Three Penny Press,
But she never thought she could make a career out of it.
"I didn't even take any art classes in high school," she said. "I never went to HSPVA. I never thought that art would be a thing."
So, she went to Yale and majored in computer science. But somewhere along the way she realized her true passion was in storytelling.
Eventually she started the web comic Check, Please! It tells the story of Eric "Bitty" Bittle, a former junior figure skating champion from Georgia who ends up playing college hockey at the fictional Samwell University. He loves to bake and video blog about his life — he's also deathly afraid of getting checked on the ice.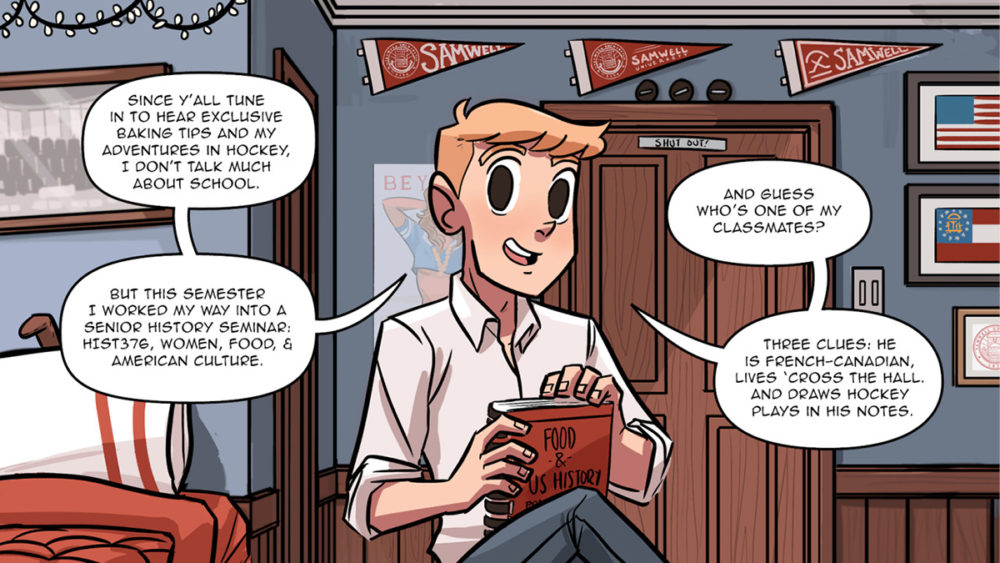 Why a Story About Hockey?
Houston isn't exactly a hockey town. The city has been without a professional team since the Aeros left. So, how did Ukazu end up making the sport the backbone of her story?
During her senior year in college, Yale's hockey team won the national championship, and simultaneously she was working on a screenplay about college hockey. So, she watched a lot of hockey for research and became obsessed.
"It was all very coincidental and wonderful that I fell deep, deep, deep into this hockey hole," she said.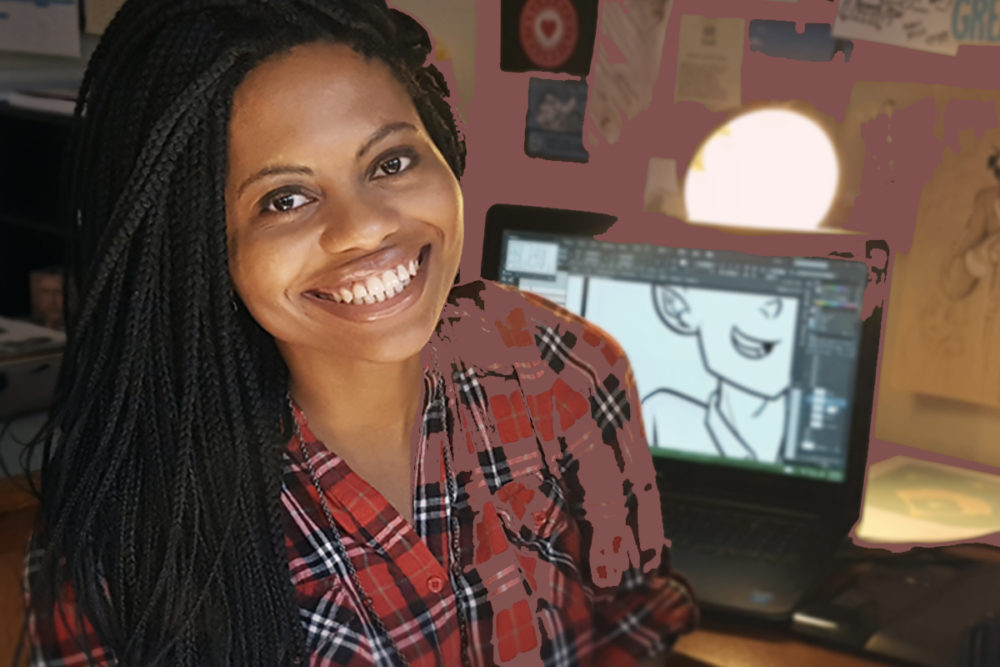 Ukazu incorporates elements she found in that deep hole into her story — such as slang players use and the practice of giving teammates nicknames. But she also worked in a few elements of Bittle's character in response to an experience she had in school. She knew a Yale hockey player who remarked that none of the players on the hockey team were gay. So, she took that as a challenge and made her main character gay.
"Check, Please! is all about kind of answering that question, 'What if?'" she said. "What if there was a kid from the South — a place I'm so familiar with — what if he went into this totally foreign environment and we got to see what would happen if there was a gay kid on the hockey team?"
Plenty of Things to Connect With
Between the hockey story line, Bittle's love of baking, and the LGBTQ elements, there's plenty of things for an audience to connect with — including a love story as he gets involved with a fellow player.
"There are so many ways that I could just drag people into the story," she said. "I'm telling a happy LGBTQ love story, which audiences never get that — it's [often] just doom and gloom or a sad story."
Audiences connected so much that Kickstarter campaigns have raised hundreds of thousands of dollars for the print publication of installments of Check, Please! Between the online updates to the web comic, Ukazu built her following by actively maintaining Twitter accounts for some of the characters.
I'm so proud of my teammates and can't wait to celebrate their accomplishments this weekend. <3 Congrats Samwell 2016!

— Eric Bittle (@omgcheckplease) May 22, 2016
"I had no life for two years — I still don't have a life — but it was a very different way of not having a life when I was tweeting as this 19-year-old boy on a fictional college campus." she said.
A New Model for Getting Published
In the past, authors and artists would try to find success in print first. But Ukazu finds this new means of finding an audience extremely validating.
"When you put something online and you see that immediate response it makes it feel as though what you're doing really matters, and it gives you confidence — even though I'm still scared with every comic that I post," she said.
The first installment of the Check, Please! graphic novel, which chronicles Bittle's freshman and sophomore years, was published in September.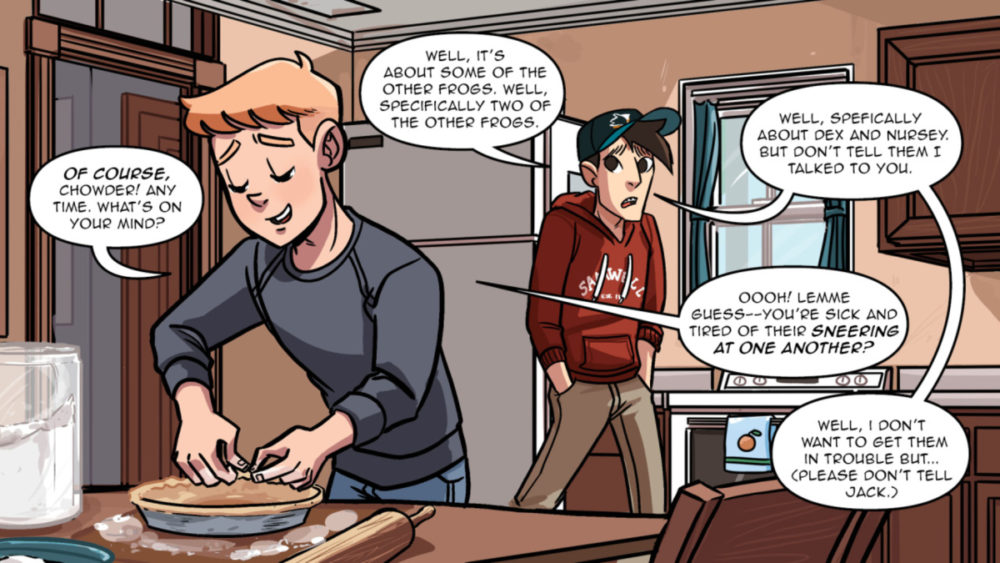 What Happens When Bitty Graduates?
Ukazu says she plans to end the series when Bittle graduates from college.
"My dad, especially — he thinks it's like quitting my job, like 'Why would you do that?'" Ukazu said.
So, what's next? She says she's exploring some potential story lines surrounding superheroes and another that's more personal.
"Last week I just got hit with this idea for a story that might work that's not superheroes that's more personal about me growing up," she said, "So we'll see what happens with that."
In the audio above, you can hear Ngozi Ukazu's full conversation with Houston Matters producer Michael Hagerty.