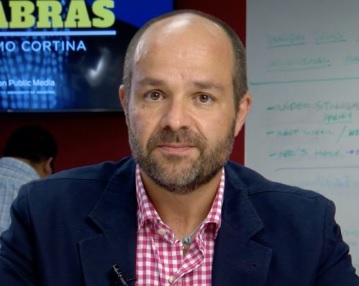 An expert on politics and immigration told Houston Matters Tuesday he foresees a legal battle over a potential executive order from President Trump to void birthright citizenship, which is guaranteed by the 14th Amendment of the U.S. Constitution.
Jerónimo Cortina, an Associate Professor at the University of Houston and associate director of UH's Center for Mexican-American Studies, noted that voiding birthright citizenship could be done through an act of Congress, but added that if the change came from an executive order then it would most likely be challenged and "then we would have to see how all these challenges go up to the Supreme Court."
Cortina also referenced a decision the U.S. Supreme Court gave in the late 1800s regarding the case of a child whose parents were Chinese immigrants and who was born on U.S. soil. The Supreme Court determined the child was an American citizen, even though the parents were immigrants.
Cortina also said that, given that the midterm election is a week away, immigration issues "become extremely salient and those issues can motivate people to go out and vote."
Harris County data
According to 2016 Census data compiled by the Migration Policy Institute (MPI), there are slightly more than 4 million U.S.-born children in the United States who have a parent who is an unauthorized immigrant.
Harris County actually ranks as the second county with the most children in this situation with 165,700 children. Only Los Angeles County, with 372,500 children, ranks higher.
According to the MPI data, Harris County has 75,400 U.S.-born children who have a parent who is legally present in the country and a parent who is unauthorized.
Additionally, there are 50,800 children in Harris County who were born in the U.S. but both of their parents are unauthorized. The number of Harris County children in that same situation who only have one parent in their household and who is unauthorized is 39,500.
Criticism
The Texas Democratic Party criticized Trump's comments and said in a statement they are "another desperate attempt" to "divide and incite fear."
The Southern Poverty Law Center (SPLC) was also critical and said the President "does not have the authority to do away with birthright citizenship (...) with the simple stroke of a pen."
In their statement, the SPLC added that the organization "won't hesitate to legally act if President Trump attempts to undermine our Constitution and the right of citizens born in the United States."
Houston-based Immigrant Families and Students in the Struggle, better known as FIEL (the Spanish acronym of the group's name) said in a statement that "(For) many decades the constitution has been respected and this hasn't been a pressing issue."
FIEL also said the President is "trying to instill fear" and added that the group is sure "that civil rights organizations will sue based on the constitutionality of this."