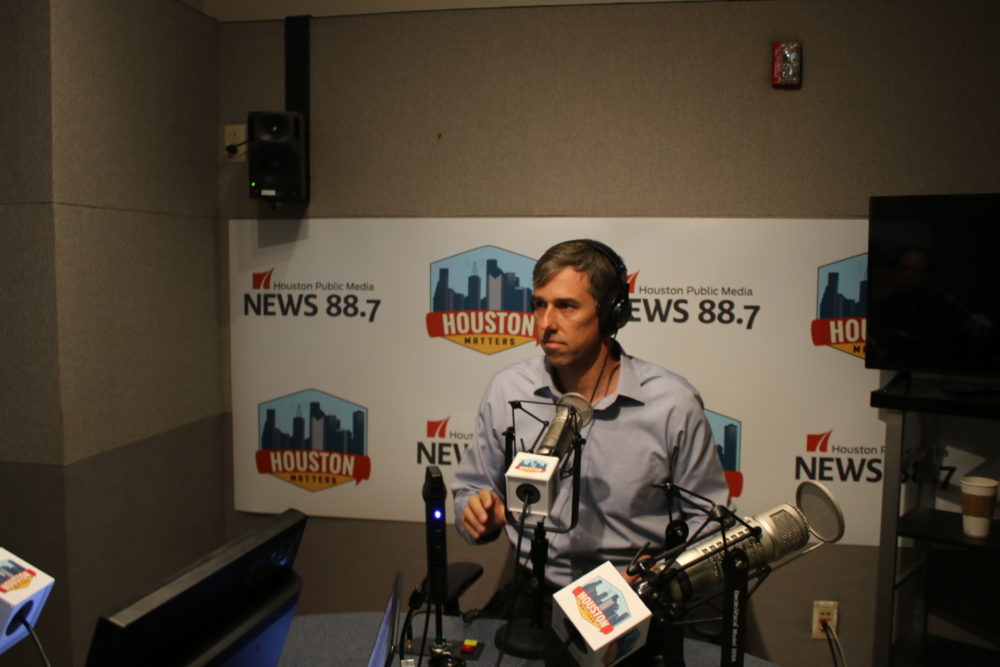 As part of its series of interviews with candidates running in major political races, Houston Matters interviewed U.S. Representative Beto O'Rourke (D-TX), who is running for the U.S. Senate seat currently held by Republican Senator Ted Cruz. O'Rourke talked about a myriad of issues ranging from President Donald Trump to voting rights and the Texas economy.
O'Rourke (D-TX) said he wants to work with Trump on topics such as increasing mental health care to veterans and expanding protected public lands in Texas. "Where I can find a partner in the White House or across the aisle, I'll be there, with anyone, any place, any time."
"But we also have to be able to stand up against this President and his worst impulses where we must," the Congressman added in reference to the critical comments the President has made about Mexican immigrants and asylum seekers, and his defense of some people who participated in the white supremacist rally that was held in Charlottesville last year.
Citizenship for DACA recipients
O'Rourke emphasized he supports granting U.S. citizenship to recipients of the Obama era program DACA and underlined that, with almost 200,000 DACA recipients in Texas, "no state will gain or lose more depending on what we do with the future and fate of these 'dreamers'."
The Democratic Congressman also said he is against separating migrant families at the border.
Voting rights was another topic O'Rourke touched on. He supports creating "non-partisan, non-political, citizen-led" commissions that work on the redistricting of Texas' Congressional Districts.
Although he didn't mention Brett Kavanaugh by name, the Congressman said the U.S. Supreme Court needs a Justice "who believes in civil rights." "And forty five years after Roe V. Wade," O'Rourke added "we need a Supreme Court Justice who believes in a woman's right, a woman's right to choose and make her own decisions about her own body."
Energy
When he talked about the energy sector, the Congressman underscored that it is "also a significant part of the Texas economy" with tens of thousands of jobs connected to it, but commented that he favors using energy "in a way that's much more environmentally responsible, working with industry, making sure that we have the regulations, the oversight and the accountability necessary."
On that same topic, O'Rourke noted Texas is number one in generation of wind power and added "we soon could be number one in the generation of solar and geothermal."
The Congressman also spoke about education and said he supports living wages for teachers and changing the focus so that they don't teach with the goal of having their students just passing a standardized test.
Additionally, O'Rourke underlined that he supports creating a universal health care system in the United States because it would be more financially sustainable than the current system.
Latest polling
As reported by Real Clear Politics, Quinnipiac University has conducted one of the most recent polls in the Cruz-O'Rourke race and it gives the incumbent Republican Senator a six point lead.
Senator Cruz is scheduled to be on Houston Matters next month.