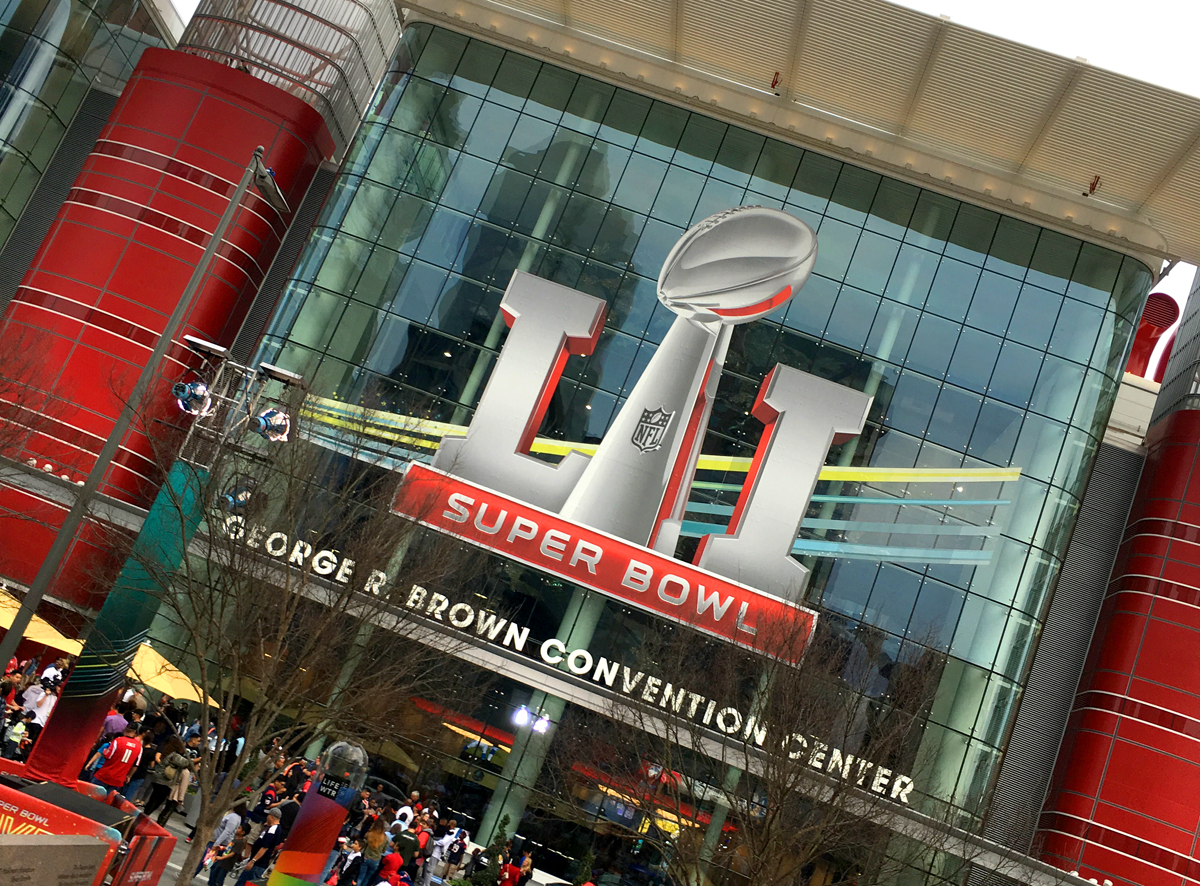 Most of us won't get tickets to Sunday's Super Bowl at NRG Stadium, but there's still plenty of activities related to the big game happening all over Greater Houston. The official Super Bowl events most Houstonians will have access to are Super Bowl LIVE, a free, outdoor fan festival held downtown in and around Discovery Green. And then there's the NFL Experience, an interactive football theme park inside the George R. Brown Convention Center.
On this edition of Houston Matters, Michael Hagerty takes us on a tour of some of the downtown festivities.
Also this hour…
Houston Mothers on Raising Successful NFL Sons
In the 1980s, Willowridge High School in Fort Bend County was known for its successful football program, which yielded several successful NFL players.During the 1982-1983 season, NFL Hall of Famer Thurman Thomas led the football team to the Texas Class 4A state championship. In 1986, Charles Arbuckle also graduated from Willowridge and went on to have a successful career in the NFL.
In the 1990s, Allen Aldridge, Jr. also graduated from Willowridge and went on to become a Super Bowl Champion.What made these young men achieve success? We find out from those who knew them best — their moms: Jeanie Arbuckle Miles, Cleotha Aldridge, and Ann Cockrell. They're all part of an organization called The Professional Football Players Mothers Association (PFPMA), which is holding a fundraising event during Super Bowl week benefiting the Fifth Ward Enrichment Program.
City of Pasadena Under Federal Rule
Last month, Chief U.S. District Judge Lee H. Rosenthal ruled that the City of Pasadena would be under federal oversight for the next six and a half years. The judge said that Pasadena intentionally violated the voting rights of its burgeoning Hispanic and Latino population in a redistricting scheme. The Mexican American Legal Defense and Education Fund agrees. They were the ones who filed the lawsuit in the first place. But lead attorney for Pasadena, C. Robert Heath, has not given up hope that his appeal to the 5th Circuit court will be heard. We learn about the latest developments in the case.
The Good, The Bad, and the Ugly of Houston News
A lot can happen in a week. Some of it good. Some of it bad. Some of it downright ugly. When faced with intriguing developments in the week's news, we turn to our rotating panel of "non-experts" to parse The Good, The Bad and The Ugly of it all.
This week, our panel weighs in on measures called for in Gov. Abbott's State of the State address, the governor's blocking of funding to Travis County over frustration he has with what he characterizes as "sanctuary cities," Rex Tillerson's confirmation as our new Secretary of State, and the St. Cardinals' punishment over the Astros hacking scandal.
A Trip to the Cat Show
Then we take you to the big event happening in Houston — no, not that one. The "Felines, Football and Fun" cat show in Deer Park.
Houston Matters offers a free daily, downloadable podcast here, on iTunes, Stitcher and various other podcasting apps.